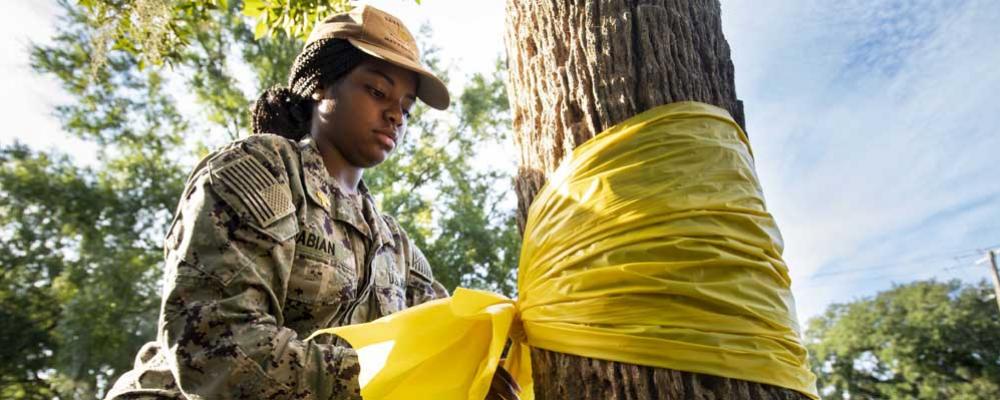 The Defense Department announced last week it would begin forming a congressionally mandated, independent review commission to focus on suicides among service members. 
A March 22 memo from Defense Secretary Lloyd J. Austin III said the commission will examine suicide prevention and behavioral health programs across the services. Its work will include site visits, focus groups, interviews and confidential troop surveys. The commission will work much like last year's commission on sexual assault.
"It is imperative that we take care of all our teammates and continue to reinforce that mental health and suicide prevention remain a key priority," Austin said. "One death by suicide is one too many. And suicide rates among our service members are still too high. So, clearly, we have more work to do."
Pentagon officials have 60 days to select commission members. Site visits will begin no later than Aug. 1, with an initial report due to Austin by Dec. 20. Congress will receive the findings by Feb. 18, according to the memo.
The commission is scheduled to make nine site visits. The locations include six active-component installation in the Continental United States; Fort Wainright, Alaska: Camp Humphreys in South Korea; and the North Carolina National Guard. 
Alaska has made recent headlines with its disproportionate suicide rate among service members. U.S. Army Alaska alone confirmed in December that it had seen 10 confirmed suicides in 2021, with several more deaths still under investigation.
The other locations were chosen in consultation with leaders, said Pentagon spokesman John Kirby.
While service members have more access to behavioral health resources than ever before, some still struggle to push through their concerns about seeking treatment, while others experience long waits to access care.
Some 580 members of the military — active, Guard and Reserve — died by suicide in 2020, according to the DoD's annual report on suicides in the military released in September. The suicide rate for the active component was 28.7 per 100,000 individuals, which has been increasing since 2015, officials said. 
According to the report, the suicide rate among active-component service members increased by 41.4% in the five years from 2015 to 2020.
The suicide rate among Guard soldiers and airmen increased by 31.7% in 2020, according to the report, but overall has gone down since 2018. The Guard reported 120 suicides in 2020, according to the National Guard Bureau, which was up from 90 in 2019 but more on par with the 136 reported in 2018. 
The report also said there was no "statistically significant increase or decrease" for suicide rates among Guardsmen from 2015 to 2020.
According to DoD data, more than 60% of military suicides are carried out with a personally owned firearm. Research on suicide has shown that the decision to end one's life is largely impulsive, and that even having to remove a weapon from a locked safe can provide someone enough time to reconsider.
Service members and veterans can reach the Veterans and Military Crisis Line at www.veteranscrisisline.net or call 800-273-8255 (press 1) or text 838255. Confidential support is available 24/7.