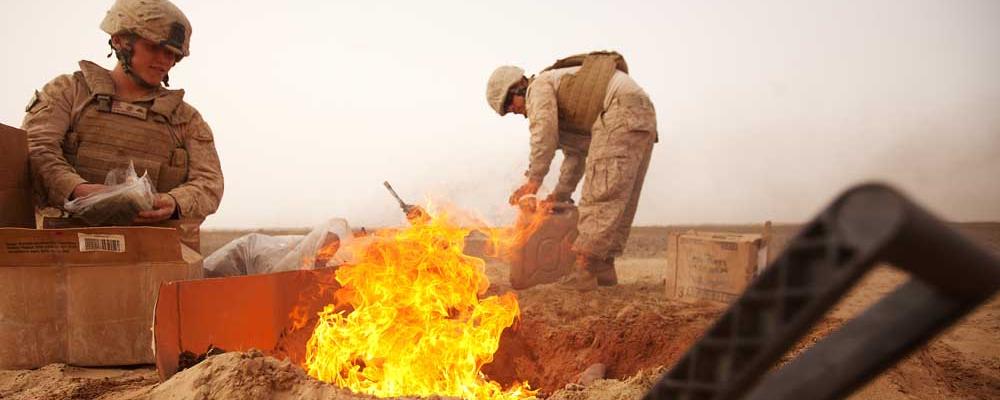 The House passed sweeping military toxic exposure legislation on Thursday that would grant new disability benefits for illnesses linked to burn pits in Iraq and Afghanistan.   
The Promise to Address Comprehensive Toxics Act (H.R. 3967) would establish a presumption of service connection for 23 respiratory illnesses and cancers related to the smoke from burn pits, used extensively in war areas to dispose of various types of waste. 
It also provides new benefits to veterans who faced radiation exposure during the Cold War, adds to the list of illnesses linked to Agent Orange exposure in the Vietnam War and requires new medical exams for all veterans with toxic exposure claims.
For instance, it would create a presumption of service connection for about 490,000 Agent Orange-exposed Vietnam veterans suffering from hypertension and a condition known as Monoclonal gammopathy of undetermined significance, which in some cases progresses to diseases such as blood cancer.
In all, the provisions could affect more than 3.5 million veterans, or one in every five living U.S. veterans. 
"We passed the most comprehensive legislation to date to treat toxic exposure as a cost of war," said Rep. Mark Takano, D-Calif., the chairman of the House Veterans' Affairs committee and main sponsor of the bill. "I will not rest until our veterans have a guarantee in statute that their government will take care of them when they come home."
The legislation passed the House 256-174, with every Democrat and 34 Republicans voting in favor.
The issue was put in the national spotlight last week when President Joe Biden dedicated a significant portion of his State of the Union speech to advocate for greater care for veterans affected by burn pits and to reference the effects burn pits may have had on his late son, a member of the Delaware Army National Guard.
"When they came home, many of the world's fittest and best-trained warriors were never the same," said Biden. "One of those soldiers was my son, Major Beau Biden."
During his speech, Biden referenced a White House announcement the same day that the Department of Veterans Affairs would list nine rare respiratory cancers, most of which are also included in Takano's legislation, as presumptive and later pushed Congress for action.
Among the president's special guests for the speech was Danielle Robinson, the widow of Sgt. 1st Class Heath Robinson, who died in 2020 at 39 years of age after battling lung cancer. 
Heath Robinson, who was twice named the Ohio Army Guard's Noncommissioned Officer of the Year, attributed his illness to smoke exposure from burning trash pits during his deployment to Iraq in 2006 and 2007.
Despite passage in the House, the bill faces an uncertain future. Republican support has been low due to its high price tag, with a recent Congressional Budget Office estimate putting the legilsation's cost at over $250 billion over the next decade.
"The 'PACT Act' would spell disaster for taxpayers," said Rep. Mike Bost, R-Ill., the ranking Republican on the HVAC, during a House Rules Committee hearing earlier last week. "Veterans are struggling to make ends meet; we are not doing right by them by failing to be fiscally responsible."
Bost and most Republicans have argued that fast-tracking the Senate's Health Care for Burn Pit Veterans Act (S. 3541) would be the best and most bipartisan solution to help veterans immediately. The legislation is sponsored by Sen. Jon Tester, D-Mont., the chairman of the Senate Veterans' Affairs Committee.
The bill, which passed the Senate last month, would extend VA medical care eligibility for post-9/11 veterans from five years to 10 after their service.
Top Democrats have argued that Tester's bill is insufficient to cover the breadth of problems burn pit veterans are facing. 
Tester has said his bill is part of a three-pronged approach to get veterans the benefits they are looking for, and that the more drawn-out method gives legislation a greater chance of being passed in the Senate.