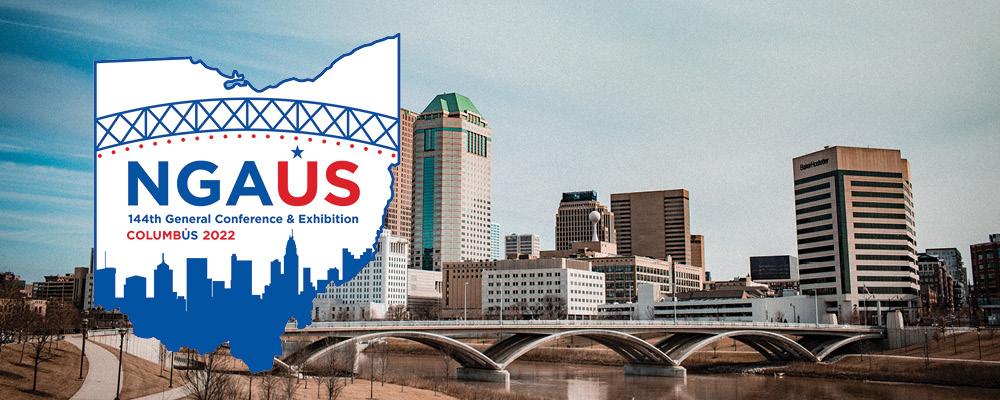 National Guard Magazine |
Conference Update March 2022

The Ohio National Guard Association has set the motorcycle ride, golf tournament and social events for the 144th General Conference & Exhibition, Aug. 26 to 29 in Columbus, Ohio.
The motorcycle ride is scheduled for Aug. 25. It will take riders from Columbus to the Rocky Boots factory in Nelsonville, Ohio, and back through Hocking Hills and the Wayne National Forest. Cost is $25 per rider.
Bent Tree Golf Club in Sunbury, Ohio, about 25 minutes from Columbus, will host the NGAUS golf tournament Aug. 26. The course stretches across 167 acres of naturally wooded, rolling terrain. Cost is $100 per player.
The "Chasing the Sun" fun run is later that evening on a 2½- mile route along the scenic Scioto Mile in downtown Columbus.
Social events begin that evening. The separate Company Grade/Warrant Officer, Senior Warrant Officer and Field Grade mixers are at Huntington Park, the home of the Columbus Clippers, the Triple-A farm team of baseball's Cleveland Guardians. The stadium is three blocks from the Greater Columbus Convention Center. No game is scheduled that day. Cost is included in the $180 registration fee.
Meanwhile, adjutants general and invited guests will gather at the National Veterans Memorial and Museum in Columbus. The museum focuses on the stories of veterans and individuals rather than military accomplishments, with the mission to "honor, inspire, connect, and educate."
Always the largest social event of the conference, the Governor's Reception is set for Aug. 27 at the Center of Science and Industry in Columbus. The unique 321,000-square-foot facility features 13 major "learning world" exhibits, including a planetarium. Cost is included in the registration fee.
The NGAUS Spouse Luncheon is in the convention center on Aug. 28. This exclusive event with the theme of Sweet Success will celebrate the success of our military and their spouses from across the nation. Attendees are encouraged to wear Red, White and/or Blue to show the unified success of America. Cost is included in the registration fee. (Note: This is a change from what was previously published in the magazine's March print edition.)
Hospitality Night is that evening. ONGA officials anticipate some states will book space in bars and restaurants in the Short North and Arena districts. The Short North is located just north of the GCCC and is known as the "art and soul" of the city.
The concluding event is the States Dinner on Aug. 29. It will be held in the GCCC's Battelle Ballroom, which features signature LED lighting fins in the ceiling capable of 65,000 color combinations.
Bring Your Sports Teams to CBUS is the theme. Sports jerseys are the recommended attire — college, pro or Olympic. Expect the locals to wear scarlet and grey. After all, the Ohio State football team opens its season Columbus later that week. Cost of the States Dinner is included in the registration fee.
Learn more about #NGAUS2022 here.