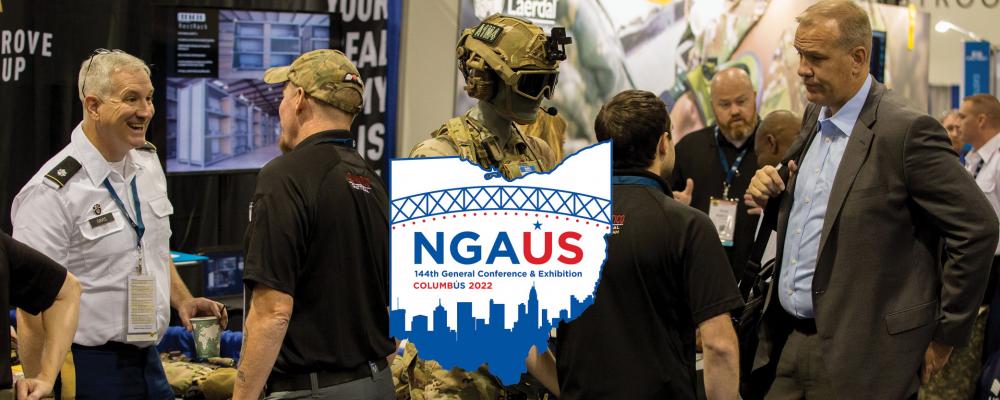 National Guard Magazine |
Conference Update April 2022
Expect another large, diverse tradeshow at the 144th General Conference & Exhibition, Aug. 26-29 in Columbus, Ohio, with more time on opening day before the First Business Session to visit exhibitors.
NGAUS anticipates more than 300 companies and organizations will display their products and services in Columbus, said Jake Jakubek, the association's vice president for business development & general conference.
This compares to pre-COVID-19 NGAUS tradeshows in 2018 (New Orleans) and 2019 (Denver), he said.
The conference was virtual in 2020. In 2021, there were 260 exhibitors in Las Vegas as in-person events began resuming.
Booth sales this year are ahead of the pace for 2018 and 2019. More than 240 companies or organizations have already signed up to exhibit in Columbus, according to SPARGO Inc., the association's contract show manager.
The NGAUS exhibition ranks among America's most diverse military tradeshows, Jakubek added. It includes products and services tailored to the National Guard's domestic response mission, plus its full spectrum of contributions to Army and Air Force operations worldwide.
Exhibitors include some of the world's largest defense contractors, smaller companies seeking the Guard market and companies and organizations offering products and services to military personnel and their families.
Hours this year have been adjusted to provide attendees more time on the show's opening day to visit exhibitors, Jakubek added.
The ribbon-cutting ceremony will be at 10 a.m. Aug. 27. It has been at 10:30 a.m. most years. The traditional complimentary brunch begins at 10:40 a.m., running until noon. Attendees will have added time on the floor as the First Business Session, which features the opening ceremony, begins at 12:30 p.m., instead of the usual noon.
"This gives attendees another hour to visit with exhibitors the first day," Jakubek said. "Both attendees and exhibitors told us our previous schedule was a little rushed. The exhibition is a big part of the overall conference experience, and we are always looking for ways to make it better."
Click here for information about the conference, including information for prospective exhibitors.