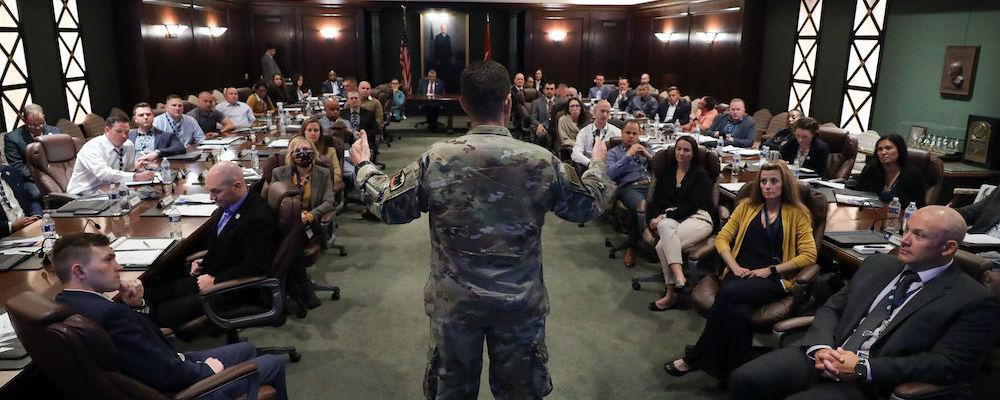 Forty-five National Guard company-grade officers from across the country gathered at the National Guard Memorial, the NGAUS headquarters in Washington, D.C., Oct. 24-26 for the association's first in-person Capitol Summit in two years. (See photos here.)
The program is intended to give participants an up-close look at the legislative process, especially as it relates to Guard matters. NGAUS covers travel, hotel accommodations and meals.
The return on investment, said retired Col. Mike Hadley, the association's vice president for government affairs, are more young Guard officers who are able to share with their peers how the association and Washington works, and where they may be able to make a difference.  
COVID-19 has prevented NGAUS from conducting the program in-person since 2019. Lingering restrictions precluded participants from visiting Capitol Hill and the Pentagon, two very popular excursions from past Capitol Summits.
So congressional and senior National Guard Bureau officials came to the NGAUS headquarters to speak to them and answer questions.
Participants met with Rep. William Timmons, R-S.C., who is also a South Carolina Air Guard captain, and a panel of congressional staffers.
They also heard from Lt. Gen. Marc H. Sasseville, the NGB vice chief; Lt. Gen. Jon A. Jenson, the Army Guard director; Lt. Gen. Michael A. Loh, the Air Guard director, and Brig. Gen. April D. Vogel, the director of the NGB Office of Legislative Liaison.  
The agenda also included Maj. Gen. Janson "Durr" Boyles, the association's chairman of the board, and members of the NGAUS legislative staff.
 "It was a great opportunity to network with a group of my peers and have close one-on-one time with senior leaders and congressional representatives," said Capt. Nicole Cosman, a Michigan Army Guard officer.
"I enjoyed learning about what NGAUS is, what they do and how they help the National Guard," added 2nd Lt. Chelby Rush, a Wyoming Army Guard officer. "I had no idea how much impact the membership does have on NGAUS and their power to lobby for the National Guard."
Hadley said the association is planning to conduct two Capitol Summits in 2022, the first one in March.
State and territory Guard associations will select the participants, who must be NGAUS members.