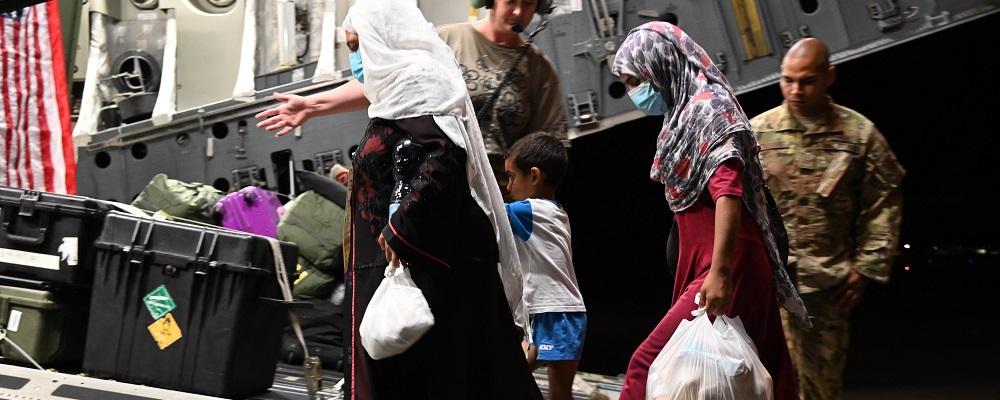 The first of thousands of Afghan refugees have arrived at Camp Atterbury in Indiana.
The National Guard facility is one of several military installations that will process up to 50,000 Afghans evacuated after the fall of the democratically elected government to the Taliban.
Refugees will stay at Camp Atterbury during a 14-day quarantine, after which nongovernmental agencies will aim to resettle them within 10 weeks, according to Brig. Gen. R. Dale Lyles, the adjutant general of Indiana. Many of them are former interpreters and other Afghans and their families who supported U.S. troops in their country since 2001.
"Our Hoosier Guardsmen are honored to join our fellow Americans to help, assist and host Afghans who played an integral part and helped us for nearly 20, years," Lyles said.
Guard and active-component service members will provide housing, medical needs, logistics and transportation for the refugees, who are being transported to eight military bases across the country.
In addition to Camp Atterbury, Afghan evacuees will also be housed at Fort Lee, Fort Pickett and Marine Corps Base Quantico, all in Virginia; Joint Base McGuire-Dix-Lakehurst, New Jersey; Fort McCoy, Wisconsin; Fort Bliss, Texas; and Holloman Air Force Base, New Mexico.
The effort is headed by U.S. Northern Command.
Nationwide, the efforts include Guard linguists and others who are traveling to the eight bases to provide support, including 50 Washington Guard airmen who are now working with evacuees in New Jersey.
"We have so many people who have been connected to Afghanistan the last 20 years and want to help in any way we can," said Lt. Col. Lisa Weaver, one of the Washington Guardsmen. "It's an opportunity to make a difference in a situation where it really is necessary: working directly with displaced nationals, helping them settle, and keeping them safe."
Many Guardsmen volunteered for the effort, which is known as Operation Allies Refuge. Several states are involved in the effort.
Maj. Gen. Greg Porter, the adjutant general for Wyoming, said he was incredibly proud of those who stepped up to help the nation's allies.
"Our highly trained and experienced airmen continue to be the sword and shield for the state and nation when called upon," he said.
Defense officials have said the Afghan refugees include some who are applying for Special Immigrant Visas and others who are seeking asylum. All are subject to security screenings before resettling and regular COVID-19 testing. All refugees are also required to receive COVID-19 vaccinations.
Eventually, officials plan to reunite Afghans with family members in the U.S. or settle them in cities with strong Afghan immigrant communities.