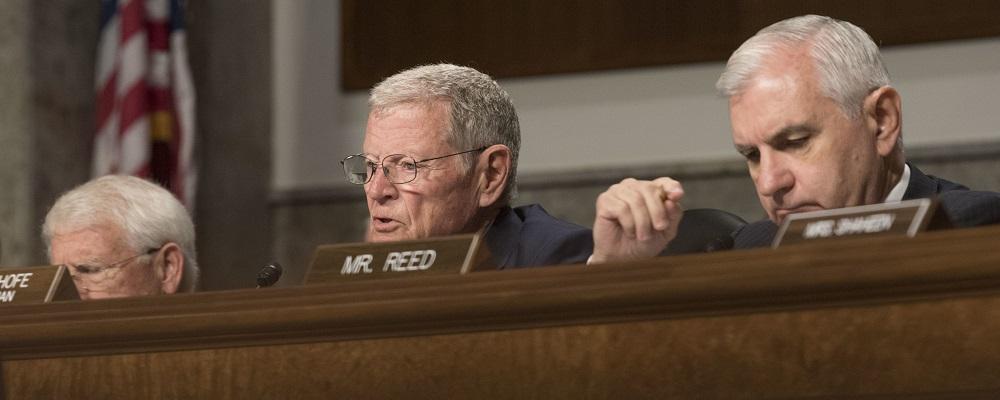 Dozens of lawmakers have begun meeting to hammer out a compromise fiscal 2019 National Defense Authorization Act.
The joint conference committee is attempting to settle differences between the Democrat-controlled House and Republican-controlled Senate. Among the issues under discussion are border wall funding, possible military action against Iran and whether transgender troops should be allowed to serve in uniform.
The committee met for the first time last week. Its members include all 27 Republican and Democratic members of the Senate Armed Services Committee, 32 members of the House Armed Services Committee and 14 other representatives from other committees. The roster includes Rep. Trent Kelly, R-Miss., who serves as a brigadier general in the Mississippi Army National Guard.
Chairmanship of the committee alternates each year. This year, the HASC is leading efforts.
The closed-door negotiations will aim to find common ground among deep disagreements, according to Politico. In addition to policy differences between the versions of the annual defense bill, there is also differences in the number of new ships and fighter jets, Pentagon reform proposals and the proposed new Space Force.
Officials have already found some common ground. Before negotiations began, leaders agreed to a two-year budget deal that sets defense spending at $738 billion for the 2020 fiscal year.
But key differences remain, with one of the biggest having to do with border wall funding, with Democrats wanting to block President Donald Trump from diverting billions from military construction projects to build the wall and Republicans seeking to replenish diverted funding.
The House NDAA also includes a provision that would allow individuals who meet gender-neutral standards to join the armed forces, regardless of sexual orientation, gender identity, race or national origin, according to Politico. That provision would effectively reverse the Pentagon's current transgender troop policy.
Other differences include a House provision that would provide 12 weeks of paid family leave for the entire civilian federal workforce, another that would repeal a "widow's tax" that offsets benefits offered to Gold Star families and a provision that would allow active-duty troops to sue the military for medical malpractice.