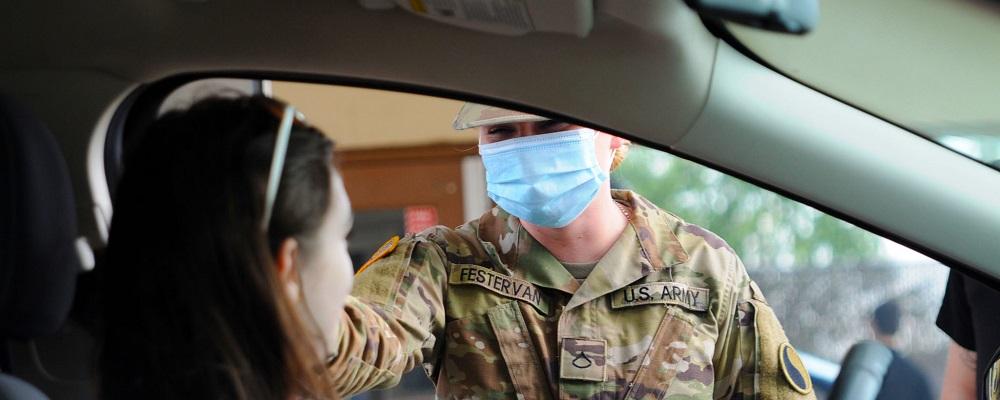 Nearly 28,000 Guardsmen remain on COVID-19-related missions and now the National Guard Bureau is joining the chorus of states calling for an extension of federal support for those deployments.
Guard Bureau leaders and nearly every state wants to extend federal Title 32 deployments until the end of 2020. The authority to use Title 32, which provides federal pay and benefits while keeping Guardsmen under state control, is set to expire next month.
Politico reported last week that NGB had joined calls from 49 state and territory leaders.
Guardsmen have been at the forefront of the nation's efforts to combat coronavirus. 
Speaking at Whiteman Air Force Base, Missouri last week, Defense Secretary Mark Esper highlighted the military role amid the pandemic.
"At one point, well over 45,000 guardsmen [were] out distributing supplies, setting up testing stations in nearly all 50 states and territories," Esper said. "[It's] just a remarkable effort by the active duty and mostly the Guard to do that."
Those efforts have not been without cost. As of July 27, 3,398 Guardsmen have been infected with COVID-19. Many infections occurred while Guardsmen were taking part in pandemic support missions.
Guard officials told Politico that the pandemic is continuing to wreak havoc on the nation's health and economy.
"We are seeing a rise in cases, we have almost 28,000 Guardsmen still supporting COVID operations, so it just makes sense," said NGB spokesperson Nahaku McFadden. "The need is there and we are doing the mission and we are doing it very well."
The request to extend Title 32 authorities still needs approval by the Justice Department. But it has the support of NGAUS and the Adjutants General Association of the United States.
Federal support for the Guard mission is currently set to expire Aug. 21. For many states, that means Guardsmen will need to leave their missions by Aug. 7 in order to quarantine before returning home.