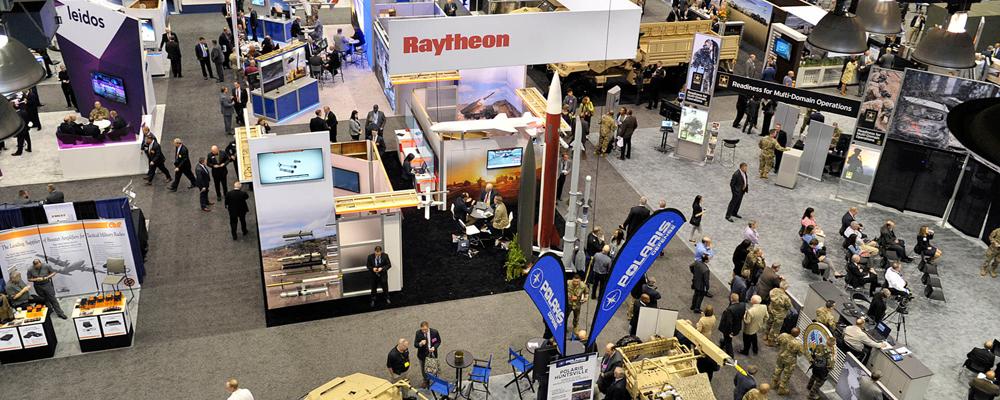 Visitors to the AUSA Annual Meeting in Washington, D.C., have the opportunity to catch a glimpse of technology that could be part of the Army's future fights.
Hundreds of defense companies displayed their wares across the conventional halls of the Walter E. Washington Convention Center. The displays included current Army combat vehicles and competitors for several future weapons programs.
Textron revealed its bid for a new unmanned light tank, known as the Ripsaw M5.
AeroVironment showed off its new Puma LE unmanned aircraft system.
Mack Defense unveiled a 40-ton capacity military crane.
General Dynamics Land Systems showed off a new Stryker A1 Medium Caliber Weapon System variant.
Other companies displayed the latest advances in artillery, firearms, simulators and other equipment for both overseas and domestic operations.
Meanwhile, all five competitors in the Army's Future Attack and Reconnaissance Aircraft (FARA) program brought displays of their bids to replace the AH-64 Apache and OH-58 Kiowa Warrior.
The competition for the next-generation aircraft currently includes Sikorsky, Boeing, an AVX Aircraft Co.-L3Harris Technologies team, a Karem Aircraft-Raytheon-Northrup Grumman team and a Bell-Collins Aerospace offering.
The Bell-Collins Aerospace attack reconnaissance helicopter, known as the 360 Invicus, was unveiled earlier this month. A full-size model was displayed on the floor of the exhibition hall.
Meanwhile, Sikorsky unveiled its Raider-X helicopter on the floor on Monday.
The FARA competition is still years away from completion. Army officials are expected to decide on two finalists in March, Brig. Gen. Walter Rugen, the director of the Army Future Command's Future Vertical Lift Cross-Functional Team, said earlier this year.