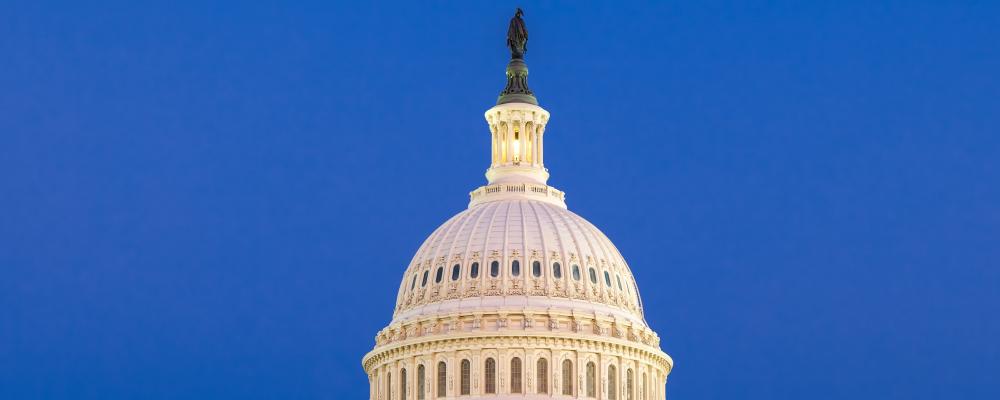 The House is set to consider a novel plan Tuesday from Speaker Mike Johnson, R-La., to prevent a government shutdown, according to multiple news reports citing a notice sent to lawmakers late Monday.
Johnson's plan is a two-step, continuing resolution to temporarily fund the federal government.
Such temporary spending measures have become a common congressional practice in recent years to buy time to complete all 12 required appropriations bills after a fiscal year has begun. The federal government is currently operating on a CR that lasts until Friday.
Normally, a CR has a single deadline. Johnson's plan would extend government funding at fiscal 2023 levels for some agencies until Jan. 19, 2024. Other agencies — including the Defense Department — would have government funding at fiscal 2023 levels until Feb. 2, 2024.
The aim of Johnson's two-step approach is to prevent lawmakers from combining all 12 appropriations bills into a single piece of legislation called an omnibus.
Many Republicans believe omnibus spending plans routinely include wasteful spending.
But Johnson's plan doesn't include the immediate steep cuts demanded by some conservatives. It also doesn't provide funding for Ukraine, Israel and the nation's southern border.
It will be brought to a House vote under a procedure known as suspension of the rules.
This action enables Johnson's measure to bypass the House Rules Committee, where other Republicans have signaled that they wouldn't advance the bill.
Under suspension of the rules, Johnson's bill can't be amended, and it requires a two-thirds majority to pass the House.
This means Johnson will need support from Democrats, who opposed the plan when it was unveiled last week.
House Minority Leader Hakeem Jeffries, D-N.Y., initially called the "laddered" approach to a CR a "nonstarter." But the bill's exclusion of spending cuts and amendments makes it more appealing to Democrats. Jeffries has since said such a bill "is the only way forward."
Johnson's legislation also needs support in the Senate, which is controlled by Democrats. So far, Senate Democrats have mostly held back their criticism of the plan.
Senate Majority Leader Chuck Schumer, D-N.Y., called the bill "far from perfect" Monday, but added the "most important thing" is that the measure excludes steep cuts and includes defense spending in the February extension.
The Senate was set to hold a procedural vote Monday night on a legislative vehicle for its short-term funding extension, but delayed the vote.
"We are pausing on our plans to move forward on the Senate vehicle to allow the House to move first with their proposal," Schumer said of the delay.
President Joe Biden signaled Monday he could be open to signing the measure if it passes Congress.
"I'm not going to make a judgment on what I'd veto and what I'd sign, let's wait and see what they come up with," Biden told reporters.
Without a CR, the federal government will shut down at 12:01 a.m. Saturday morning.
A government shutdown would impact part-time National Guardsmen differently than full timers, and Active Guard Reserve personnel differently than dual-status technicians, according to the National Guard Bureau.
Without some type of approved appropriations, all Guard unit training assemblies, drills and exercises will be cancelled, but these activities could also be made up later in the fiscal year.
AGRs will continue to report for duty and conduct assigned duties without pay.
The situation for the Guard's dual-status technicians is less clear. Even though most of these personnel wear a uniform to work, dual-status technicians are technically civilian employees, and most will be furloughed without pay in the event of a shutdown.
Only the Guard's dual-status technicians who are "excepted" will continue to work.
A primer prepared by the NGAUS Legislative Department provides more details about CRs and the impact of government shutdowns. It is available here.
— By John Goheen