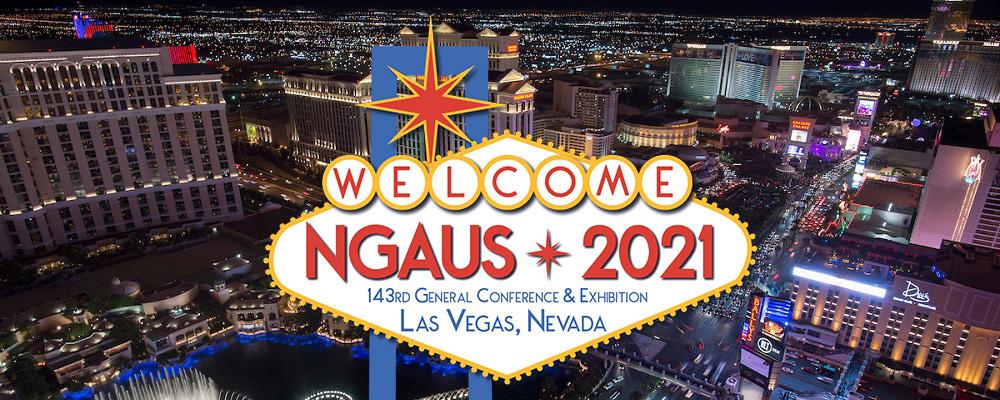 National Guard Magazine |
VEGAS: A Conference Primer
Las Vegas is called the Entertainment Capital of the World for good reason. It's famed for its glitz, 24-hour gaming, lavish hotels, unique restaurants and bars, and headline shows. It attracts more than 40 million visitors a year. But the city draws more than just gamblers and bachelor and bachelorette parties. It is considered one of the nation's top destinations for meetings. Among the reasons is unrivaled facilities. The city boasts nearly 160,000 hotel rooms, more than Chicago and New York combined, and three of the country's 10 largest convention centers. This the fourth time Las Vegas has hosted the NGAUS conference. The last time was in 2004.
THE VENUE
Modern, Accessible

Conference meetings and the industry exhibition will be in the Mandalay Bay Convention Center, a multipurpose facility connected to the Mandalay Bay Resort & Casino and adjacent to the Mandalay Bay Events Center on Las Vegas's famed Strip. With 2.1 million gross square feet of meeting and exhibit space, it is the nation's fifth largest convention center and one of the nation's busiest. It's also only a short walk through a shopping mall from the Luxor Hotel & Casino, the conference's other official hotel. The proximity to the two massive conference hotels means everything — meetings and the exhibition, accommodations, multiple restaurants, shopping and entertainment — are all accessible without going outside. And once outside, the rest of the Strip awaits.
THE CONFERENCE
An Annual Tradition
There haven't been 142 previous NGAUS conferences, but pretty close to it. The "143rd" refers to the number of years since militia officers from across the nation established the association to provide a unified voice to petition Congress for more resources. They held their first formal conference the next year, but national meetings were sporadic early on, normally involving less than 100 senior officers. They grew larger and more regular after that, and there has been a NGAUS conference every year since 1943. Last year, it was virtual due to the coronavirus pandemic.
THE THEME
All-In for America's Defense
"Always Ready, Always There" is the National Guard's enduring motto. And it has never been truer than over the last 18 months. Tens of thousands of Guard soldiers and airmen have served across the country and around the world. We were there not just out of a sense duty or to stand with our brothers and sisters in uniform. It's bigger than that. We were there because of a calling, a passion. When our state or nation needs us, we want to be there. Whether the fight is against a foreign adversary, a natural disaster or a pandemic, we need to be there. We are the National Guard. We are all-in for America's defense. And that's why we will always be there.
HEADLINERS
Scheduled for the professional development sessions (formerly called the business sessions) and Army & Air separate sessions

First Session (Aug. 28)
Gen. Daniel R. Hokanson
Chief of the National Guard Bureau
Second Session (Aug. 29)
Gen. David W. Allvin
Vice Chief of Staff of the Air Force
Gen. James H. Dickinson
Commander, U.S. Space Command
Veterans Secretary
Denis McDonough
U.S. Sen. Catherine Cortez Masto
Montgomery Medal Recipient
Third Session (Aug. 30)
Nevada Gov. Steve Sisolak
Charles Dick Medal of Merit Recipient
Gen. Joseph M. Martin
Vice Chief of Staff of the Army
Army Separate Session (Aug. 30)
Lt. Gen. Jon A. Jensen
Army National Guard Director
Lt. Gen. Antonio Alzona Aguto Jr.
Commander, First U.S. Army
Air Separate Session (Aug. 30)
Lt. Gen. Michael A. Loh
Air National Guard Director
U.S. Rep. Kaiali'i Kahele
Member, House Armed Services Committee
BEYOND THE MAIN SESSIONS
Legislative Resolutions
Army and Air National Guard representatives from every state, Guam, Puerto Rico, the U.S. Virgin Islands and the District of Columbia will gather to review standing resolutions, draft resolutions and late or "emergency" resolutions. Most contain multiple items. Deliberations are set to begin Aug. 27 and continue through Aug. 29. Approved resolutions, which are subject to a floor vote by conference delegates Aug. 30, will form the basis of next year's NGAUS legislative action plan for deliberations on fiscal 2023 defense legislation.
Elections
The lack of elections last year mean most of the positions on the association's board of directors will be contested in Las Vegas. This includes chairman, vice chair-Army, vice chair-Air, secretary, treasurer, the three representatives (adjutant general, Army and Air) for Area II, Area III, Area V, Area VI, both company-grade reps, the Army retired/separated rep and the warrant officer rep. Final tallies are subject to ratification by the full conference Aug. 30.
Company-Grade Officer Professional Development
The conference will once again provide OPD for those company-grade officers and junior warrant officers attending on official orders. Formal sessions will include presentations by National Guard Bureau senior leaders and subject matter experts on human performance and mental health. The full agenda is on the conference app.
Army & Air Separate Sessions
The separate sessions are set for the morning of Aug. 30. Both will feature presentations by senior leaders. Lt. Gen. Jon A. Jensen, the director of the Army Guard, headlines the Army session. Lt. Gen. Antonio Alzona Aguto Jr., the commander of First U.S. Army, will also speak. The Air session agenda will include Lt. Gen. Michael A. Loh, the Air Guard director, and Rep. Kaiali'i Kahele, D-Hawaii, a member of the House Armed Services Committee and a Hawaii Air Guard C-17 Globemaster III pilot.
Industry Exhibition
There will be another large trade show this year. Nearly 300 companies and organizations had purchased booths by mid-August. An updated list is available on the conference app. Exhibitor descriptions are available in the official conference program. The show opens at 10: 30 a.m., Aug. 28 with a ribbon-cutting ceremony followed by a complimentary brunch. The Governor's Reception is on the show floor that evening. A complimentary lunch is available on the exhibition floor Aug. 29.
Task Force Meetings
All 13 of the issue-related NGAUS task forces (Army Fire Support, Army Combat Vehicle, Army Sustainment, Army Aviation, Army C4I, Army Engineer, Mobility Air Forces, Combat Air Forces, Air Combat-Mission Support, Air Space Joint Cyber, Joint Domestic Operations and Joint Personnel/Medical) will meet the afternoon of Aug. 29. Meetings are open to all attendees. Consult the official conference program or the conference app for exact times and locations.
Total Authorized Delegates*
Alabama 21
Alaska 12
Arizona 18
Arkansas 32
California 20
Colorado 15
Connecticut 11
Delaware 16
District of Columbia 13
Florida 18
Georgia 43
Guam 8
Hawaii 23
Idaho 12
Illinois 26
Indiana 19
Iowa 19
Kansas 32
Kentucky 19
Louisiana 31
Maine 9
Maryland 19
Massachusetts 29
Michigan 14
Minnesota 20
Mississippi 58
Missouri 13
Montana 9
Nebraska 17
Nevada 18
New Hampshire 12
New Jersey 20
New Mexico 12
New York 23
North Carolina 25
North Dakota 16
Ohio 29
Oklahoma 18
Oregon 13
Pennsylvania 16
Puerto Rico 8
Rhode Island 8
South Carolina 29
South Dakota 19
Tennessee 49
Texas 20
Utah 23
Vermont 10
Virginia 17
Virgin Islands 8
Washington 14
West Virginia 17
Wisconsin 34
Wyoming 8
TOTAL 1,062
* Based on total NGAUS members in a state/territory and other criteria in the association bylaws