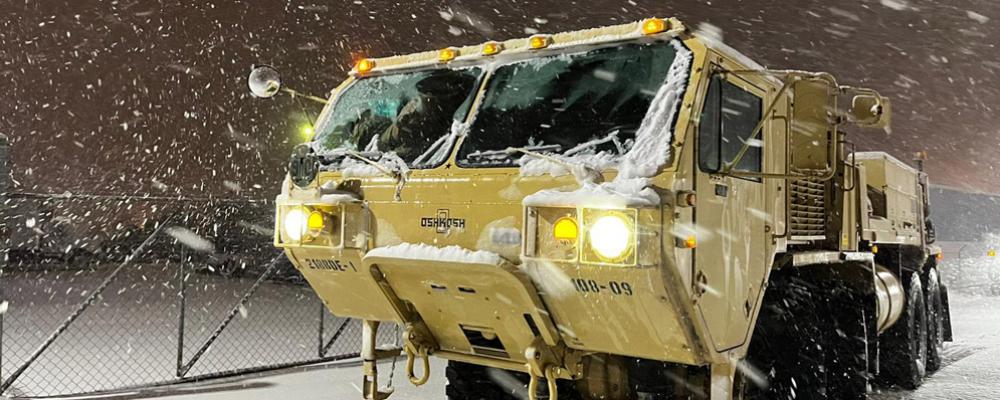 National Guard Magazine |
Snow Days

Hundreds of National Guard soldiers and airmen assisted local officials responding to winter weather over the Jan. 15-16 weekend in multiple states, including North and South Carolina, where snow removal equipment is scarce.
The South Carolina Guard staged 120 personnel and equipment across Upstate South Carolina to respond to requests for assistance.
"The South Carolina National Guard is prepared with teams of service members working with civil authorities to ensure the major roadways remain clear during the inclement weather conditions and after the storm has passed," said Maj. Gen. Van McCarty, the adjutant general of South Carolina.
The South Carolina Guard coordinated with the South Carolina Emergency Management Division, the South Carolina Department of Transportation and the South Carolina Department of Public Safety.
"Our soldiers and airmen are trained professionals who have responded time and time again to natural disasters within the state and are prepared to assist civil authorities in response to snow, sleet or freezing rain," said McCarty. "This is why the National Guard exists — to be prepared to respond to the needs of the state and nation."
Some 75 Virginia Guardsmen were also positioned for winter storm response operations across Virginia on Jan. 16.
At the request of the Virginia Department of Emergency Management, Virginia Guardsmen deployed with chainsaws to clear fallen trees and heavy-duty tactical vehicles capable of traveling through deep snow at key locations along the I-81 corridor and the northern sections of the I-95 and Route 29 corridors.
"When we have advanced notice of possible severe weather, it enables us to stage personnel at key locations for a more rapid response," explained Brig. Gen. James W. Ring, the director of the Virginia Guard's Joint Staff. "We appreciate our personnel being willing to leave their loved ones and their jobs on very short notice to help their fellow Virginians in times of need. We thank the families and employers for their continued support."
Additional soldiers, airmen and members of the Virginia Defense Force provided logistics, communications and operations center support in the Richmond area.
Earlier in January, Virginia Guard soldiers and airmen helped open roads in Stafford County and cleared trees along power line routes in Louisa County. Both counties are in the northern part of the state.
In Pennsylvania, more than 100 Guardsmen supported State Police, the Pennsylvania Emergency Management Agency and the Pennsylvania Department of Transportation to prepare for possible winter storm assistance missions.
They were positioned across the state primarily in Pittsburgh, Erie and Wilkes-Barre.
To the south, about 40 members of the North Carolina Army Guard's 113th Sustainment Brigade deployed to the readiness center in Greensboro for Winter Storm Izzy.
— Capt. Jessica Donnelly, Sgt. 1st Class Robert Jordan, Capt. Travis Mueller & Cotton Puryear