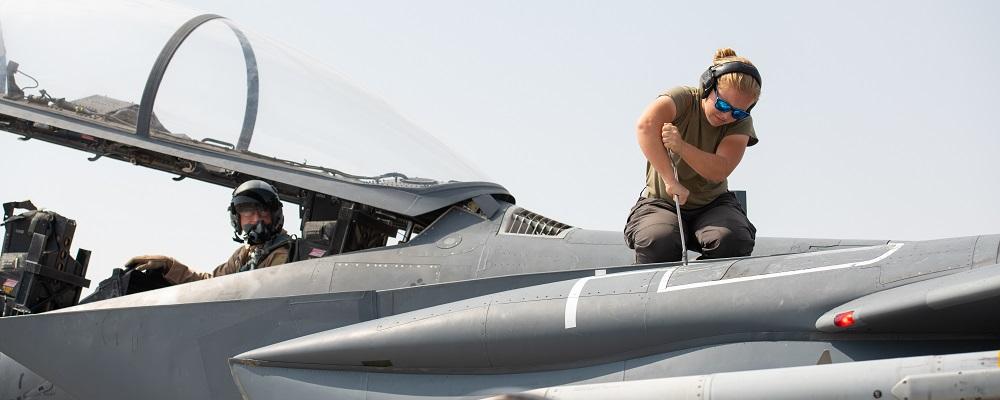 National Guard Magazine |
Shorts for Some Airmen Among Uniform Changes
Air Force maintainers are allowed to wear shorts in certain circumstances, one of several changes being made as the service updates its uniform guidelines.
The update to Air Force Instruction 36-2903, Dress and Appearance, took effect March 15, officials said. It impacts airmen and members of the Space Force, known as guardians.
Commanders will be able to authorize dark navy blue shorts in lieu of the Airman Battle Uniform or Operational Camouflage Pattern trousers in maintenance areas when high temperatures are forecasted to meet or exceed 80 degrees Fahrenheit. The ABU is set to be phased out by April 1.
Authorized areas will include flight lines, hangars and dock areas outside of climate-controlled areas. If authorized, shorts must be worn with a coyote brown T-shirt and uniform green or coyote brown socks with uniform boots.
"These options came directly from feedback from the field through the virtual uniform board and feedback from commands in the field," said Lt. Gen. Brian Kelly, the Air Force deputy chief of staff for manpower, personnel and services.
Other changes include additional sock colors, glasses frames and approved bags that can be carried in uniform.
Socks will be permitted in conservative, solid black, white, navy blue, gray, desert sand, tan, Defense Logistics Agency-issued green or coyote brown colors. Small trademark logos will be allowed.
Eyeglasses and sunglasses will be permitted in black, brown, white, navy blue, gray or transparent material, or gold or silver wire frames.
And messenger and lunch bags will be allowed in black, brown, gray and navy blue colors. All bags must be without design unless it matches the ABU or OCP pattern.