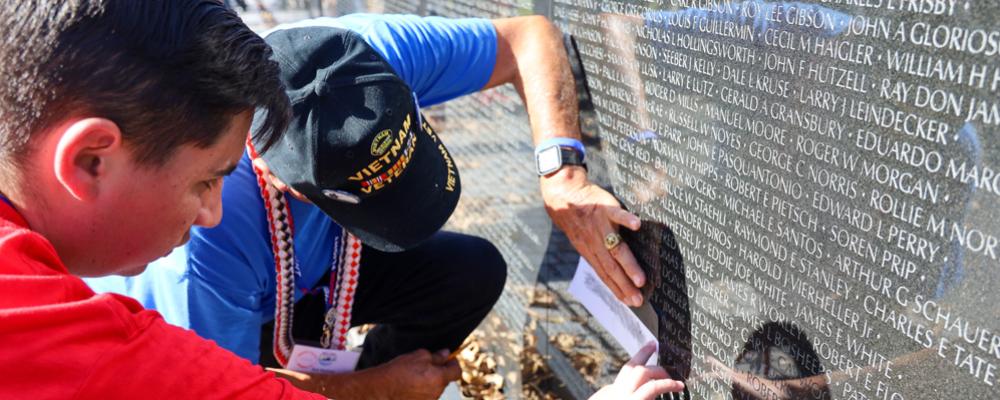 National Guard Magazine |
Real Gratitude

The first weekend of any given month for a National Guard soldier usually means reporting to your armory and spending the next two days on duty.
For Sgt. Sean Arroyo, a member of the California Army National Guard's 315th Vertical Engineer Company, November's drill was very different and very memorable.
Instead of donning his uniform, Arroyo packed a civilian suitcase and jumped on a flight to Washington D.C., for a unique mission: accompany his grandfather, retired Army Spc. Bob Martinez, and 94 other Vietnam veterans, on an Honor Flight to the nation's capital.
Honor Flight San Diego paid for all of the expenses to honor the veterans.
"It's just an emotional experience," said Arroyo of being his grandfather's "guardian" for the flight. "Honestly, to see all these vets that come back and to hear their stories, they suffered, they went through a lot worse than what we went through and look how strong they are now."
Most Vietnam veterans didn't get the hero's welcome troops today receive when they return from their overseas deployment. Instead, they were shunned due to the unpopular conflict. Some were even spat on.
This trip was different. They received salutes, cheers, banners, marching bands and current service members shaking their hands wherever they went.
"It really makes me feel good that people now actually acknowledge us for what we did when we did it," Martinez said.
And it was a group who did a lot. Each of the 95 was a Silver Star, Distinguished Flying Cross, Air Medal, Bronze Star with Valor or Purple Heart recipient.
For Martinez, it was also an opportunity to reconnect with fellow Vietnam veterans.
"To be able to share my story with them, and them sharing with me," he said. "I have met a few veterans who had a similar situation to me, other men with aviation roots, and they were in helicopters and fixed wings."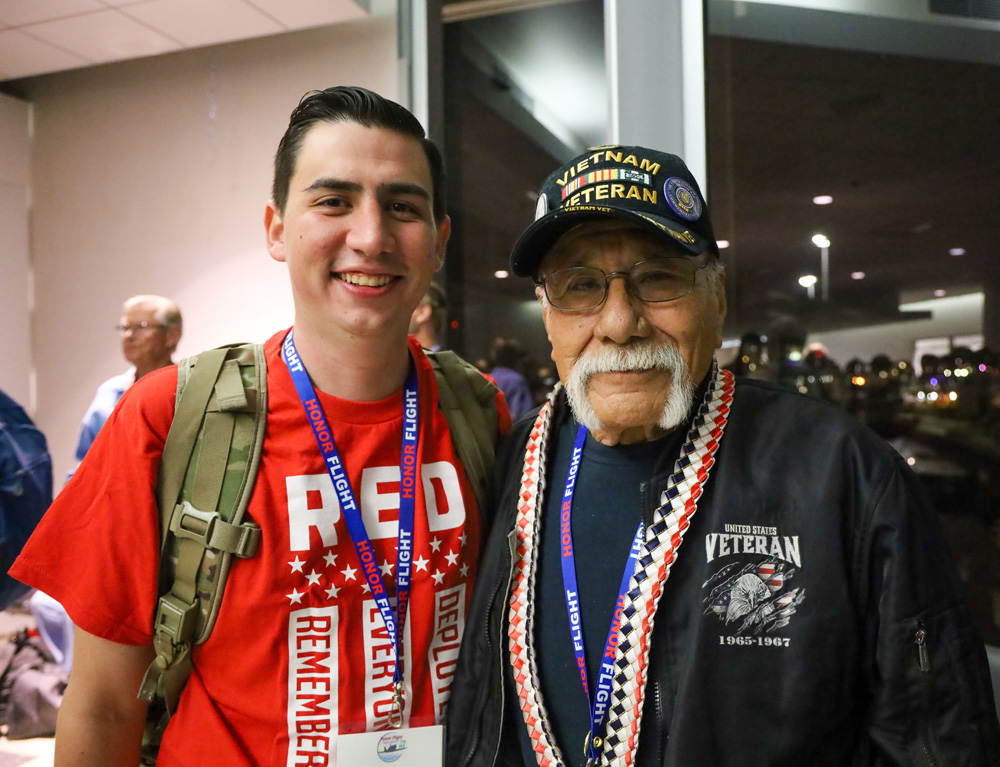 Martinez was a crew chief on the Caribou cargo/troop-carrying aircraft. He was awarded the Air Medal for flying more than 100 hours in combat, delivering supplies and moving troops across the battlefield.
"I am proud of what I did, very proud to have served," he said. "It was a job. I really didn't think that much about it, just out there to do what we had to do."
Retired Command Sgt. Maj. Michael Syzdek, a Purple Heart recipient, who served in the California Army Guard for decades after his active-duty tour to Vietnam, was also on the trip.
"To meet other veterans from different military occupational skills and did different things over there, to be able to share this wonderful experience, it's been just amazing," he said.
While in the nation's capital, the veterans visited many of the landmarks and monuments, including Arlington National Cemetery, the Air Force and Marine memorials, and the World War II memorial.
"You know, I have never been to D.C., and seeing these monuments is breathtaking," Syzdek said.
"To see the size and scope and to see Arlington and to see how well it is maintained with the rolling green hills and tombstones, the trees changing color," he said. "It just makes me 100% convinced that the sacrifice everybody in every war has made in the United States has been worth it."
The most moving experience for many was the Vietnam Memorial and its wall with the names of the 58,000 U.S. personnel killed in the conflict.
Many took the time to etch on a special piece of paper the names of buddies who never returned home.
"It's the only thing that you get to hold on to," Syzdek said.
The veterans and their guardians returned to California the next day. They were greeted by a big, enthusiastic crowd at San Diego International Airport.
"Just to see all these people who are not veterans, thousands of people with their kids, it made me feel real good to see that," Syzdek said.
— By Lt. Col. Jonathan Shiroma