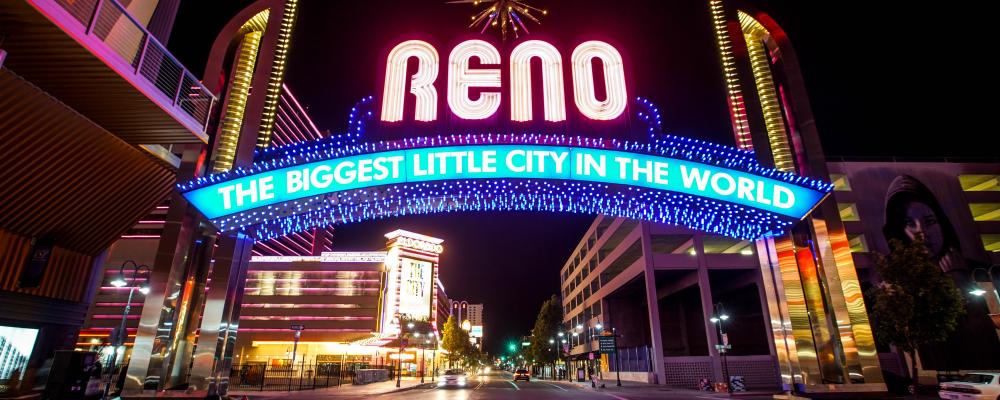 National Guard Magazine |
Next NGAUS
NGAUS Conference returns to the 'Biggest Little City in the World'
The NGAUS conference heads back to Nevada next year, but to a very different city than attendees experienced in 2021.
Reno, the setting for the 145th General Conference & Exhibition, Aug. 18-21, 2023, and Las Vegas are both renowned meetings destinations, with great hotels, conference facilities and entertainment.
But the self-described "Biggest Little City in the World" lacks the extravagances of Vegas. In a word, it's more chill, and that includes the weather.
Reno is in the high desert of the High Eastern Sierra foothills, in the Truckee River valley, on the eastern side of the Sierra Nevada.
Summer temperatures are much more bearable, and one will actually want to be outside rather than hiding from the sun in the heat of the day, like in Las Vegas.
And the National Guard Association of Nevada is planning some events Aug. 18 to take advantage of the outdoors, including a motorcycle ride, a hike of a local mountain and the traditional NGAUS golf tournament.
Another plus: Reno is considered much cheaper than Vegas.
Conference attendees should expect a few changes in the traditional schedule. The NGAUS board has approved the host-state's plan to hold the States Dinner on Aug. 19 after the First Business Session. The last evening will feature a farewell reception.
Business sessions and the industry exhibition will be held at the Reno-Sparks Convention Center, just south of the city. Most attendees will stay at one of three casino hotels — the Eldorado Resort Casino, Circus Circus Resort or Silver Legacy Resort Casino.
NGAUS last gathered in Reno for the conference in 2012. 
More event information is available here.