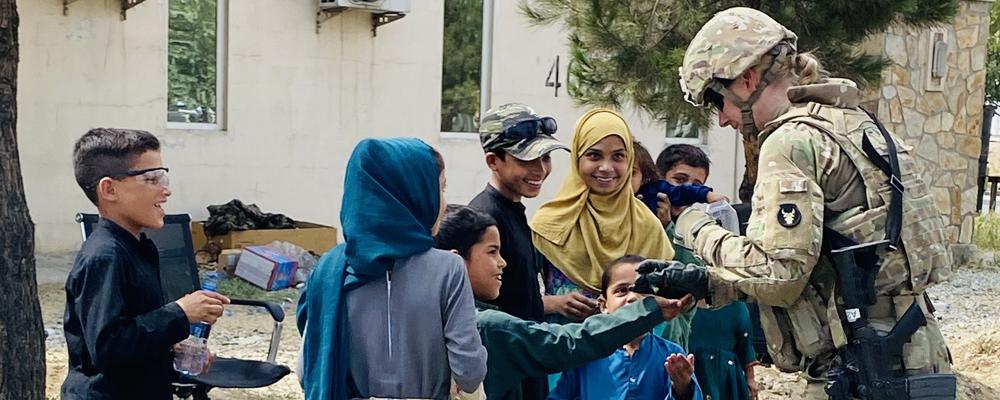 National Guard Magazine |
Final Mission in Afghanistan
The largest noncombatant evacuation in U.S. military history would not have been possible without the efforts of the National Guard.
More than 6,000 U.S. service members took part in the 17-day international mission to evacuate more than 120,000 people from Afghanistan, including 6,000 Americans. At the height of the mission, military aircraft were departing Hamid Karzai International Airport in Kabul every 34 minutes, with more than 19,000 people evacuated on the effort's busiest day.
Operation Allies Refuge included several thousand Guardsmen from across the nation and more than a dozen Guard aircraft, including C-17 Globe Master II transports, KC-135 Stratotankers and MQ-9 Reaper remotely piloted aircraft.
Guardsmen provided security at the airport, flew out evacuees, processed refugees outside of Afghanistan, refueled aircraft and provided overwatch during the 17-day operation, which ended with the last C-17 leaving Afghanistan on Aug. 30.
One of the largest contingents of Guard forces belonged to the Minnesota Army National Guard. About 400 soldiers with 1st Combined Arms Battalion, 194th Armor Regiment were dispatched to the Kabul airport from Camp Buehring, Kuwait, where the battalion had been serving as the U.S. Central Command Regional Response Force since March.
Alongside the 82nd Airborne Division, a Marine expeditionary unit, Guardsmen from other states and troops from other countries, the Minnesota soldiers helped secure the airport amid the crush of civilians seeking to leave the country following the fall of the Afghan government.
"The soldiers of Task Force 1-194 were called upon to execute a challenging mission, and they have done so with professionalism," said Lt. Col. Jake Helgestad, the task force commander. "They have shown strength, compassion and resolve despite danger and difficulty."
The Minnesota Guardsmen, better known as Task Force Bastard in honor of their lineage that dates back to the 194th Tank Battalion and World War II's Battling Bastards of Bataan, deployed from Kuwait to Kabul on short notice.
Within six hours of notification, 400 task force soldiers were ready to load onto flights, according to an account of the mission by Capt. Charlie Anderson that was published in Task and Purpose. Anderson served as the task force executive officer in Kabul.
He described as "surreal" the scene they found at the largely abandoned airport. "The airport reminded me of a combination of a wild-west ghost town and apocalyptic dystopia," Anderson wrote. They also had to contend with some active-component bias from other units assigned to the security missions at the airport.
"Initially, there was an air of distrust, but we proved ourselves worthy partners, dispelling the myth about the perceived capability gap between the active-duty and Guard/reserve components," he wrote.
"You single-handedly changed my opinion of the National Guard," he quoted the command sergeant major of 1st Brigade, 82nd Airborne Division as telling the Minnesota Army Guard unit. "The only ones not surprised by our abilities were, well … us," Anderson wrote.
The [Kabul] airport reminded me of a combination of a wild-west ghost town and apocalyptic dystopia.

—Capt. Charlie Anderson of the Minnesota Army National Guard's 1st Combined Arms Battalion, 194th Armor Regiment
THE MINNESOTA SOLDIERS had many jobs in Kabul. They worked to help secure the airport; stood up a quick reaction force; demilitarized abandoned weapon systems, aircraft, ammunition and munitions; and assisted with the evacuation of U.S. civilians, families and allies by manning checkpoints.
To accomplish the mission, the soldiers had to make the best of what they could find. Deploying without their armored vehicles, they scavenged trucks and hotwired vans. They commandeered a massive street sweeper needed to keep the runway clear of debris that can be sucked into aircraft engines and scrounged wire, rebar, welding equipment and other tools to harden security around the flight line.
The soldiers also found time to win over the Afghan children waiting with their parents to evacuate. Hardened combat troops dug through MREs to find candy to give the kids, danced with them and taught them rock, paper scissors, and patty cake. "One little girl's eyes sparkled as she played, leaning over with dimpled cheeks to hug a soldier from northern Minnesota whom she only knew for hours," wrote Anderson.
"The kids were happy with nothing. They had nothing," he quoted Sgt. 1st Class Chase Potter, the leader of the task force scouts, as saying. "To the north of us by less than 50 meters was chaos and despair. It was a bipolar atmosphere."
All the while, the unit kept watch for potential attacks and dodged close calls with bullets from outside the airport, some errant and some aimed. Tracer rounds lit up the night. The situation often called for soldiers to grit their teeth and avoid pulling their triggers, Anderson said.
"While some Taliban actions outside the gate directed towards civilians or their posture towards us would've warranted deadly use of force under previous conditions," he wrote, "our restraint was necessary in order to make certain that we could get as many people into the airport as possible and get them out."
The unit, one of the last to leave Kabul, was among the first responders following the deadly Aug. 26 attack attributed to ISIS-K on the airport's Abbey Gate that killed 13 U.S. service members and dozens of Afghans.
Task Force Bastard deployed while serving as part of Task Force Spartan, a multicomponent organization comprised of active Army and Guard units, rounded out by Army Reserve support units based in Kuwait.
Task Force Spartan also helped transport, process, house and feed thousands of evacuees who landed in Kuwait. The unit is currently commanded by the Virginia National Guard-based 29th Infantry Division, which deployed in support of Operation Spartan Shield earlier this year.
The 29th Infantry Division headquarters also includes soldiers from Maryland. And other Guard units also deployed in support of the mission were sent to Kabul, including the Washington Army Guard's 319th Ordnance Company (EOD).
"It's historical because it hasn't been done in so long," said Brig. Gen. Joseph Reale, the division's deputy commanding general-support and a Maryland Guardsman. "The last time anybody can think about was probably Saigon in 1975, and there they at least had helicopters they could fly out to the U.S. Navy. Here, it was just one little airport trying to protect everybody up there and get them onto those flights and back. And it took the help of several different agencies and multiple countries to get this done."
Reale said the evacuation effort was one of the best run operations he has seen. Watching the faces of relief of those refugees "tears at the heart strings," he said.
One member of the division headquarters staff knew well what the Afghan evacuees were experiencing.
Spc. Toraj Rozbeh, an information operations specialist, was born and raised in Kabul but immigrated with his family to the United States via the Special Immigrant Visa process in 2015. He enlisted in the Army Guard in 2017, deploying to Afghanistan in 2020 in support of Operation Inherent Resolve and now to Kuwait for Operation Spartan Shield and Operation Allies Welcome.
Growing up in Afghanistan, U.S. troops were a common sight for Rozbeh. "One time a soldier gave me a candy bar. Seeing those images, I knew that when I got to the United States, I wanted to join the military," he said.
He used his experience to assist fellow Afghans arriving at Camp Buehring, Kuwait. "Given my background and expertise … knowing the culture and speaking the language, both Dari and Pashto, it gives me a perspective to be an asset and help in this mission," Rozbeh said.
This is the most historic airlift mission we've had since Desert Storm in 1991 and is comparable to Operation New Life in Vietnam in 1975.

—Lt. Col. Nathan Schauermann of the Alaska Air National Guard's 144th Airlift Squadron, 176th Wing
JOINING THE MINNESOTA AND WASHINGTON SOLDIERS in Kabul were a small contingent from the Vermont Army Guard-based 3rd Battalion, 172nd Infantry (Mountain).
The soldiers were among more than 500 soldiers from Vermont, New Hampshire, Connecticut and Colorado who deployed to the U.S. Central Command area of responsibility earlier this year as Task Force Avalanche.
They helped secure the airport in Kabul and, in other sites across the region, supported Special Immigration Visa holders processing through other U.S. military facilities.
"Our soldiers from Task Force Avalanche trained and deployed to support their combatant commander in whatever mission they might be assigned," Maj. Gen. Greg Knight, Vermont's adjutant general, said during the operation. "While we can't always predict exactly what the mission may look like, I know our soldiers are ready and will excel in this important humanitarian mission."
Guardsmen also had a hand in constructing many of those processing facilities, including those in Kuwait and Qatar.
The 111th Theater Engineer Brigade is commanded by a West Virginia Guard soldier and includes units from the active-component Army, Army Guard and Army Reserve. The unit planned and oversaw construction of lodging, medical, dining and processing facilities in support of Operation Allies Refuge.
While Army Guard soldiers protected the airport and thousands of evacuees, the Air Guard played a key role in ensuring Afghan civilians, third-country nationals and Americans were able to leave Kabul.
A dozen Guard C-17s and 19 aircrews deployed in support of the evacuation flights, while four KC-135s and six crews refueled those planes over Afghanistan.
"There are a lot of good people that I've met over the years, Afghans that worked with us, so it means a lot to be able to be directly helping with what's happening in Kabul," said Capt. Matt McChesney, a C-17 pilot with the New York's 105th Airlift Wing, who flew some of those evacuation flights.
On Aug. 13, McChesney and his crew were at Stewart Air National Guard Base, New York, awaiting orders to begin a routine cargo flight to Colombia. That changed to a cargo mission to a base in the Middle East and two days later, after the events unfolded in Afghanistan, the C-17 pilot found himself transporting hundreds fleeing the country.
"It was eye opening for us," said McChesney. "We didn't know the gravity of the situation until we landed and saw it on the news."
The mission was also expanded to domestic missions, with 11 Guard KC-135s and 22 crews and 26 Guard C-130s and 30 crews supporting airlifts of evacuees within the United States.
The Guard aircraft overseas included planes flown by the Alaska Air Guard's 176th Wing, which sent two C-17s along with three crews that were a mix of Guard and active airmen.
"We're extremely proud of the fact that we have folks supporting this mission," Lt. Col. Nathan Schauermann, the commander of the wing's 144th Airlift Squadron, said. "This is the most historic airlift mission we've had since Desert Storm in 1991 and is comparable to Operation New Life in Vietnam in 1975. I'm so proud of our personnel for volunteering to go out there at a moment's notice, and to help with such a significant and imperative mission."
West Virginia sent two aircrews from the 167th Airlift Wing and a team of specialized security forces, known as Air Force Phoenix Ravens, from the 167th and the 130th Airlift Wing.
The crews flew 14 sorties over 13 days, carrying more than 1,200 passengers and 37.7 tons of cargo out of Kabul.
The Afghanistan mission ended when the last C-17 left Kabul at 3:29 p.m. East Coast time on Aug. 30, but the Guard's mission continues.
Hundreds of Guardsmen are still deployed to military installations across the nation in support of temporary refugee housing as Afghans are processed and resettled in the United States.
Maj. Holli Nelson and Staff Sgt. Marc Heaton contributed to this article.
Drew Brooks can be reached at [email protected]g.