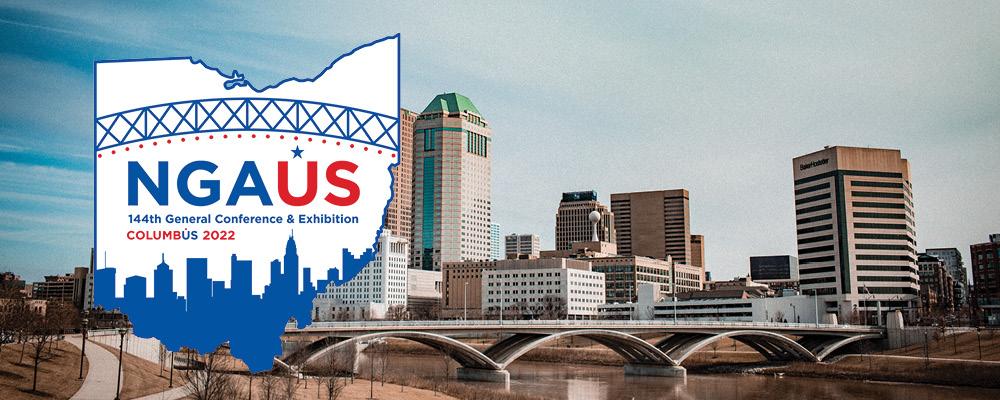 National Guard Magazine |
Columbus: A Conference Primer

THE HOST CITY
Bigger Than You Think
While best known as the state's capital and home to one of the largest colleges in the nation, the Ohio State University, Columbus is so much more. It's one of the fastest-growing cities in the United States. It's also the largest and most visited city in Ohio. Thrillist, a website that covers food, drink, travel and local culture, calls Columbus "surprisingly cool." The city, according to Thrillist, "has a thriving arts scene, a pulsing nightlife and natural beauty within city limits." Much of it is just outside the Greater Columbus Convention Center in the Short North Arts District, which features 300 dining and entertainment venues.
THE VENUE
Renovated, Accessible
Conference meetings and the industry exhibition will be in the Greater Columbus Convention Center, a multipurpose, 1.8 million-square-foot facility connected to Hilton and Hyatt Regency hotels. It was originally built in 1993, expanded in 1999 and again in 2016. Among its most unique features is the Battelle Grand ballroom, with its signature LED lighting fins in the ceiling capable of 65,000 color combinations. The States Dinner will be there. The facility also has a food court that offers an array of options.
THE CONFERENCE
An Annual Tradition
There haven't been 143 previous NGAUS conferences, but pretty close to it. The "144th" refers to the number of years since militia officers from across the nation established the association to provide a unified voice to petition Congress for more resources. They held their first formal conference the next year, but national meetings were sporadic early on, normally involving less than 100 senior officers. They grew larger and more regular after that, and there has been a NGAUS conference every year since 1943. The one anomaly was 2020, when the event was held virtually due to the coronavirus pandemic.
THE THEME
In the Heart of It All
After 385 years, the National Guard remains central to the nation's defense. The Guard is critical to daily Army and Air Force worldwide operations. The State Partnership Program, now with links in 93 nations around the globe, is at the forefront of many combat commander's diplomatic efforts. And at home, the Guard is every governor's most-trusted tool when disaster strikes. Additionally, with a presence in more than 3,000 communities across the nation, the Guard is connected like no military component to the American people.
HEADLINERS
Featured speakers scheduled for the business and separate sessions
Gen. James C. McConville
Army Chief of Staff
Harry S. Truman Award Recipient
First Business Session
Gen. Charles Q. Brown Jr.
Air Force Chief of Staff
First Business Session
Lt. Gen. Laura Potter
Deputy Army Chief of Staff—Intelligence
Second Business Session
Gen. Daniel R. Hokanson
Chief of the National Guard Bureau
Second Business Session
Louisiana Gov. John Bel Edwards
Harry S. Truman Award Recipient
Third Business Session
Gen. Andrew P. Poppas
Commanding General, Army Forces Command
Army Separate Session
Lt. Gen. Jon A. Jensen
Army National Guard Director
Army Separate Session
Maj. Gen. Michael D. Wickman
Deputy Commanding General, U.S. Army Europe and Africa
Army Separate Session
Lt. Gen. Michael A. Loh
Air National Guard Director
Air Separate Session
---
BEYOND THE MAIN SESSIONS
Legislative Resolutions
Army and Air National Guard representatives from every state, Guam, Puerto Rico, the U.S. Virgin Islands and the District of Columbia will gather to review standing resolutions, draft resolutions and late or "emergency" resolutions. Most contain multiple items. Deliberations are set to begin Aug. 26 and continue through Aug. 28. Approved resolutions, which are subject to a floor vote by conference delegates Aug. 29, will form the basis of next year's NGAUS legislative action plan for deliberations on fiscal 2023 defense legislation.
Elections
Delegates will vote for the three representatives (adjutant general, Army and Air) on the board for Area I and Area IV, the Army company-grade and Air retired/separated reps. Final tallies are subject to ratification by the full conference Aug. 29.
Company-Grade Officer Professional Development
The conference will once again provide OPD for company-grade officers and junior warrant officers. Formal sessions will include presentations by National Guard Bureau senior generals, the NGAUS legislative staff and leadership experts from nearby Ohio State University. The full agenda is on the conference app.
Army & Air Separate Sessions
The separate sessions are set for the morning of Aug. 29. Both will feature presentations by senior leaders. Gen. Andrew P. Poppas, the new commanding general of Army Forces Command, and Lt. Gen. Jon A. Jensen, the director of the Army Guard, headline the Army session. Maj. Gen. Michael D. Wickman, the deputy commanding general for Army National Guard, U.S. Army Europe and Africa. The Air session agenda will feature Lt. Gen. Michael A. Loh, the Air Guard director.
Industry Exhibition
This year's trade show is the largest in more than a decade. More than 340 companies and organizations had purchased booths by mid-August. An updated list is available on the conference app. Exhibitor descriptions are available in the official conference program. The show opens at 10 a.m., Aug. 27 with a ribbon-cutting ceremony followed by a complimentary brunch. A complimentary lunch is available on the exhibition floor Aug. 28. The NGAUS booth (No. 1636) again will be near the middle of the 200,000-square-foot show floor. This is where you can speak with NGAUS staff and purchase the 2022 National Guard Educational Foundation holiday ornament. It features the flags of the 13 nations (12 in Europe and one in Asia) that established the Guard State Partnership in 1993.
Task Force Meetings
All 13 of the issue-related NGAUS task forces (Army Fire Support, Army Combat Vehicle, Army Sustainment, Army Aviation, Army C4I, Army Engineer, Mobility Air Forces, Combat Air Forces, Air Combat-Mission Support, Space, Joint Cyber, Joint Domestic Operations and Joint Personnel/Medical Benefits) will meet the afternoon of Aug. 28. Meetings are open to all attendees. Consult the official conference program or the conference app for exact times and locations.
Total Authorized Delegates*
Alabama 22
Alaska 12
Arizona 18
Arkansas 31
California 22
Colorado 15
Connecticut 15
Delaware 15
District of Columbia 13
Florida 17
Georgia 42
Guam 9
Hawaii 23
Idaho 11
Illinois 26
Indiana 19
Iowa 21
Kansas 29
Kentucky 19
Louisiana 32
Maine 8
Maryland 22
Massachusetts 33
Michigan 18
Minnesota 27
Mississippi 58
Missouri 14
Montana 10
Nebraska 18
Nevada 19
New Hampshire 12
New Jersey 19
New Mexico 14
New York 19
North Carolina 22
North Dakota 17
Ohio 30
Oklahoma 17
Oregon 15
Pennsylvania 18
Puerto Rico 9
Rhode Island 8
South Carolina 30
South Dakota 19
Tennessee 54
Texas 27
Utah 23
Vermont 11
Virginia 20
U.S. Virgin Islands 8
Washington 14
West Virginia 17
Wisconsin 33
Wyoming 8
TOTAL 1,100
* Based on total NGAUS members in a state/territory and other criteria in the association bylaws.