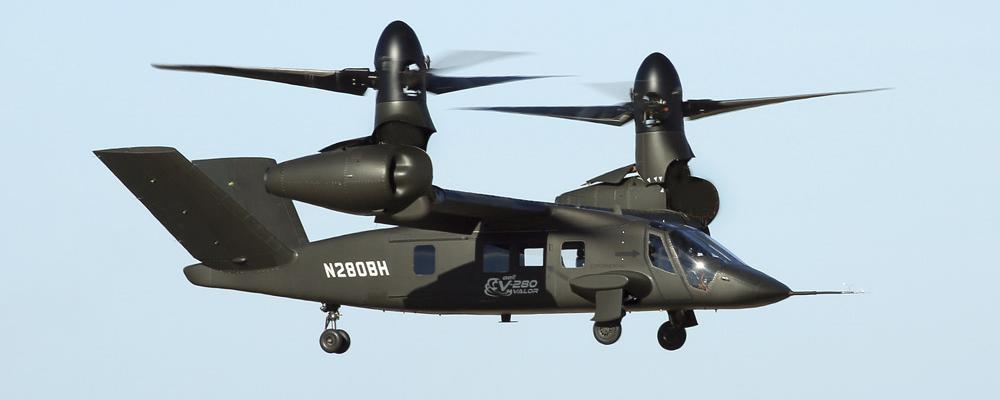 National Guard Magazine |
Big Lift
The Army is long overdue for a refresh of its rotary platforms.
The basic elements of helicopter flight are nearing 100 years old, "and there's technology out there that's significantly better," says retired Col. Greg Hartvigsen, a former Arizona state Army aviation officer and one-time chairman of the NGAUS Army aviation task force. The military needs to embrace that new technology, "so that we continually have an advantage over our enemies."
Army officials are looking to do just that with its Future Vertical Lift program. The rotorcraft Army Futures Command is developing will "improve vertical lift dominance by improving performance and optimizing affordability, life-cycle management, interoperability and supportability," officials say.
With decisions nearing on a new assault aircraft and a new armed reconnaissance helicopter, this is a good time to look at what's on the table, what the selection criteria might include and what the acquisition of FVL aircraft could mean for the Army National Guard.
It's also important to understand the pressure Army officials face. The service hasn't developed an all-new combat rotorcraft since Ronald Reagan was president, and now it wants to acquire two in relatively short time. In addition, future budgets are a question mark. Officials, however, insist that FVL is a top priority.
Existing helicopters like the UH-60 Black Hawk have been built on "basically the same concept" for ages, Hartvigsen says, and engineers have wrung all the speed and range possible from that technology. But with fast-advancing Russian and Chinese capabilities, the Army urgently needs to go faster and farther.
Officials plan to select a future long-range assault aircraft, or FLRAA, in 2022 and a future attack reconnaissance aircraft, or FARA, in 2024, with a goal of bringing them into service by 2030.
For the FLRAA, the Army will choose between competing designs from Bell and a team from Sikorsky, a Lockheed Martin company, and Boeing:
● Bell says its tilt-rotor V-280 Valor — similar to the Marine Corps' V-22 Osprey but smaller and with a V-shaped tail — has "over twice the speed and range as current weapons systems."
● The Sikorsky-Boeing team says that with its stacked, counter-rotating main rotors and pusher propeller, the DEFIANT X will "fly low and fast, land quickly, deliver soldiers and get out — all while evading the enemy in complex terrain."
For the FARA, the Army is weighing competing offerings from Sikorsky and from Bell:
● Sikorsky describes its RAIDER X helicopter as "a fast, agile, survivable compound coaxial helicopter that will equip future aviators to address evolving peer and near-peer threats in the most difficult environments."
● Bell says its single-rotor 360 Invictus combines "impressive agility and lethality with a modular open systems approach…providing security and battlefield situational awareness until the fight is finished."
Officials have laid out detailed technical requirements related to speed, range and a raft of other considerations. Let's presume — and it is only presumption at this point — that all the competing aircraft meet the minimum requirements. How, then, will the Army decide?
Survivability, lethality, affordability and reach. Those are four Future Vertical Lift benchmarks.

—Col. James Rae, the chairman of the NGAUS army aviation task force
WHAT'S THE ARMY LOOKING FOR in FVL aircraft? At a high level, "it is survivability, lethality, affordability and reach. Those are four benchmarks," says Col. James Rae, the chairman of the NGAUS Army aviation task force.
But those considerations are not equal, he adds. "We can create a platform with the greatest reach, the greatest lethality, the greatest survivability — but what if it's not affordable? Or it's difficult to maintain?" he says. "We need to make sure that we do not neglect those things, which are required to keep the force structure readily available as we field new solutions."
A senior Guard advisor for the FVL Cross-Functional Team at Army Futures Command, Col. Jason Fryman says he is looking to see not just whether the offerings meet all the requirements, but how they go about doing it.
He's interested in how the FVL systems will mesh with other military systems. In FARA, for example, this might refer to how the platform supports specific weapons systems like the XM915 20mm gun, or the Modular Effects Launcher. "It's a system of systems or a family of systems?" he asks, and FVL's ability to play in that space would be "truly the capability that is transformational."
Futures Command will also be looking to see how the manufacturers implement the Army's vision of a "modular, open systems, architecture," he says. Such an approach aims to make systems for readily interoperable, while avoiding long-term vendor lock in. While the specs call for such an approach, upcoming evaluations will focus on the ways in which the different aircraft meet those requirements.
"There is a lot of that is still in testing, with academic agencies and others," Fryman says. "The requirements are written, but whether or not the performance is there — that's what the testing and the evaluations and the demonstrations are for."
Even if all the offerings check all the boxes, they will do so in different ways.
"There are different approaches to having similar capabilities," says Mike Hirschberg, the executive director of the Vertical Flight Society, a Fairfax, Virginia-based organization dedicated to the enhancing the understanding of vertical fight technology. "The military makes decisions on best value. It's the actual cost for aircraft, the cost for development, the cost to sustain it: This one is going to be more fuel efficient. This one's going to require fewer maintainers. This one will be easier to fly."
Hartvigsen says the different approaches of the two manufacturers could have different outcomes. There are operational differences, for example, in the downwash of a tilt-rotor versus a single-or compound-prop design.
"There are also maintenance issues, which ones have got more durability and sustainability through their maintenance," he says, adding that flight testing will likely surface the pros and cons. "What we're trying to assess here very shortly will be all the data that comes from the flying that they're going to do during the test phase."
The manufacturers point to additional criteria the military might take into account.
At Sikorsky, a Lockheed Martin company, for example, Jay Macklin, the director of FVL business development, points to the company's four-plus decades of experience working with all three components of the Army to produce the Black Hawk.
When facing near-peer threats, the aircraft will have to fly "very low to the ground, and very fast," he says. And in the context of joint, all-domain operations, "they will have to be able operate within these joint mission systems, all the way through that joint-fires network."
The Army can be looking to see how well the varied platforms meet that need. And for the Guard, Macklin urges practical considerations: Where will the aircraft be housed? He notes that his company's offerings fit in the same physical footprint as the Black Hawk.
At Bell, retired Col. Chad Smith, the manager of FVL sales and strategy, says that while the new platforms promise to revolutionize air combat, cost remains a significant consideration. "There are two things that drive cost on helicopters: its blades and gearboxes," he says. "The more blades you have, and the more types of blades, the more you drive costs."
Smith also emphasizes aircraft-management as a consideration. "You want to do this without having to buy new ground-handling equipment, without having to modernize hangers and buildings," Smith says, adding that systems integration also ranks high on his list. "As these new systems come on board, the intent is to be able to digitally link them — to find out where the gaps are with connect-time activity, communications and electronics and weapon systems, and to do all that in the lab, before it ever gets to the field."
All these factors will likely go into the mix as the Army makes it evaluations. For the Guard, meanwhile, an even larger question looms. Some wonder when, or even whether, the Guard will have access to these emerging platforms.
Future vertical lift is as important to the Guard as it is to the active Army and the rest of the Army.

—Retired Col. Greg Hartvigsen, the former chairman of the NGAUS army aviation task force
THE GUARD OPERATES roughly 900 Black Hawks or about 40% of the Army fleet, and Guard leaders are eager to receive a similar portion of the FLRAA. Hartvigsen says concurrent and proportional fielding across the components is crucial.
"Future vertical lift is as important to the Guard as it is to the active Army and the rest of the Army — no more, no less," he says. "That's the bottom line. We can't really have future vertical lift only applicable to one component."
Senior Army leaders, including Gen. James C. McConville, the Army chief of staff and a long-time Army aviator, say that's the plan, and Rae says NGAUS is "optimistic" that it will happen.
"Leadership recognizes that force structure parity between active and reserve components is essential to achieve the National Defense Strategy, and that concurrent and proportional equipment modernization of all future vertical lift capability sets for the National Guard is essential," he says.
Most independent observers agree. "Just as the Guard operates Black Hawks today, eventually those will all be replaced by the FLRAA," says Hirschberg at the Vertical Flight Society. "So it's a matter of when, not if."
But many are less confident when it comes to FARA, which will fill the void left when the Army decided to retire the OH-58D Kiowa in 2013. Army officials see the speedy FARA destroying enemy air defenses, clearing a path for the slower AH-64E Apache attack helicopter.
"The issue the Guard faces is that there aren't any air cavalry aviation formations in Compo 2. Therefore, there isn't a pathway for the Guard to receive FARA until there are air cavalry formations that require it," says Fryman at Army Futures Command. "Thus, the Guard is rightly more focused on future aviation force design and ensuring our divisions and aviation brigades possess those critical capabilities within their own formations. The answer to when the Guard will receive FARA is secondary to the Army's decision on where to place air cavalry formations throughout our Total Army."
(The Guard did have air cavalry formations at one time, but that force structure has long since been converted to other missions.)
Much will depend on these high-level efforts to define a future force structure. "What is the Army's plan for the Guard?" Hartvigsen says, adding that without FARA, "we become less relevant as a fighting force."
Parity in FVL, he says, is "in the best interest of the Army National Guard, the Army, and the nation."
Hartvigsen believes he Guard's close participation in FVL development bodes well. "The National Guard view is integrated in with the Pentagon in providing information and perspective of how this will impact the Guard and how the Guard can be a solution," he says.
Rae says he has worked in close collaboration with Guard representatives at Army Futures Command and that their input has helped to shape development of FVL. "We have some unique requirements, and our subject matter experts have been involved is process from the start," he says. "They weren't just invited down there for show. They're playing an instrumental role in helping to manage the process and move it forward. So that is welcome news."
Fryman adds that the Guard's input encompasses not just of high-level guidance but also the hands-on user testing that has been critical in shaping the FVL requirements.
"We are getting a rapid feedback loop from soldiers who are touching, feeling, operating the equipment," he says. "The Guard members who come out to the soldier touch points have been exceptional: There's just a wealth of knowledge and experience among the maintainers, among the operators in the Guard."
There is a lot of that still in testing, with academic agencies and others.

—Col. Jason Fryman, a senior Guard advisor for the FVL Cross-Functional Team at Army Futures Command
THE GUARD'S CURRENT LEVEL INVOLVEMENT will likely remain high as FVL proceeds. At Bell, Smith notes, for example, that the Guard has pivotal resources that can support training for the Army as it fields.
"One thing that we're not making any more of is controlled airspace," he says. "The Guard has these massive ranges in these massive controlled airspace locations. That is going to be a strategic asset" as the Army rolls out its emerging platforms.
And increasing great power competition around the globe only increases the need for a new generation of rotorcraft. "There is a refocus on large-scale combat operations, as well as on multi-domain operations," Fryman says. In these emerging combat situations, FVL promises an overmatch capability.
"The key thing for both of these aircraft is range," Hirschberg says. "People tend to focus on the speed and speed is really important, but it's really the range that is the key performance attribute" — especially in the Pacific.
FVL will also positively impact the domestic mission. "With greater loiter time on station, we will have a greater ability to get more people out of harm's way and to safety" during disaster response, Rae says. "There's an enormous benefit in that, a very immediate return for communities all across the country."
Smith points to the potential impact of FVL on Guard efforts to respond to the hurricanes and wildfires that seem to be occurring with greater frequency and intensity.
"If something can go twice as fast and twice as far," he says, "what that does the National Guard and for its missions is just remarkable."
Adam Stone is an Annapolis, Maryland-based freelance writer who specializes in defense issues. He can be contacted via [email protected].
---
FINALISTS - Future Long-Range Assault Aircraft
DEFIANT X
● Primary Manufacturer: Sikorsky and Boeing
● Crew: 2
● Internal Lift Capacity: 3,980 lbs. (12 troops and squad equipment)
● External Lift Capacity: 9,500 lbs.
● Cruise Speed: 230 knots (265 mph)
● Range: 470 nautical miles
V-280 Valor
● Primary Manufacturer: Bell
● Crew: 4
● Transport: 12 troops and squad equipment
● Useful Load: 12,000+ lbs.
● Cruise Speed: 280 knots (322 mph)
● Range: 500–800 nautical miles
Source: Sikorsky & Boeing, Bell
FINALISTS - Future Attack Reconnaissance Aircraft
360 Invictus
● Primary Manufacturer: Bell
● Crew: 2
● Cruise Speed: 180 knots (207 mph)
● Range: 135+ nautical miles
RAIDER X
● Primary Manufacturer: Sikorsky
● Crew: 2
● Cruise Speed: 180+ knots (207 mph)
● Range: 270+ nautical miles
Source: Bell, Sikorsky