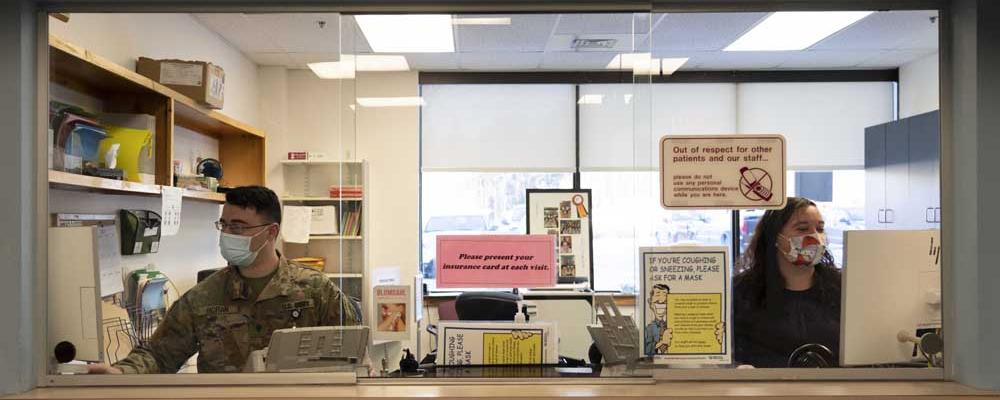 National Guard Magazine |
Another Surge
Staff Sgt. Rebekah Londoff wore a uniform to work last month. That's not unusual.
But while the muted camouflage of her New Hampshire Air National Guard uniform wouldn't have been out of place at Pease Air National Guard Base in Portsmouth, New Hampshire, it stood out among the regular staff wearing scrubs and white coats at Memorial Hospital, 80 miles north in North Conway, New Hampshire.
It was also a welcome sight.
Londoff was among the New Hampshire Guard soldiers and airmen Gov. Chris Sununu called to alleviate stressed medical health care facilities. And she quickly become the lynchpin of the Memorial Hospital's medical-surgical and intensive care units, admitting patients, answering phones and tracking down medical staff as needed.
"The wrong person can tie up a med-surge unit in knots," one of the hospital's infection prevention specialists, Andrea Murphy, told the Conway Daily Sun. "She was right on it."
Last month, Guard uniforms became a relatively common sight in and around medical facilities across the nation.
As of mid-January, more than 15,600 Guardsmen representing 49 states and territories were supporting state and local officials battling the coronavirus, with more than 6,000 providing direct support to hospitals.
That support came as COVID-19 hospitalizations reached a pandemic peak earlier in the month amid the spread of the omicron variant, according to the U.S. Department of Health and Human Services.
The effort represents the latest evolution of the Guard mission, which began in the early days of the pandemic in 2020.
Two years ago, Guardsmen in many states began the mission by establishing alternate health care facilities and distributing food and medical and protective equipment. They later became involved in testing, contact tracing, and distributing and administering vaccines.
In recent months, those efforts have brought Guardsmen into hospitals, schools and behind the steering wheels of buses to address staffing challenges exacerbated by the pandemic in many states.
The vast majority of Guardsmen are currently serving on federal Title 32 orders, officials said. They are covered by TRICARE while mobilized and have transitional health care for 180 days once their missions end, a legislative change won by NGAUS.
Guard leaders from several states said they deployed Guardsmen where they were most needed in their home states, but also working to not exacerbate staffing shortages — meaning Guardsmen whose civilian careers are in the medical field are not being used.
State officials said they also took precautions to protect Guardsmen and patients alike, conducting regular testing and requiring vaccination to be eligible for any mission that is in direct contact with patients.
We're here to support the hospital anyway we can.

—Staff Sgt. Tom Blythe of the New Hampshire Army National Guard
At Memorial Hospital in rural New Hampshire, Londoff was one of four Guardsmen assigned to help staff focus on clinical care as the hospital operates near capacity.
It's a similar story in numerous states, where Guardsmen have been asked to fill nonclinical support roles, such as administration, janitorial services, supply management, patient and supply transport, and COVID-19 symptom screening and testing.
Other states called in soldiers and airmen with medical skills not currently being used in their civilian jobs to assist at long-term care facilities and at some hospitals, or are working to quickly train Guardsmen to serve as emergency medical technicians, nursing aids or other patient-care positions.
"Everybody thought it was just going to be over the next month or two," Capt. Travis Mueller of the Pennsylvania National Guard recently told WGAL-TV in Lancaster, Pennsylvania, referring to the start of the Guard mission in April 2020. "Here we are in January 2022, and they're still going."
Londoff, an air transportation craftsman in the Air Guard, has run the gamut of the Guard mission. With her musical theater career on hold amid the pandemic, she has served in a revolving door of COVID-19 related missions for the New Hampshire Guard.
She's staffed phones for New Hampshire Employment Security and the state Department of Health and Human Services' vaccine scheduling center. She was a liaison officer with the state's COVID-19 Joint Task Force. And she served as a case investigator for the state, informing residents of positive test results and encouraging them to isolate.
State and local leaders have said Guard training and experience — especially the ability to work in small teams in high-stress environments — makes the force well-suited for the myriad of missions that have come amid the pandemic, even as the Guard continues to respond to domestic and overseas mission unrelated to COVID-19.
Many Guardsmen have volunteered for the missions, seeing the efforts as a way to give back to their communities.
"Personally, it feels good," said Sgt. Shanay Clay, a member of the Maryland Army Guard helping to distribute protective equipment and other medical equipment in her state, according to a Guard release. "It feels really good to know that just this one small thing could potentially save a life."
At a virtual roundtable discussion last month, Guard leaders said their primary focus was ensuring hospitals can meet their capacity, even as they battle a perfect storm of COVID and staffing challenges.
"We've been able to move quickly, we've been able to be agile. Most importantly — our relationships ensure we have the right troops in the right places at the right time," said Maj. Gen. John C. Harris Jr., the adjutant general of Ohio.
The Ohio response, with almost 2,500 Guardsmen deployed, was the largest in the nation as of mid-month.
But while the size of the mission has waxed and waned over the past two years, Harris said there's been little break.
"This COVID puts a unique challenge on us," he said, but added the Guard was not running out of capability and had not sacrificed other missions.
"As we bring people on and off orders, we can meter or manage who we bring onto orders and what time," Harris said.
Other state leaders agreed.
"We've been in this thing for two years," said Col. Will DiProfio, the director of joint plans, operations and military support for the Colorado Guard. "We're learning to live with the current situation and continuing the mission as best we can."
The surge of forces is just the latest for the Guard mission.
COVID-19 support missions peaked at nearly 50,000 soldiers and airmen in May 2020 before dropping to just under 20,000 Guardsmen by late August 2020, according to the National Guard Bureau.
Numbers rose again to more than 30,000 Guardsmen by April 2021 before dipping back to under 15,000 as of August 2021. The latest call-ups are part of a third wave of COVID-19 support missions in response to virus surges.
"We're here to support the hospital anyway we can," said Staff Sgt. Tom Blythe, a New Hampshire Army Guard cook who was on temporary duty at the Monadnock Community Hospital in Peterborough, New Hampshire. "We're just trying to make a difference."
The author can be reached at [email protected].