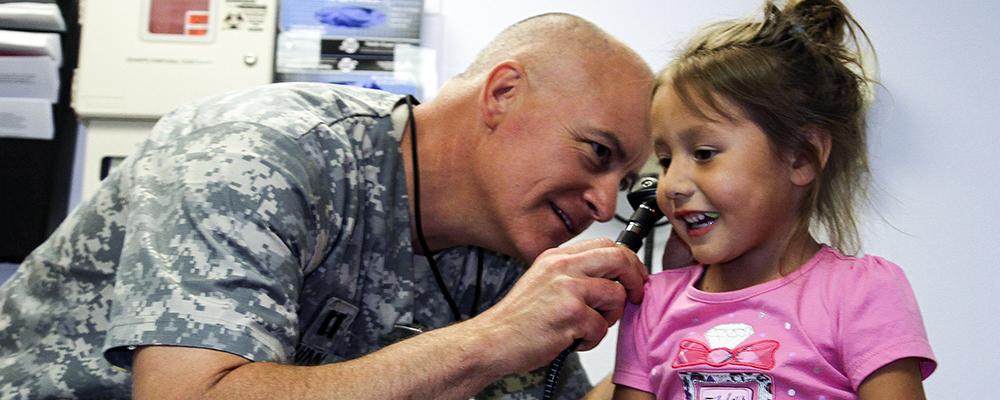 The Issue
National Guard servicemembers can face unique challenges in obtaining health care access or ensuring continuity of care. Significant numbers of servicemembers without health care can directly impact deployability of National Guard forces.
Recommendation
Enact reforms to make it easier for servicemembers to obtain robust health care and ensure continuity of care for themselves and their families, includes:
Passing S. 164 and H.R. 613, which would authorize TRICARE Reserve Select (TRS) eligibility for National Guard and Reserve servicemembers who are federal employees in their civilian capacity, including the more than 70,000 dual status military technicians.
Support S. 164 and H.R. 613, The TRICARE Reserve Select Improvement Act.
Background
Under current law, a member of the Guard or Reserve who is also a federal employee, is ineligible to use their military TRICARE Reserve Select.  
Servicemembers are ineligible for TRICARE Reserve Select if they are on active duty orders, covered under the Transitional Assistance Management Program, or enrolled in the Federal Employees Health Benefits Programs (FEHBP) or covered under the FEHBP through a family member.
The TRICARE Reserve Select program was authorized in Fiscal Year 2005 National Defense Authorization Act (NDAA), which established a premium-based health plan available globally for qualified Selected Reserve members and their families. Access to this affordable health care has greatly increased reserve component medical readiness and has helped reduce mobilization times for worldwide contingencies.
TRICARE Reserve Select provides benefits similar to TRICARE Standard. The government subsidizes the cost of the program with members paying 28% of the cost of the program in the form of premiums. For the calendar year 2017, TRICARE Reserve Select premiums are $47.82/month for member only coverage and $217.51/month for member and family coverage.
Although still actively serving in the Guard and Reserve, current law prohibits access to TRICARE Reserve Select simply due to also working for the federal government. This creates confusion in coordination of benefits for servicemembers and their families, as well as prevents them from establishing continuity of care and treatment as they deploy or transition in or out of the federal government.
Originally introduced in 2017, bills to allow TRICARE Reserve Select for all service members in the reserve component regardless of federal employment, were included in the Senate's version of the National Defense Authorization Act (NDAA), but was not included in the final version of the bill. 
In January 2019, Senator Steve Daines (R-MT) and Senator Joe Machin (D-WV) re-introduced S. 1.64 and Congressman Trent Kelly (R-MS) and Congressman John Garamendi (D-CA) re-introduced H.R. 613.
In summary, members of the National Guard and Reserves and their families should have equal access to competitive health coverage premiums arising from their military service.  Passing this bill will save the federal government $1.2 billion over 10 years.
Point of Contact
J.C. Cardinale
Legislative Affairs Manager, Joint & Personnel