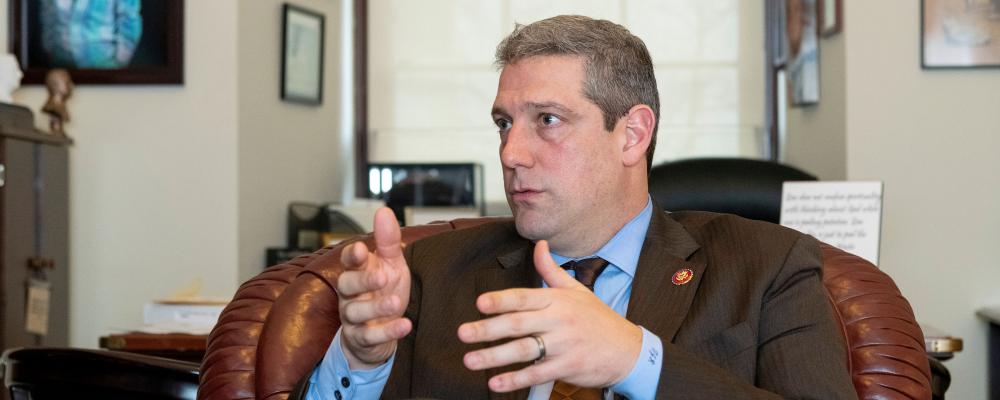 Rep. Tim Ryan, D-Ohio, never served in the National Guard, but he talks about the force with an adjutant general's passion.
The new Democratic co-chair of the House National Guard and Reserve Components Caucus says the Guard is an operational force without the required equipment, facilities and health care.
Correcting that, he adds, must be a priority. Mitigating the sacrifices of Guard families and employers is also important, he says.
Ryan can help move all of this along both as co-chair of the caucus, which is a group of more than 150 House members interested in advancing Guard and Reserve issues, and as a member of the House Appropriations defense subcommittee.
He and his fellow co-chair, Rep. Steven Palazzo, R-Miss., have already co-sponsored a bill in the new Congress that would offer tax credits to Guard and Reserve employers.
Ryan succeeded former Rep. Tim Walz, who is now the governor of Minnesota, as the Democratic co-chair of the caucus. He sat down with National Guard early this month to talk about the Guard, the caucus and the issues that will shape deliberations on fiscal 2020 defense appropriations.
You already have a full plate on Capitol Hill. What is it about the Guard and Reserve that prompted you to want to take on another major responsibility?
The Guard has become an essential part of the overall force since 9/11 and I just don't think we'll be able to work forward without really focusing on how we bring the Guard and Reserve up to the highest standard. So with the opportunity to take the spot, I jumped at it. I sit on the defense appropriations committee, so it's nice to be able to focus on the Guard.
How will you and your Republican co-chair, Rep. Steven Palazzo of Mississippi, identify issues important to the Guard and Reserve and work with the rest of the caucus to create and pass legislation?
Steve's a great guy. I see him in the House gym every morning and we've developed a very good relationship. His being in the Guard is really important for the caucus. He's on the ground. He understands the issues better than anybody because he's in the Guard. One issue [for the caucus] is to take care of the members, take care of the soldier and take care of the employer, who is sacrificing as well. We have one bill already to provide a tax credit for the businesses who employ the Guard and Reserve. It offsets some of the sacrifice and some of the financial hits they take. We're going to keep going. One of the things we want to do is continue to listen. And we have our ears to the ground.
What kind of concerns do Ohio National Guardsmen share with you when you are back in your district or visiting them overseas? How will their stories guide you as caucus co-chair?
I've found since I was originally on the Armed Services Committee that it's really essential to cut through the layers of leadership and really get down and talk to the men and women serving on the ground. And [what I hear] is basic stuff like equipment, especially with the Guard. They seem like the red-headed stepchild. They're going to get this stuff when we're all done using it for whatever we were using it for.
I think because they're an operational force now, we've got to make sure the Guard has the equipment of an operational force. It's expensive, but it's necessary. Same with the issues around health care. We've got to make sure we give the Guard what it needs. And the readiness centers need upgrading through a military construction budget. We really have to focus on the facilities that haven't seen investment in years — some of them in decades. If we want to have a robust Guard force, they have to have the facilities they need.
But it's important for everybody to realize that it's not easy today in the United States. We kind of have the old military — we still need guns and bullets and trucks and tanks. But now we've evolved and now we need nuclear weapons, intercontinental ballistic missiles and all these things. But that doesn't mean you stop buying bullets and guns. Then you go into space and now you need satellites. And we're moving into cyber, artificial intelligence. It's all a very expensive portfolio.
We're also facing a rising Chinese military and economic threat — the islands in the South China Sea, threats in Taiwan. They're building bases in Africa to protect their products and raw materials and signing these long-term contracts with countries there. They're doing a One Belt, One Road initiative to move their country into the Middle East, building ports, touching about 70 countries. And, obviously, Russia is a huge threat, messing with our planes and ships and using cyber to threaten Eastern Europe, including the Baltics.
Our challenges are great and we need the money to be able to address all of them — from traditional manpower to cyber. And the Guard and Reserve is playing a huge role in all of it. So the goal, my philosophy, is, how do we get the Guard and Reserve on par across the board with the rest of the military? They should be at the top.
Where can NGAUS be most helpful in this process?
I think keep doing what you're doing. I think it's essential to have that advocacy, the ideas, the feedback. As we move forward now, trying to move away from [the spending caps of] sequestration, my hope is that we continue to make some progress on some of these issues.
You are also the co-chair of the Military Mental Health Caucus. What more needs to be done to improve Guardsmen and Reservists' access to mental health care, especially those who live in rural areas?
It's hard. It's a big challenge if they're not on military bases. And I think we have to do a better job of figuring out if it getting them better access to a veterans' facility. I think it speaks to the broader issue we have in the country around mental health and the access to mental health in rural areas. So the issues that face the Guard are the same issues that all citizens face in rural areas. They all would benefit from a broader and more robust approach to mental health promotion and mental health treatment. And that's part and parcel with the national health care agenda we need to push.
How promising do you think telemedicine or online services might be to this particular issue?
I think telemedicine is probably going to be the quickest and easiest way to address this issue. We also need to be responsive to rural hospitals. They took some hits with the cuts to Medicaid and the reversals from some of the components of the Affordable Care Act. Some closed. They couldn't afford to stay afloat because of some of the changes the president and Republicansmade around stabilizing markets in rural areas. Money had been provided to insurance companies that could otherwise not afford to be in a rural areas. Basically what we said was, We'll make sure you're making money. We'll make sure it's at least affordable and the public will fill that gap for you. That money was cut, so providers left and we have a gaping hole in the rural communities.
To what do you attribute your interest in military mental health?
Just the experience. I've been in Congress since about 9/11 and have watched men and women come home back from overseas. I've been to a lot of funerals. Some of them were suicides —soldiers who came back and took their own lives because they did not get the kind of treatment they needed, whether that was through the [Department of Veterans Affairs] or not. It's heartbreaking. Many of these people were my age or younger. It got my attention very early on how we need to look to bring some alternative programs to help some of these soldiers deal with this stuff.
We work very closely with a lot of national groups: the David Lynch Foundation, a group called Project Welcome Home Troops, where they do a lot of stress-reduction therapy. In fact, they're doing a thing in a couple weeks with a buddy of mine, Dan Evans, who has [post-traumatic stress disorder]. He's a double amputee — lost both of his legs. He's now teaching yoga classes, hot yoga classes, to veterans. Programs like this are helping vets process their trauma. And they're going to, in some instances, take them from 10 or 15 different medicines, pharmaceuticals down to two or three.
And from a vantage point of an appropriator who's spending money on this stuff, I say wait a minute, this class is $500. They do some breathing techniques, some meditation and do some yoga and these guys start to heal themselves? Dan teaches classes and he's got no legs. He says, "I was kicking down doors in Iraq, and now I'm teaching yoga because I was struggling and my sister who did yoga said I should try it. It could help me." And it really helped him process everything. I mean some people will want to do yoga, some people won't. Some will want to try acupuncture. Others are going to want something else. But we have an obligation, if it's helping vets, to provide these services.
So one of the things you can do is introduce a bill to help veteran service offices to get grant money to add a room to offer these alternative therapies. The local AMVETS or VFW could be more than just a bar and a dance floor. They offer these classes in rural areas where people don't have access to some of this stuff.
The spending caps of the Budget Control Act of 2011 return with the fiscal 2020 budget. Congress and the president agreed to loosen the caps for fiscal 2018 and 2019. Two robust defense budgets was the result. You're a defense appropriator. How important is loosening the caps again for the fiscal 2020 defense budget?
It's huge. We have to do a better job communicating to the American people just how robust the threat is from Russia and China. We're not here to scare anybody. We're not here to get people back on their heels, but we've been doing sequestration now for how many years? The Russians and the Chinese have been investing in direct energy, artificial intelligence and cyber, where there are attacks every single day in our country. We can't continue to promote democracy around the world if we don't meet the military threat from Russia and China. You're basically fighting with one arm around your back. And it doesn't take long for a country that has been really pumping money into whatever technology to leapfrog you if you're standing still. Sequestration has damaged us a lot. So we have got make sure we keep the caps off and start making these investments.
Last year's Bipartisan Budget Agreement was a factor in increasing the fiscal 2018 budget deficit to nearly $800 billion. By all accounts, that red ink will continue to rise. How much of a cloud will rising budget deficits be over deliberations on the fiscal 2020 budget?
The tax cut we passed is extremely irresponsible. It's going to cost our country when it's all said and done — after you borrow the money, pay the interest — about $2.3 trillion. And 83 percent of that goes to the top 1, 2, 3 percent of the wealthiest people in the country. We were told that this money was going to go back and be reinvested into factories and workers. But it just came out that corporations used $1 trillion of that tax cut to buy back their own stock. And when there's this huge demand to buy your own stock your stock goes up, CEOs are selling their own stock, because it's at an inflated stock price. And in Youngstown, Ohio, that's a scam.
So what are we going to not fund in the military? What are we going to not fund in education? What research programs, what infrastructure programs are not going to get funded? And when we make those investments — whether it's to train a soldier or build a school or build a road — you have an asset at the end of the day. It improves the standing of the country. Stock buybacks have no impact on this stuff.
I'm really concerned about that in the long term. But in the short term, we need to figure out how we make these investments. We need to rebuild this country, invest in the new economy and invest in our military. But at some point we need to be focus on the long term, because the budget deficit is going to be $1 trillion next year.
The House National Guard and Reserve Components Caucus is a good cross-section of a divided House of Representatives. Consensus is not easy to reach. How will you achieve that in the caucus?
Our staffs do a great job of, Ok, here's what my boss thinks. This is what your boss thinks. Where can we find some middle ground? Take the employer tax credit, for example. That was something Steven and I could both agree on, so we moved on that. One of the other new bills is on TRICARE Reserve Select [the TRICARE Reserve Improvement Act]. The premiums are cheap, but if you're a federal employee and in the Guard and Reserve you have to take the more expensive federal health care plan. So something that's kind of bread and butter like that, we can work on together.