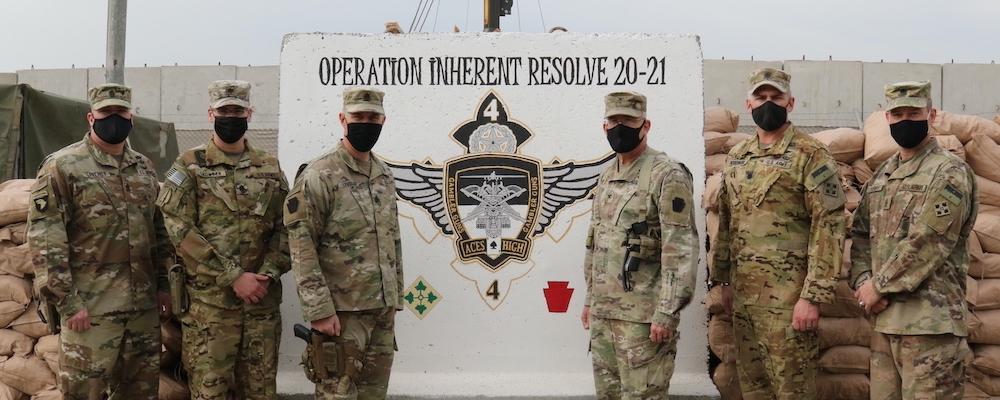 The U.S. military has formally ended its combat mission in Iraq, following through on plans announced by the Biden administration earlier this year.
Officials recently concluded a final round of technical talks to transition the mission from combat to an advisory mission to assist Iraqi forces, according to the Associated Press. It's unclear how many of the approximately 2,500 U.S. service members currently in Iraq will remain following the transition.
The most recent combat operations in Iraq, known as Operation Inherent Resolve, began in 2014 to counter the efforts of the Islamic State, also known as Daesh, which at the time had taken over large swaths of the country.
Previously, U.S. troops served in Iraq under Operation Iraqi Freedom from 2003 to 2010 and Operation New Dawn from 2010 to 2011.
The Iraq missions, along with the war in Afghanistan which spanned from 2001 until earlier this year, made up the bulk of the nation's war on terror.
The National Guard played a pivotal role in those efforts, accounting for about 45% of the total force sent to Iraq and Afghanistan and accounting for more than 18% of the casualties, according to reports.
Nearly 500 members of the National Guard were killed in Iraq between 2003 and 2021, with six killed during OIR.
In all, more than 250,000 Guardsmen were deployed in support of the missions in Iraq. In recent years, the Guard has continued to play an important role, leading Operation Spartan Shield, a Total Force effort that includes not just Iraq, but also operations in Kuwait and other parts of the U.S. Central Command area of operations.
OSS is currently led by the Virginia-based 29th Infantry Division, with the California-based 40th Combat Aviation Brigade overseeing the mission's aviation task force and various Guard units from multiple states also providing support alongside active-component and Reserve forces.
The White House had previously announced the combat mission in Iraq would end by Dec. 31.
"Many brave men and women gave their lives to ensure Daesh never returns, and as we complete our combat role, we will remain here to advise, assist and enable" the Iraqi Security Forces, said Maj. Gen. John Brennan, the commander of Joint Task Force-Operation Inherent Resolve, according to the AP.
Brennan said the war against the Islamic State is not over. But officials noted that coalition forces stopped engaging in combat missions early in 2020, with the U.S. role shifting to assisting Iraqi forces with air strikes, maintaining equipment and other efforts.