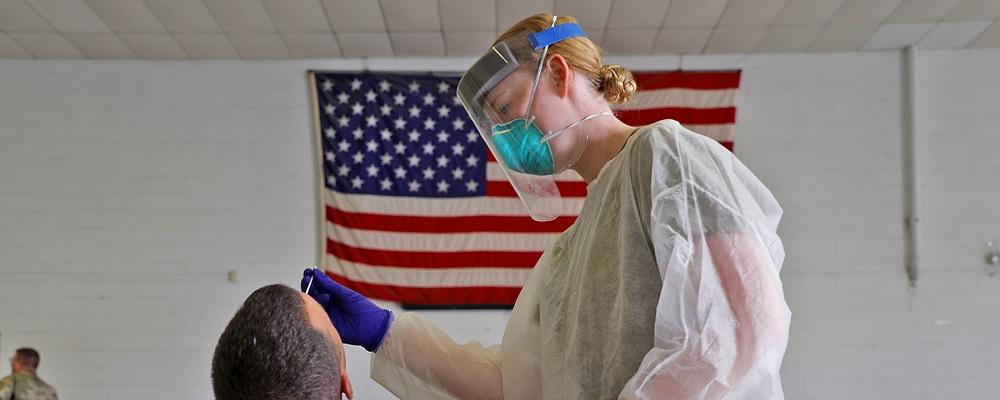 Most National Guardsmen activated for the coronavirus response are a couple of big steps closer to receiving transitional health care after their missions are complete.   
Both the House and Senate have passed provisions that would provide six months of TRICARE medical coverage to Guard personnel on federal Title 32 orders upon demobilization. 
The language is included in the two chambers' versions of the fiscal 2021 National Defense Authorization Act. 
Guard soldiers and airmen receive such care when deployed overseas in case there is any residual effect from their deployment. But the federal law that covers missions at home under state control currently does not confer the same benefit.
The provision now in both versions of the fiscal 2021 NDAA would change that.  
Both would allow Guard personnel responding to the pandemic to become eligible for premium-free military health insurance through the Transitional Assistance Management Program. Immediate family members would also be eligible.   
Sen. Joe Manchin, D-W.Va., and Sen. Joni Ernst, R-Iowa, introduced the original legislation in the Senate. Rep. Joe Cunningham, D-S.C., and Rep. Steven Palazzo, R-Miss., did the same in the House.
Transitional health care for Guardsmen activated under Title 32 has been a NGAUS legislative priority since the beginning of the pandemic response.
"These soldiers and airmen are on the front lines of our nation's worst public health crisis in more than a century," said retired Brig. Gen. J. Roy Robinson, the NGAUS president. "It would be unconscionable to send them home to their families without medical coverage.
"Active-component personnel coming off the same front lines have that coverage, and rightly so," he added. "All we are asking is that we treat Guardsmen the same way."
Since the provision is included in massive defense policy bills with significant differences, House and Senate negotiators will now try to reconcile the two versions. If and when they do, Congress has to vote again on the bill and have it signed by President Trump.
But because the Guard health provision is identical in the two bills, it is likely to survive in the final legislation. 
Unfortunately, that could take weeks. A late start on the NDAA this year due to COVID-19, political differences, the congressional schedule and the election could push the effort several weeks. 
As many as 46,000 Guard soldiers and airmen have been on COVID-19 missions at any one time. The figure is now down to less than 28,000, which means several thousands have demobilized without transitional coverage. 
A quicker way to change the law would be to include the legislation in any economic stimulus package. NGAUS is pushing lawmakers to do that.