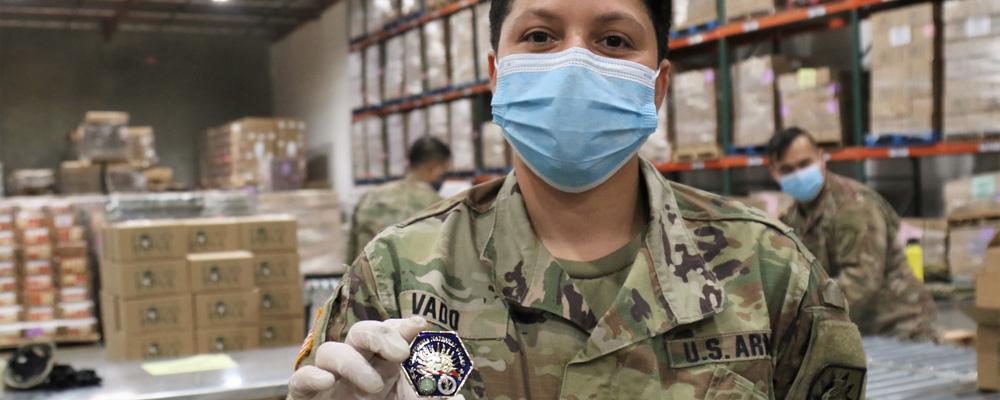 The U.S. Armed Forces are steeped in rituals, some nearly as old as the services themselves. Army cavalrymen still hold spur rides. And sailors host Shellback ceremonies to mark the crossing of the equator.
But there is at least one tradition that spans the military, one that has now also crossed over into the civilian world. It's the challenge coin.
Depending on whom you ask, challenge coins date back to aviators in World War I, spies behind enemy lines in World War II or Special Forces soldiers in Vietnam. Others note that similar medallions were used by the Roman Empire or to commemorate events during the Renaissance.
However they got their start, challenge coins were largely just a military curiosity until recently. Now they are embraced by businesses, organizations, public figures and even some celebrities.
Coins themselves have also evolved. Once simple tokens, sometimes stamped onto an existing coin, they now come in all shapes, sizes and colors. Many bear little resemblance to actual coins. Some feature moving parts and can function as fidget spinners.
In the military, commanders at nearly every echelon present them for excellence, whether it's a job well done or a high standard achieved. Most take great pride in their coin's design, wanting theirs to stand out from others.
Capt. Patrick Halpin, a company commander with the New York Army National Guard's 2nd Battalion, 108th Infantry Regiment, shunned the traditional round design in favor of a "showstopper."
His coin represents the unit's nickname, shaped like an armored badger carrying a battle axe stamped with the words "blood" and "iron."
"I wanted something unique and out of the ordinary that represents our attitude for training and striving to be the best rifle company in the 2nd Battalion, 108th Infantry Regiment," Halpin says. "The coin represents our tenacity for conducting tough training for our warfighting mission and our attitude about getting after it every day."
Most service members with a few years in uniform have at least a small collection, more if they have deployed overseas. Some can remember the circumstances of each one, especially if the presenter was very senior.
More than 50% of our orders are from corporations.

—Gene Frink of Ranger Industries, a coin designer and manufacturer
Many event organizers also present them as a thank you to attendees. The annual NGAUS conference always has a coin. Last year's featured the conference logo and included a bottle opener.
Gene Frink, a former Army Ranger, has built his post-military career around challenge coins. He owns Ranger Industries, a coin designer and manufacturer in Carson City, Nevada. And he has witnessed the growth, and evolution, of the challenge coin.
"I still carry my original Ranger coin. It's just brass, but now they come in different shapes and sizes," he says. "One we designed is in the shape of a [SH-60] Seahawk helicopter. And the Marine Corps gift shop has a coin with a 3D image of the flag raising on Iwo Jima. It has capsules with actual sand from the island of Iwo Jima on it."
Frink believes the increasing number of recent combat veterans in the civilian workforce is driving the proliferation of challenge coins.
"More than 50% of our orders are from corporations, companies that either do business with the military or want to say thank you to the soldiers," he says. "Or you have soldiers who leave the service and want to use them in their current jobs, like police or fire departments."
Recent presidents have also presented coins. They collect them, too. President Donald Trump has large display of coins on the credenza behind his desk in the Oval Office.
Some celebrities have also gotten into the game, including comedian Bert Kreischer, whose new special, Hey Big Boy, premiered on Netflix this year.
"The first challenge coin I ever got was in Pearl Harbor from the rear admiral after we did a private tour," he says. "I didn't know what it was, but I was with [fellow comedian Tom] Segura and he was like 'These are really important. Don't just throw it in your backpack, hold on to it.' I thought it was so cool."
Kreischer still receives coins from fans at shows. And now he rewards them with his own coin.
"When I meet people who are fans of my podcast I always want to reward that, like 'Thank you for listening,'" he says.
Many members of Congress also have stacks of coins they display in their Capitol Hill offices.
One, Rep. Bill Posey, R-Fla., represents a district that is home to the Kennedy Space Center, Cape Canaveral Air Force Station and many defense contractors. Fittingly, he serves on the House Science, Space and Technology Committee.
"There probably isn't an industry that doesn't give them out now," he says. He's also received coins from service members convalescing at Walter Reed Military Medical Center in Bethesda, Maryland, and guests to his office.
Frink says Ranger Industries has produced coins for track meets, shooting competitions, Kiwanis clubs, car shows, addiction recovery centers, churches and the 501st Legion. The latter is a Star Wars fan group whose members dress as Stormtroopers and other characters from the popular fictional universe.
"Sometimes I wonder if Darth Vader is walking around with one of my coins," he says.
No matter how the coin looks, often the most memorable challenge coin comes because of how it was presented and the bond it creates.
"You lean in and give them a handshake and give them a personal connection," Russ Wilson, a sales director at Ranger Industries. "That coin then has emotional value. And I think the key is the presentation."
The author can be reached at 202-408-5889 or [email protected].