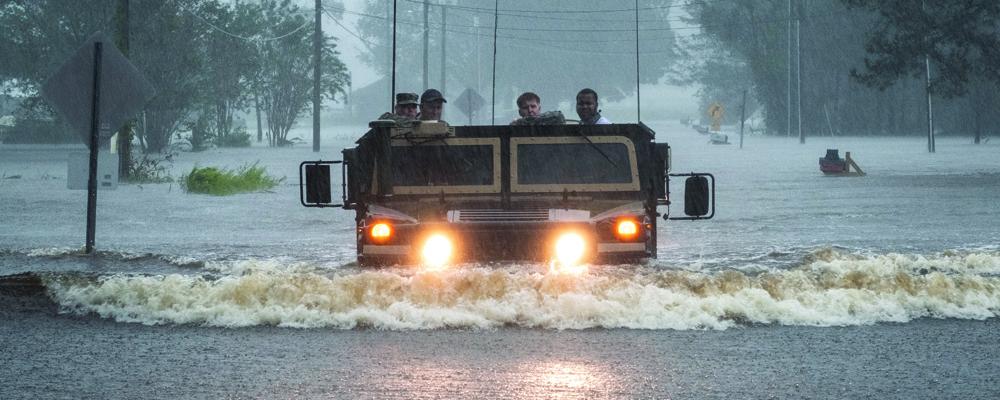 Hurricane Michael made landfall on the Florida panhandle Oct. 10, 2018, bringing 155 mph winds that tossed cars, toppled trees and ripped roofs off houses.
Among the hardest hit areas was Panama City, home to the Florida Army National Guard's 1st Squadron, 153rd Cavalry. The storm damaged the unit's headquarters at the Hiram W. Sperry Armory and the homes of many of its troops. More than a dozen soldiers "lost everything."
Despite their personal loses, many of them joined relief operations that began shortly after the storm passed. Some rode out the hurricane in the damaged armory.
Hurricanes are all too common in Florida and elsewhere along the Atlantic seaboard and in the Gulf of Mexico and the Caribbean Sea. And Guard soldiers and airmen often play a major role in the initial response.
In recent months, many of the states and territories that often contend with hurricanes have held planning workshops and exercises to prepare for the Atlantic storm season, which began June 1 and runs through the end of November.
The National Oceanic and Atmospheric Administration forecasts four to eight hurricanes this season, including two to four major hurricanes. In all, NOAA expects between nine and 15 named storms in the Atlantic this year. The first, Andrea, has already come and gone.
Col. Michael Ladd, the Florida Guard's director of military support, says there is no real offseason when it comes to hurricanes.
"This is a year-round process for us," Ladd says. "There's really no break. And unfortunately, for the past three or four years, we've been very active."
Florida, North Carolina, South Carolina, Texas, Puerto Rico and the U.S. Virgin Islands have been among the hardest hit states and territories in recent years.
Hurricanes Harvey, Irma and Maria in 2017, and Florence and Michael in 2018, left devastation in their wake that required multi-state responses that involved Guard forces from as far away as Alaska.
In many instances, such as in Panama City, Guardsmen were both victims and first responders.
The same trait that puts Guardsmen in harm's way during natural disasters also makes them the nation's military first responder. Guardsmen live in nearly every ZIP code nationwide, officials say. And their training, experience and equipment are critical to saving lives and preventing suffering.
The Guard counts roughly 450,000 soldiers and airmen. Approximately 40,000 are currently overseas. Thousands more are involved in steady-state operations in the homeland, defending the nation's airspace or responding to domestic emergencies.
Still, Brig. Gen. Jeffrey Burkett, the vice director of domestic operations at the National Guard Bureau, says the Guard is not stretched too thin as attention turns to hurricane season.
It's an enormous bench of trained military professionals that can be called on in times of crisis," he says.
In 2017, more than 45,000 Guardsmen from across the nation helped out after hurricanes hit the southeast, Texas and the Caribbean. They worked alongside civilian first responders and active-component forces.
In 2018, more than 10,000 Guardsmen from at least 28 states served in the Carolinas and Florida following the latest major hurricanes.
Both years, Guardsmen focused on rescue and relief missions. They ferried medical personnel and supplies over and through high water, helped evacuate homes and towns, distributed food and water, and bolstered communications.
Storms in recent years — dating back to Hurricane Katrina in 2005 and continuing through last year — have helped change how the Guard prepares to respond following a catastrophic weather event.
Burkett says the Guard has developed an All-Hazards Playbook that helps drive responses. And NGB has refined its internal processes to help better foster collaboration between state and federal partners.
Meanwhile, individual states have increased their cooperation, both in training and preparation, and during responses through formal state-to-state mutual-aid agreements.
Ladd says such relationships are critical as no state has all the resources required to respond alone to a major hurricane. Long before a storm strikes now, officials in its path determine what assets are available and what they can count on from their neighbors.
"When one state is in need, the entire region is in support," he says.
Aviation is a common shortfall. After 40 inches of rain fell on North Carolina during Hurricane Florence last fall, the state's Guard was short of helicopters, especially with many aircraft deployed overseas.
More than a dozen states quickly deployed helicopters to North Carolina to form a 50-aircraft task force. The multistate effort rescued 440 people and 127 animals, transported 690 essential personnel and delivered more than 600,000 pounds of supplies.
BUT STATE-TO-STATE SUPPORT isn't without its headaches. In recent years, most Guardsmen responding to emergencies in another state do so on state active duty. They were paid by their state, which was reimbursed by the gaining state, which was reimbursed by the Federal Emergency Management Agency (FEMA).
This has the governors and the adjutants general advocating greater use of Title 32 502(f) when there is a presidential emergency declaration. Guardsmen would be on federal orders, receiving the same pay and benefits they receive when overseas, but under state control.
Doing so would ease the financial and administrative burden on the states, according to the National Governors Association, which asked congressional leaders for help in a letter earlier this year.
At issue is the Defense Department's current reluctance to authorize 502(f). FEMA hasn't always reimbursed the Pentagon when it has put Guardsmen on Title 32 orders for domestic response. Consequently, defense officials now prefer sending active-component troops, who are already on the federal payroll, when storms strike.
Most states welcome the help. They just prefer local control.
Burkett says the number of devastating natural disasters in recent years has driven debate discussion on the matter, but adds that discussion is secondary when help is needed fast. "We're not necessarily worrying about who is paying for it at that time because we're talking about life and limb," he says.
Ladd says recent storms have only made the Guard that much better in their domestic role. States have learned to stage forces just outside a storm's path and are improving all tactics related to relief operations.
"The concept of dropping the rifle and picking up the plowshare is not lost on our Guardsmen, it's ingrained in them," Ladd says. "But you're only as good as your last response. We're constantly seeking to improve and innovate."