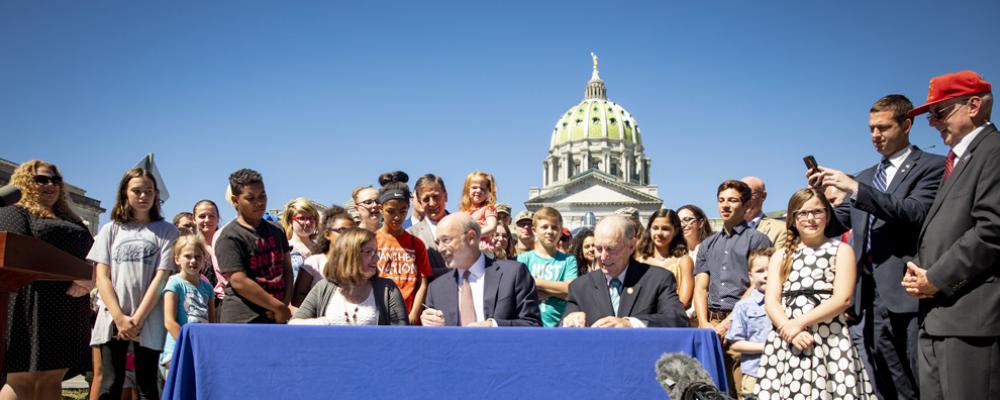 Most states begin their fiscal year on July 1, and some are beginning the year with new laws or budget items that benefit their National Guardsmen, thanks in large part to the work of state Guard associations with state legislatures.
Among the new provisions are a boost in state active-duty pay for Guardsmen in Washington, expanded job protection for Guardsmen on state active duty in Arkansas and free college tuition for some Guard family members in Pennsylvania.
Arkansas
The National Guard Association of Arkansas convinced state legislators to make some minor changes to the laws that apply to Arkansas National Guardsmen on state active duty.
One change provides re-employment rights upon call-up. This mirrors the protections offered to those on federal orders. Previously, job guarantees began after 180 days. Another change waives college fees Guardsmen incur pursuing their first baccalaureate degree while on state duty.
Retired Maj. Gen. Kendall Penn, the association's executive director, says the victories were a product of a good working relationship his association has developed with the legislature over the years.
Penn will return to uniform next month and succeed the retiring Maj. Gen. Mark Berry as Arkansas adjutant general.
Pennsylvania
Pennsylvania became the first state to offer National Guard family members free or reduced-cost college under legislation Gov. Tom Wolf signed into law July 1.
"Pennsylvania National Guard members and their spouses and children give a tremendous sacrifice to keep residents safe," Wolf said in a statement. "The Military Family Education Program is a fitting way to pay tribute to the families who give this selfless support."
Under the PA GI Bill, Guardsmen who re-enlist for six years receive five years of educational benefits for their spouses and children. Pennsylvania Guardsmen get nontransferable educational benefits for themselves with their initial six-year obligation.
The new program will provide for 10 semesters of tuition-free education at any Pennsylvania Higher Education Assistance Agency-approved school. Officials believe the first beneficiaries will be in school in spring 2020.
The new program is expected to bolster retention, which is increasingly challenged nationwide by added training days and a healthy economy.
"I know this is going to be copied."

—Maj. Gen. Tony Carrelli, Pennsylvania adjutant general

"It's becoming harder and harder to retain Guardsmen, and we are seeing an increasing need for them," says Kathleen Fabrizi, the executive director of the National Guard Association of Pennsylvania. "Campaigning on their behalf for more and better benefits just makes sense to us."
She says the association also convinced the Pennsylvania legislature to increase the pool of tuition money available to Guardsmen and to remove a residency requirement that prevented Pennsylvania Guardsmen who live outside the state from using the program.
But the big achievement was the establishment of educational benefits for family members.
Maj. Gen. Tony Carrelli, the Pennsylvania adjutant general, says it's getting national attention, with at least "a dozen" other adjutants general for asking copies of the legislation.
"I know this is going to be copied," he says.
Washington
Summer is wildfire season in the West, and the Washington National Guard has helped local authorities fight the fires every year since 2014. Guard crews have dug fire trench-es, cleared brush and even worked alongside professional firefighters on the frontlines.
It's grueling and dangerous work, but for their efforts, Washing-ton Guardsmen E-6 and below have received less than the state's minimum wage.
The problem was a 30-year-old state law that set state active-duty pay for most enlisted personnel at 1.5 times the federal minimum wage. In 1989, the federal minimum wage was $3.80 an hour. Washington's was $3.85. Today, the federal minimum wage is $7.25, but Washington's is $12, meaning Washington Guardsmen on state duty were the lowest paid workers in the state.
Bob Sweeney, the executive director of the National Guard Association of Washington, and Washington Guard leaders took this data to the state legislature earlier this year to "right a long overdue wrong," he says.
"I testified on the low wages our Guard firefighters made, and every legislator was stunned at the figure," he says. "People said, Oh my God, you're doing this for how much? In 1989, the pay was a good deal at the time. But it hadn't been updated since then."
It has now. The Washington legislature passed and Gov. Jay Inslee signed a bill that sets minimum pay for state active duty to match the state's minimum wage or, during firefighting missions, the rate established by the National Wildfire Coordinating Group, whichever is greater.
Last summer, the governor called more than 1,000 Guardsmen to help battle wildfires that eventually burned 440,000 acres.
About 400 Guardsman have already undergone firefighter training for what forecasters expect will be another busy wildfire season, especially in dry eastern Washington.
Mississippi
The state legislature amended the state code to provide job protection to Guardsmen called to state active duty, according to Allen McDaniel, the executive director of the Mississippi National Guard Association.
Mississippi lawmakers, also at the association's request, removed a prohibition that prevented current members of the Mississippi Guard from applying for the positions of executive director or deputy director on the Mississippi Veterans Affairs Board.
North Carolina
The state is one of a few nationwide that provide a state pension to its retired National Guardsmen.
It is $105 a month for those with 20 total years in uniform and at least 15 years in the North Carolina Guard. There is an additional $10.50 per month for every additional year of service up to 30 years of service.
But the pension plan is only about 70% funded, 15 percentage points below other state retirement plans, says Larry Coleman, the executive director of the North Carolina National Guard Association.
The association worked closely with state officials to develop a contribution-rate stabilization policy that would add another $2 million a year to the plan for the next three years. Differences be-tween the governor and the legislature earlier this month delayed final approval of the next two-year budget. The Guard pension was not among the contentious issues, Coleman says.