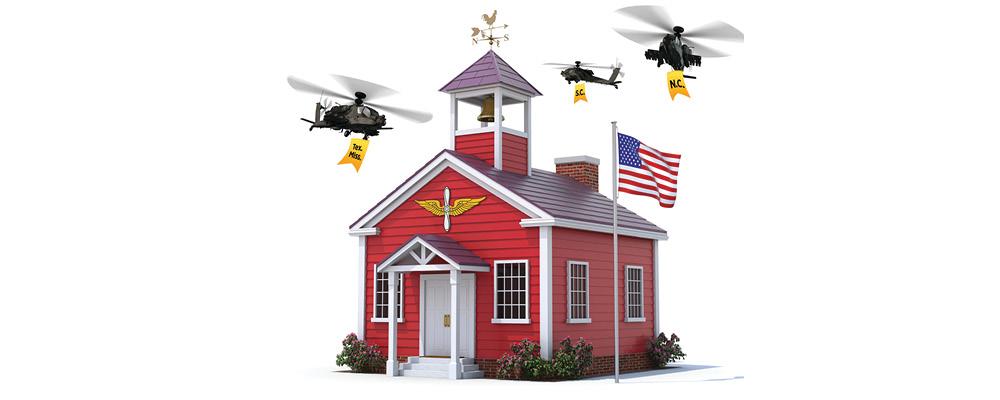 A team of Army National Guard soldiers recently completed a year-long mission that gained little attention but will have a big impact on the Guard's AH-64 Apache attack helicopter community.
Dozens of Guardsmen from at least six states were on temporary duty at Fort Rucker, Alabama, to serve as the core of a mobile training team that helped Guard Apache units keep pace with one of the Army's most demanding operational tempos.
The group helped train 23 Apache pilots, including 21 Guardsmen, at the Army aviation schoolhouse, which provided facilities, additional instructors and maintainers. Their efforts helped augment a force stretched thin in recent years, after the Army eliminated half the Guard Apache units as part of a wider aviation restructuring.
Four battalions — one each in North Carolina, South Carolina and Utah and another split between Texas and Mississippi — now comprise the Guard's Apache fleet. They share 72 AH-64D Longbow helicopters. And share is the operative term.
An Apace battalion needs 24 aircraft to go overseas. To meet that requirement, the four battalions must shuffle aircraft to make a deploying unit whole. Fortunately, the battalions have gone to the fight one at a time. Nevertheless, the process increases wear and tear on an already old fleet and leaves the losing units with less than the optimal number of aircraft to train.
It is a situation unique to the Guard. All active-component Apache battalions have 24 aircraft. Most operate the more advanced AH-64E Guardian. The Guard won't have four battalions of 24 E-models until 2025.
But as Utah's 1st Attack Reconnaissance Battalion, 211th Aviation Regiment began preparations for a deployment this year, the biggest challenge wasn't a lack of aircraft. It was a lack of qualified pilots.
To make matters worse, the Army has allotted the Guard few Apache training seats at the Fort Rucker schoolhouse in recent years as the service focused on a shortage of active-component Apache pilots. Hence, the necessity of the mobile training team.
"If we hadn't trained those students here, then [the Utah Apache battalion] would have had to ask the rest of the community if they had pilots able to deploy," says Lt. Col. Gordon Pedersen, a Utah Guardsman who led the Guard team at Fort Rucker.
While the four battalions have worked out a system of sharing aircraft, sharing pilots is a much more difficult ask. With Apache battalions deploying so often, such a practice risks harming the contributing unit's own deployment preparations.
It did stretch us thin. But it was the right thing to do.

—Lt. Col. Benny Collins, commander of the North Carolina Army National Guard's 1st Attack Reconnaissance Battalion, 130th Aviation Regiment
"It's better if we don't have to do that," says Lt. Col. Benny Collins, the commander of North Carolina's 1st Attack Reconnaissance Battalion, 130th Aviation Regiment. "Everyone who goes on that extra deployment is at risk of not making their unit's deployments."
Collins led his battalion on the Guard's last Apache deployment, which concluded in March 2019.
Once the unit returned home from Afghanistan, pilots and maintainers immediately volunteered to serve on the mobile training team, which typically included more than 30 soldiers, with numbers ebbing and flowing during the year mission.
Pedersen says the majority of aircraft came from North and South Carolina. The South Carolina Apache unit, the 1st Attack Reconnaissance Battalion, 151st Aviation Regiment, preceded their northern neighbors overseas.
Collins says lending out an already limited supply of aircraft to the school mission was not easy.
Recent shuffling has left his battalion with only 14 helicopters. At one point earlier this year, two of those were undergoing depot maintenance. And three or four, depending on the time of the year, were on loan to the training team at Fort Rucker. That left his unit with fewer than 10 helicopters for unit training.
"Two sorties, three times a day," Collins says. "That's all I could squeeze out."
Despite such constraints, Guard Apache battalions didn't hesitate to contribute to the Fort Rucker mission, he says.
"It did stretch us thin," Collins says. "But it was the right thing to do. We're better off in the long run."
The alternative, Collins says, was untrained aviators. Or having pilots schooled on aircraft other than the Apache, thus requiring future training.
"This way, we're not wasting time, we're not wasting money," he says. "We gained five aviators from this effort, which is actually a lot. Without it, I would have gotten zero. They would have had to track Black Hawk, which wouldn't have helped out unit."
In Utah, the 1st Attack Reconnaissance Battalion, 211th Aviation Regiment added three new pilots in time for their deployment. The unit recently departed for Fort Hood, Texas, its last stop before deploying to Afghanistan.
Pedersen says the school mission began in July and was complete in May. "The final class was in training when COVID-19 came up," he says. "The soldiers were able to continue training, with some of the academics moved online and students and flight instructors required to wear masks and observe social distancing."
At any given time, Pedersen says the team comprised of aviators and maintainers from all five of the Apache states, in addition to a team of maintainers from Connecticut. Guardsmen serving as instructors at Fort Rucker isn't uncommon, but the mobile training team was a step beyond.
"It was a great mission," Pedersen says. "It's the Guard helping the Guard. This is really the first time I know of where the Guard did something like this."
The team supported the 32-week Initial Entry Rotary Wing Training and the four-week Apache Aircraft Qualification Course.
Each of the four Guard Apache battalions will benefit from the effort, Pedersen adds. But there are no plans to repeat the mission.
"We came down for a specific time period," he says. "The National Guard was short on training seats for this year. Next year, we'll have the training seats we need."
The author can be reached at 202-408-5885 or [email protected].
---
ARMY GUARD APACHE COMMUNITY
North Carolina
1st Attack Reconnaissance Battalion, 130th Aviation Regiment
South Carolina
1st Attack Reconnaissance Battalion, 151st Aviation Regiment
Utah
1st Attack Reconnaissance Battalion, 211th Aviation Regiment
Texas/Mississippi
1st Attack Reconnaissance Battalion, 149th Aviation Regiment