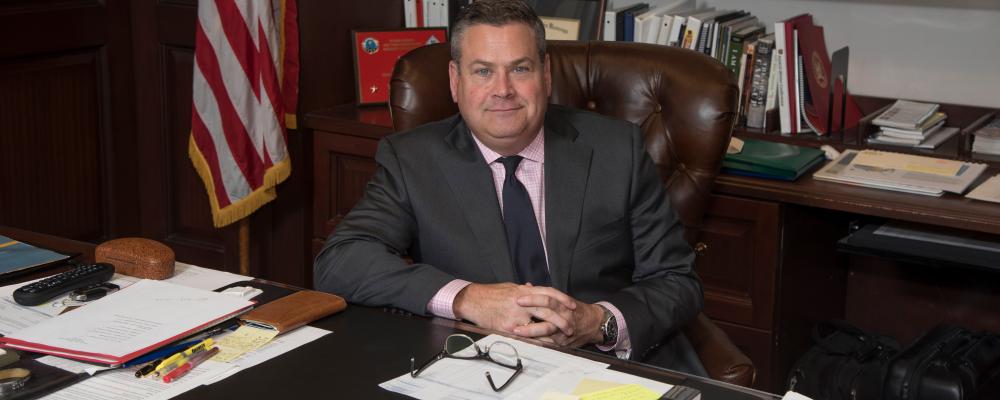 We're growing. For the first time in a decade, NGAUS membership increased in 2018. 
The boost is modest, just 3 percentage points, but that represents another 1,000 National Guard officers on our rolls. We're not taking that lightly around the National Guard Memorial.
In a moment, I will talk about our highly successful year on Capitol Hill, but receiving a thumbs-up from the people we represent is immensely satisfying and worth a few words.  
We have always added members, but they've been offset in recent years by those who don't renew, leave the Guard or pass away.
However, last year our list of members actually got longer. And here's why I'm smiling about that: Lawmakers understand numbers. They count votes to gain and stay in office. They notice when an organization asking for their support has the backing of a growing membership.   
With more members, we are a much more effective association. It impacts all that we do. So thank you to the men and women who joined for the first time and those who chose to remain part of NGAUS. My appreciation, also, goes to state executive directors who work hard to ensure Guardsmen know what our association does on their behalf.
And in 2018, we did a lot.
For one thing, Guard officers now have shorter average wait times for federal recognition of their promotions. It came to our attention through conversations with our members across the 54 that officers were waiting an average of nearly 300 days for the Pentagon to bless a promotion already approved by a state or territory.
This was unacceptable and fixing it became a NGAUS priority.
While we were making the issue known on Capitol Hill, company-grade officers from Maine to Oregon and from Florida to Guam were talking to their representatives about the issue.
This textbook approach to advocacy worked. The fiscal 2019 National Defense Authorization Act (NDAA) provides the Army and Air Force with the authority to adjust the effective date of a promotion for officers experiencing undue delays. The services also must tell Congress how they intend to streamline their fedrec processes.  
And perhaps because of the attention given to the issue, Defense Department data already show that the average has declined, now more in line with that for active-component promotions.
Also in 2018, we made more progress regarding the inequalities of deploying under mobilization authority 12304b. The NDAA authorized high-deployment allowance accrual for reserve-component members serving under those orders. It also prevents Guard and Reserve members who work for the federal government from losing pay while deployed under 12304b.
NGAUS also won some equipment battles in 2018. One important victory will bring factory-new AH-64E Apache attack helicopters to the Army Guard for the first time. Congress provided $168 million to put six of those aircraft in the Guard. It is only a handful of new aircraft, but it's a critical foot in the door to modernizing the fleet.  
And the Army will bump the four Guard Apache battalions from 18 to the required 24 aircraft apiece. This is terrific news for the soldiers who fly and maintain that critical weapon system. It's an even more significant achievement when you consider the Army plan a few years ago was to remove all the Apaches from the Army Guard.  
Congress also budgeted $156 million for the Army Guard to receive eight new M-model UH-60 Black Hawk helicopters. 
The Air Guard will soon welcome eight C-130J Super Hercules aircraft because of $640 million approved for that purpose, as well as wing replacements for A-10 Thunderbolt fighters. 
In addition, the Army Guard and Air Guard each has $421 million from the National Guard and Reserve Equipment Account. And the Army Guard will benefit from another $100 million to modernize its fleet of Humvees. 
At the urging of NGAUS, Congress also provided $8 billion for a preventative mental-health pilot program. Perhaps this will eventually reduce the tragic number of suicides in our force. 
And lawmakers recognized the Guard's value in the cyber realm by providing an additional $1.8 million for Army Guard Cyber Protection Teams and $10 million for cyber scholarships.
Meanwhile, the NGAUS board of directors created a cyber task force to help the association stay on top of a myriad of cyber issues and to keep a spotlight on the many Guardsmen who have civilian-acquired cyber skills. 
The board also found the resources to enable our staff to redesign and organize the NGAUS website. A survey conducted at the annual association conference in 2017 found that our members wanted more legislative content. That drove our effort. 
The new site also should make it easier for you to renew your membership and update your contact information. And our new design allows us to add new features, so expect more change in the months ahead.
We launched the new site at our conference, which was another 2018 achievement. The attendance was one of our highest ever. We also attracted more exhibitors than we have in several years and a group of speakers that included the defense secretary for the first time in a decade. I think that's testament to the importance of the Guard and NGAUS to our nation's defense. 
Along those lines, 2018 also saw a nearly 10 percent increase in corporate members and a packed house at our annual Industry Day last month.         
So a successful year is behind us. And I believe we've just started another one.
It's bound to be another busy year for all of you in uniform. Natural disasters are a given. And overseas contingencies show no sign of coming to a close. To that end, NGAUS has a legislative agenda to ensure the Guard continues to be prepared.
First, concurrent and proportional fielding of new equipment is more important than ever. We have long touted this as the right thing to do for the Total Force. But the National Defense Strategy, with renewed emphasis on great-power competition, makes it imperative.
Simply put, we cannot fight alongside active forces against a sophisticated enemy — and that is exactly what you and your units must be prepared to do — if we are not alongside active forces in the fielding plans for the most advanced aircraft, vehicles and other platforms.
This may be the critical equipment issue of our time. Expect concurrent and proportional fielding of new equipment to be a big part of the NGAUS message this year. 
Also, it's time Congress and the Pentagon recognized the value of providing medical coverage to every Guardsman year round, not just when called to duty or on a cost-share basis. This, too, is a readiness issue. We currently have to fix a lot of medical issues upon mobilization. Imagine the improvement in medical readiness if everyone had access to consistent preventative care. 

Never have we asked in recent history for as much training time from our members as we are now. This is a burden not only to Guardsmen, but to families and employers. 
Now is the time for a serious conversation on health care. Imagine also if an employer could hire a drug-free worker who brings his or her own medical and dental coverage. That would help neutralize the inconvenience of that employee's inevitable absence from the job for training or operations.
Increased medical readiness and better recruiting and retention would surely cancel out any increased costs. Let's give it serious consideration in 2019. And while we are at it, let's include federal employees who serve part-time in the Guard, but are prohibited by law from even purchasing TRICARE coverage. They have long been denied a benefit they have earned. 
Also, Congress must address the Army Guard's full-time manning shortage. Full-time manning constitutes 15 percent of the force. NGAUS thinks it should be 20 percent.
These full-time soldiers are crucial to preparing the force to meet the training and operational requirements. It's beyond me why the Army Guard, which provides 39 percent of the Army's operational forces, has the smallest percentage of full-time support among the seven reserve components. 
We will share developments on these issues in the magazine and in Washington Report, our weekly e-newsletter. In addition, NGAUS staff will be attending several state conferences this spring to report progress and listen to your ideas and concerns. This is one of my favorite parts of the job and my calendar includes conferences in Connecticut, Delaware, Florida Georgia, Hawaii, Indiana, Mississippi, Ohio and Tennessee.
 
Let me finish this report by thanking you for keeping in touch with your elected officials. It's a big advantage for me and the legislative staff when the senator or representative we meet in Washington, D.C., is already aware of the issue because of conversations with Guardsmen back home.
I continue to be amazed by the interest lawmakers have in the Guard. Of course, the force is found in every congressional district, so Guardsmen are constituents and voters. But it's your performance — whether its overseas operations or responding to domestic disasters — that earns so much respect from lawmakers.
And, again, it's why a growing NGAUS membership is an important tool when we approach these elected officials. They not only know who you are, they know you are actively involved. 

Thank you for what you do for NGAUS, the National Guard and the nation. 
Have a safe and prosperous 2019.
Retired Brig. Gen. J. Roy Robinson can be reached via [email protected].