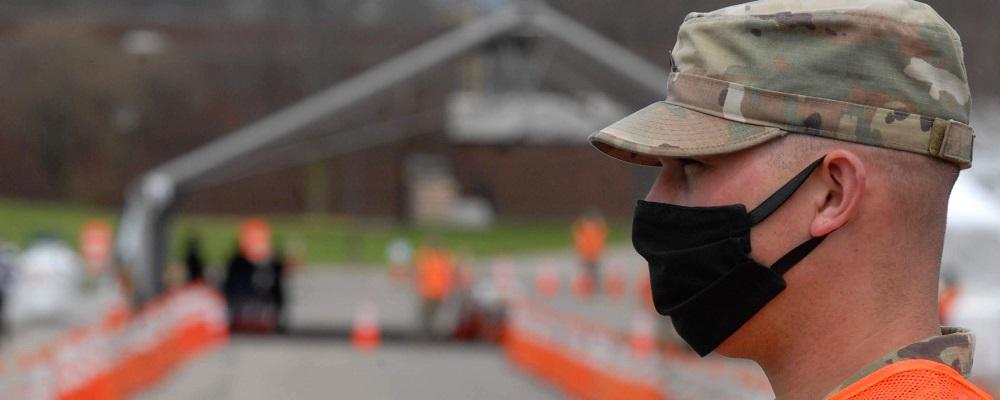 NGAUS, legislators and state leaders are crying foul over plans that could leave Guardsmen on the front lines of the COVID-19 pandemic one-day short of qualifying for some federal benefits, including early retirement and education support.
The concerns come after President Donald Trump extended the use of federal funds for Guardsmen through Title 32 Section 502(f) to June 24. The authorization had been set to expire at the end of this month, which would have led to many states pulling Guardsmen from their work early to allow for a 14-day quarantine and out-processing requirements.
The extension means Guardsmen who went on federal Title 32 orders early in the response could reach just 89 days of federal service, one day short of the threshold for early retirement credit and education benefits through the Post-9/11 GI Bill.
Speaking to Politico, retired Brig. Gen. J. Roy Robinson, the NGAUS president, said the 24-day extension was unusual. He said it could be a coincidence the extension leaves Guardsmen one day short of the needed threshold.
"But in the back of my mind, I know better," he said. "They're screwing the National Guard members out of the status they should have."
As of Monday, more than 46,000 Guardsmen are serving on coronavirus-related missions, the vast majority under federal Title 32 status. Guardsmen have accounted for more than 75% of the direct military response for the pandemic and have been involved in testing, food distribution, building temporary medical facilities and more.
It's also not the first time NGAUS had called out leaders paying too close attention to calendars rather than the needs of Guardsmen and the nation they are serving.
Originally, federal Title 32 orders for Guardsmen limited the duration of orders to 30 days, or one short of the requirement for Guardsmen to receive TRICARE medical coverage.
NGAUS successfully advocated for an extension and has also been advocating for transitional health care coverage for Guardsmen who come off coronavirus missions. A bill in the Senate, S. 3713, sponsored by Sen. Joe Manchin, D-W.Va., and Sen. Joni Ernst, R-Iowa, would provide such coverage for six months, on par with what Guardsmen receive following overseas missions.
Previously, both Republican and Democratic lawmakers and governors have pressed for extensions of federal orders for Guardsmen, with some advocating that those orders should last through the end of the year. 
The latest shortchanging of Guardsmen has also drawn a response a group of Democrats led by Sen. Tammy Duckworth, D-Ill., who served in the National Guard and is a combat veteran.
The senators, which also include Sen. Richard Blumenthal, D-Conn., and Sen. Jeanne Shaheen, D-N.H., said troops on the front lines of the pandemic should be focused solely on the response to the national emergency and not on the status of their federal benefits.
"The federal government should do more to ensure these public servants are properly taken care of and not exposed to unnecessary ambiguity," they wrote in a letter to President Trump late last week.
Politico reports that National Guard Bureau officials have left the door open to additional extensions of federal orders. They also noted that the 90-day threshold is cumulative, meaning Guardsmen could still qualify for early retirement credit if they have another federal deployment within the fiscal year, which ends Sept. 30. GI Bill education benefits can be accumulated without a time limit.
But the outlet also obtained audio from a FEMA call in which officials acknowledged the extension would leave Guardsmen short of benefit thresholds. An official on the call said the information would require "unified messaging," according to Politico.
The early retirement credit provides Guardsmen with three months credit for every 90 days serving during a federal emergency. GI Bill benefits can provide 40% off tuition at a public college or university after 90 days of federal service.
Without federal Title 32 authorities, it is believed many states will decline to extend Guard deployments under state active duty due to a lack of available funding.
The Guard's response to the pandemic is the largest response for a domestic operation since Hurricane Katrina, when more than 51,000 Guardsmen responded.
Robinson told Politico he was disappointed in how Guardsmen have been treated while risking their health during the current response.
"They're working side-by-side with doctors, nurses and first responders," he said. "And we're going to cut them off and send them home with no health care coverage while they transition back to their civilian life. Not to mention, some of their jobs may have evaporated since they were deployed."