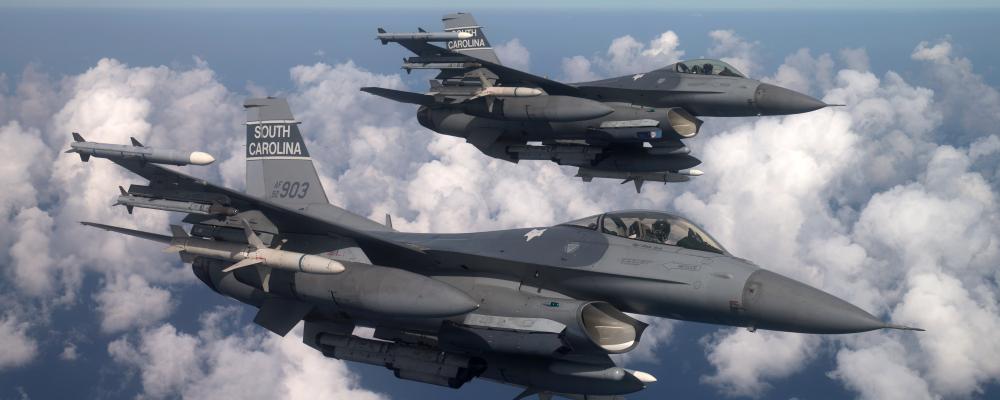 TUCKED INTO the belly of a KC-135 Stratotanker, Tech. Sgt. Andrew Weber peered into the clouds below him.
At 14,000 feet above rural Georgia, Weber, who serves with the Tennessee Air National Guard's 134th Air Refueling Wing, could see little other than gray on this dreary, rainy day.
But as he scanned the sky, two F-16 Fighting Falcons from the South Carolina Air National Guard's 169th Fighter Wing rose intoview and slipped into formation alongside the larger plane.
The fighter jets then took turns flying just under the tanker as Weber steered a boom into place and delivered thousands of pounds of fuel to each. It's a very ticklish maneuver, but the participants have had a lot of practice.
"We're a flying gas station," Weber said. "We're going 450-500 mph. You're putting two very powerful, heavy airplanes together in the sky."
If needed, the KC-135 aircrew and hundreds of others like them can keep F-16s and other aircraft fueled and airborne no matter where in the world the jets are needed. From the Korean peninsula to the skies above Iraq and Afghanistan, the tandem are a well-rehearsed team capable of refueling in a matter of minutes.
And at home, they are among the Guardsmen who play an important role in the nation's network of air defenses continuously on standby as part of Operation Noble Eagle, the North American Aerospace Defense Command homeland defense mission that began shortly after the 9/11 attacks.
"We're on alert 24/7," says Maj. Gen. Kirk S. Pierce, the deputy director of operations for NORAD.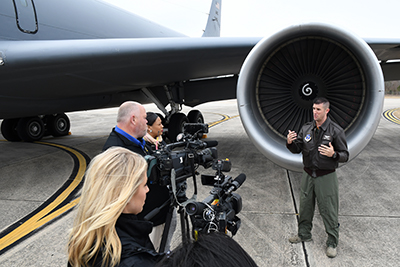 Pierce is a member of the Oregon Air National Guard and a pilot who has flown both the F-16 and F-15 Eagle. He says Guardsmen play a vital role in Noble Eagle. They operate 15 of 16 Aerospace Control Alert (ACA) sites nationwide and most of the refueling aircraft. The Air Guard staffs operations centers in Florida, New York and Washington state that monitor airspace over the United States and Canada around the clock.
The Guard, through South Carolina's 263rd Army Air and Missile Defense Command, also provides ground-based air defense to the National Capital Region.
For most of NORAD's history, the command focused on stopping external threats — such as Soviet bombers approaching North American airspace.
Following the 9/11 attacks, Pierce says the command began also looking at threats that originate from inside the continent and partnering with numerous government agencies, including the Federal Aviation Administration.
Today, a network of warning systems and defenses monitor threats around the world, including potential attack from a near peer military and tracking passengers on civilian airlines and cruise liners.
"The globe is our area of operations," Pierce says.NOBLE EAGLE is constantly evolving, Pierce adds, to keep pace with would-be enemies and the targets that might be tempting
to them.
"The homeland never was a sanctuary, but it had the benefit of technology," Pierce says. As potential adversaries improve their weapons and tactics, NORAD must keep pace. "We see those threats and how they evolve … We want to stay ahead of adversaries. We want it to be an unfair fight."
For most of the year, the Noble Eagle mission receives little notice. High-profile events can change that. They require layers of extra security, including temporary flight restrictions, which are unusual and draw attention to the forces providing the protective bubble.
This year, the 169th Fighter Wing, an ACA unit, received the mission to enforce the temporary restrictions around Mercedes-Benz Stadium in Atlanta, Georgia.
On a rainy afternoon in late January, days before Super Bowl LIII, airmen from South Carolina and Tennessee gathered at McEntire Joint National Guard Base near Columbia, South Carolina, to highlight their behind-the-scenes roles in keeping the big game safe.
The event shined a light on the mission, and the people and equipment performing involved. It also provided some deterrence value without revealing the full playbook.
With members of the media on board a KC-135, two F-16s were refueled mid-air to demonstrate how the fighter jets could stay airborne while responding to potential threats.
It's far from a hypothetical mission, officials say. Since 2001, American and Canadian jets have flown thousands of sorties in support of Noble Eagle, making an estimated 1,900 intercepts.
Most involved small civilian planes whose pilots unwittingly entered restricted airspace.
The 169th rehearsed that scenario with the aid of Civil Air Patrol pilots in a Cessna 182 to simulate the breaching of a no-fly zone. The FAA, Customs and Border Protection and the 601st Air and Space Operations Center at Tyndall Air Force Base, Florida, were all part of the training. The 601st includes airmen from the Florida Air National Guard.
"Today's flight was really a practice for what the NORAD team is prepared to do," said Col. Akshai Gandhi, the wing commander.
"On any minute of any day we've got airmen ready to go and a full air defense team ready to protect North America."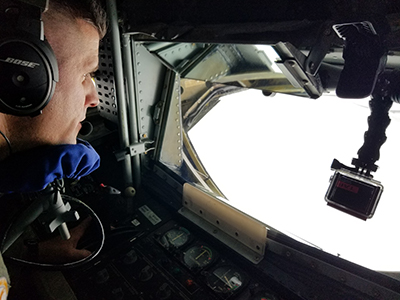 The homeland defense mission has long been in the 169th's roots. In the 1950s and 1960s, the unit flew F-104 Starfighters and F-102 Delta Daggers in support of that mission. Versions of those aircraft are on display at McEntire. The 169th later flew other jets and had other missions before adopting the F-16 in the 1980s and receiving the newest version of the fighters a decade later.
Today, the unit's key overseas mission is the suppression of enemy air defenses.
"We're the first guys in, we're the last ones out," Gandhi said. "We can fight our way in, deal with the air threat, deal with the surface threat and protect our friendly forces."
The homeland defense mission is very different from what the unit does overseas, particularly in Iraq and Afghanistan, where it has provide ground support to U.S. troops and allies.
But Gandhi said preparing for one can help with the other.
"You have certain skillsets. It's like blocking and tackling," he said.
"We develop those skillsets and apply it to more complex, specific mission sets. There are transferable skills."
Gandhi said his airmen train just as hard for aerospace control alert missions as they do for overseas deployments. He notes that, often, the unit juggles both missions simultaneously, with some airmen and jets deployed while others remain at home to protect local skies.
"This mission set, we consider it no-fail," he said. "We take a lot of pride in the fact that we're protecting our citizens."
"We're just as proud of this mission as any other," added Maj. David Way, one of the 169th's F-16 pilots.
Way says there is nothing quite like being in the cockpit of an F-16. He's been flying the jets for 17 years and has deployed to southwest Asia and South Korea in the past. But there's something different when a pilot is streaming across American skies.
"We mobilize and go all over the world," he said. "But this speaks to the core responsibility of the Guard — to defend the homeland.
"This speaks to the core responsibility of the Guard — to defend the homeland."
—Maj. David Way, 169th Fighter Wing, South Carolina Air National Guard
During the build-up to the Super Bowl, service members honed their skills in intercepting and communicating with aircraft and rehearsed potential missions alongside command and control officials.
Gandhi said training for the homeland defense mission was "absolutely essential" due to the complexity and the number of agencies involved.
"It's a bunch of people from different organizations that have to be able to come together at the moment and make some very timely decisions," he said. "You see the jets in action. That's the front face of the mission. There's a whole lot more to it than just the fighters."
Maj. Justin Wilson, the 134th's director of operations, says the mission wouldn't be possible without the many airmen, civilians and others who work behind the scenes.
The KC-135 was built to refuel long-range bombers during the Cold War and has been in the skies for decades, he said. In the Air Guard, they are lovingly maintained by airmen, some of whom can work on the same plane for 20, 30 years.
Wilson said the Tennessee Air Guard recently celebrated a family who had worked on one such plane for three generations. "It's like their car," he says.
"They take care of it. They know every bolt." That commitment is helping the aging tankers fly longer and further than ever before.
"We're breaking records every single year," Wilson said.
But while some legacy systems are still in use, Pierce says the Noble Eagle mission isn't standing pat.
NORAD is constantly evaluating, Pierce says, deploying new systems and integrating others while adapting tactics, techniques and procedures, and refining its early warning systems.
But the basics, he says, won't change.
"NORAD has always been a backstop that's been there," Pierce says.
Operation Noble Eagle
Operation Noble Eagle grew from the events of one of America's darkest days — Sept. 11, 2001.
As the first commercial airliner struck the World Trade Center's north tower, two Massachusetts Air National Guard F-15 Eagle fighters scrambled and headed toward New
York.
While they did not arrive in time to prevent a second commercial airliner from slamming into the south tower, they did establish a combat air patrol over the city. Other Air Guard fighter units soon scrambled aircraft to do the same over other cities nationwide.
Noble Eagle officially started the next day, but in reality, it was already underway.
For the next several years, Air Force. Navy and Marine Corps fighters would fly CAPs
missions regularly over major cities and critical infrastructure locations such as power plants, bridges, airports and port facilities across the United States.
It was marked change in orientation for the North American Aerospace Defense Command, which had spent years looking outward, beyond U.S. borders, for threats, rather than inwardly to actions over U.S. territory.
Over time, improvements in air-traffic security enabled NORAD to scale back the costly and burdensome air shield and rely more on strip alerts at about two dozen air bases nationwide. They supplemented the bases with irregular air patrols over key cities and more extensive air cover for short periods over high-profile events, such as the Super Bowl.
Today, there are 16 Aerospace Control Alert sites; the Air Guard operates 15.
The Air Guard also operates the Eastern Air Defense Sector in Rome, New York, and the Western Air Defense Sector at Joint Base Lewis-McChord, Washington. Both use radar to monitor airspace over the United States.
EADS and WADS report to First Air Force (also known as Air Force North) at Tyndall Air Force Base, near Panama City, Florida, which under NORAD directs all air sovereignty activities in the continental United States.
—NGAUS staff report