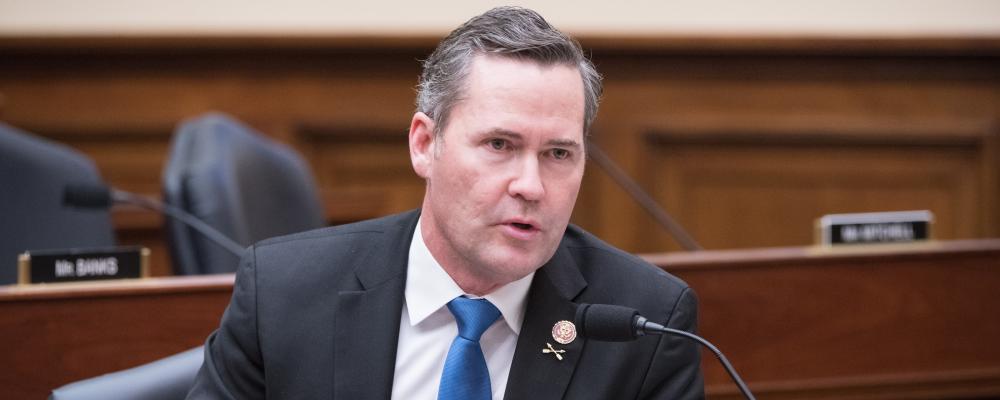 Asked to choose between serving their country in uniform or as an elected official, three of the nation's newest lawmakers have opted to do both.
Rep. Max Rose, D-N.Y., Rep. William Timmons, R-S.C., and Rep. Michael Waltz, R-Fla., believe their National Guard service will only enhance their ability to legislate.
The three men bring varied military experiences to Capitol Hill, which now features nine current Guardsmen.
Rose, a captain, deployed once with the active-component Army before joining the New York Army Guard. Timmons is new to the military as first lieutenant and Judge Advocate General in the South Carolina Army Guard. Waltz is a Maryland Army Guard lieutenant colonel with a Special Forces background and multiple combat deployments.
The trio say they plan to be advocates and ambassadors for the Guard, both to their fellow lawmakers and to the American people writ large.
"It's important to consider the roles and function of the National Guard as it fits into our overall strategic landscape," Rose says. "It has paradigmatically changed in the last two decades and it has not been given enough attention."
Timmons says Guardsmen have a unique ability to bring ground truth to legislative discussions by sharing their experiences from overseas, on the border and during responses to natural disasters. "I think this is just an incredible opportunity to be a very direct conduit," he says.
Waltz agrees, adding he believes having more Guardsmen, Reservists and veterans in Congress is a great thing.
"People ask what I do for a living and I tell them I'm a juggler."

—Rep. Michael Waltz, R-Fla.,Lieutenant Colonel, Maryland Army National Guard
"It keeps us current, it keeps us relevant," he says. "I'm actively recruiting veterans to run [for elective office]."Waltz co-founded the bipartisan For Country Caucus along with other combat veterans in the House. He says most service members have an attitude that is well suited for legislating.
"In the foxhole, nobody cares about party, race or religion," he says. And the more legislators with that mindset "the better the country will be."
Veteran representation in Congress has been on a steady decline since the mid-1970s. But the number of current Guardsmen is on the rise (box, page 24). The nine include eight who
serve in the Army Guard and one in the Air Guard.
They come from eight different states. They also represent a wide range of ranks — from staff sergeant to brigadier general. And none appear ready to put away their uniform, least of all the newest of the group.
The three new Guard lawmakers took very different paths to Washington, D.C.
Rose, 32, is a political newcomer, having spent nearly five years in the active component Army, mostly with the 1st Armored Division.
He was wounded when his vehicle struck an improvised explosive device near Kandahar, Afghanistan, during a 2012-13 deployment.
He left the active component following that deployment and served as director of public
engagement for the late Brooklyn District Attorney Kenneth Thompson. He later became chief
of staff at Brightpoint Health, a nonprofit health care organization.
Rose spent the past six years as a member of the New York Army Guard and was a company commander with 1st Battalion, 69th Infantry, until his election to Congress. He is now in the state's Joint Force Headquarters.
The New York Democrat battled Republican incumbent Rep. Dan Donovan for the state's 11th Congressional District, which includes Staten Island. He made headlines in August when he put his campaign on hold for two weeks to attend annual training. "Serving in the Army and now the Guard has been an incredible honor and I would never put the campaign before my fellow soldiers," he says. "In fact, the problem with Congress today is that politicians are putting their re-elections ahead of our country, and that's not who I am."
Timmons, 34, did not battle an entrenched incumbent for his seat.
He emerged from a crowded Republican field to succeed Rep. Trey Gowdy, who retired from Congress last year after eight years in office.
A lawyer, former prosecutor and owner of a CrossFit gym and yoga studio, Timmons had been in the South Carolina state senate for two years before vying for Gowdy's seat in the state's 4th Congressional District. His efforts to join the Guard, however, date further back.
Inspired by his grandfather's service in World War II, Timmons says he had been waiting for five years for a JAG position to become available in the South Carolina Guard. An opportunity surfaced just days ahead of the June 12 Republican primary. He took a break from the campaign to swear into the 263rd Army Air and Missile Defense Command.
"It was terrible timing," Timmons says. "There were 13 people in my primary and I'm like, I might win, I might lose, I don't know, but this is the only time I might be able to serve in the armed forces."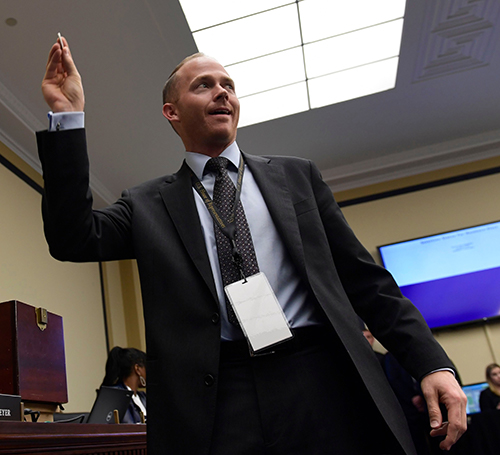 Timmons finished second in the primary with 19% of the vote, but won the mandatory runoff for the nomination and then easily defeated his Democratic challenger in a heavily Republican district.
Waltz, 45, was a familiar presence in the nation's capital long before he ran for office in Florida's 6th Congressional District.
Following an active-component career as an armor officer, he opted to go Special Forces. As a Guardsman, he alternated between combat deployments and work as a defense policy director in the Pentagon and as counterterrorism advisor to Vice President Dick Cheney.
Waltz, a single father with a teenage girl, also co-founded a small business, METIS Solutions, a defense consulting firm that has grownto a staff of more than 400 in Virginia, Florida and nine countries across Europe and the Middle East. He has also served as a Fox News Channel contributor and authored Warrior Diplomat: A Green Beret's Battles from Washington to Afghanistan.
Waltz says he was drawn to the Special Forces after seeing other special operations troops in action. Army Rangers and Navy SEALS are great at finding the nation's enemies, he says.
But Green Berets excel at finding friends and allies — their mantra is to work "by, with and through" indigenous forces.
"It's the PhD of warfare … The breadth of mission is unmatched," Waltz says. "It's 3-D chess."
He says on any given day, Special Forces soldiers could be helping build schools, blowing up bridges or providing medical care to remote villages. Now a lieutenant colonel, Waltz commands Special Operations Detachment-NATO in Maryland. "People ask what I do for a living and I tell them I'm a juggler," Waltz says.
Waltz ran for Congress to succeed Republican Rep. Ron DeSantis, who is now Florida governor. He won with more than 56 percent of the vote.
"It wasn't enough to talk about it on TV," he says. "We have to apply these experiences."
Since being sworn into congress, all three have had to balance a new set of demands with their continuing military obligations.
Rose says being a company commander was one of his greatest joys, but that it would have been irresponsible for him to continue in command. "That would have been impossible to do," he says. "It would be a disservice to the unit if I were to do that."
A few months into his tenure, Rose says he and his peers are still learning how to figure it all out.
"It's verging on abusive what they do to me," he jokes, explaining how he pilfered an adjacent meeting for food because his schedule did not allow time for lunch. "[But] it's always going to be an ongoing process. The transition should never stop."
Timmons, meanwhile, is still learning his place in the Guard. He has drilled several times, but will not complete officer training and JAG school until either later this year or next.
"I just do what I'm told," he says. "Nobody expects a first lieutenant to know much. I say 'Yes, sir,' and I work hard."
Balancing his roles hasn't been easy. Timmons missed part of freshman orientation for new lawmakers in Williamsburg, Virginia, for a Guard drill. "I got a bunch of grief for not going, but I will 100% prioritize my military service."
Weeks later, Timmons says he ended a long week on Capitol Hill by catching the last flight home on Friday evening and later found himself standing in formation at 8 a.m. the next day in near freezing temperatures with howling winds.
Timmons says he has received advice from more experienced legislators and already looks up to Waltz, who has more than 23 years in uniform.
Waltz says there is less sleep in balancing his two roles, but that he's motivated to do both for as long as possible. Just weeks after joining Congress, Waltz took to the skies above Fort Meade, Maryland for an airborne operation with his detachment.
"I will continue to serve as long as I can be of service," Waltz says. "I'm not ready to take off the uniform."
Rose says there are parallels, too, in being a lawmaker and a Guard officer. As a company commander, Rose says he needed to empower those under him and provide clear guidance.
The same goes with running his congressional staff.
"For every incredible small amount I've ever given the military, the military has given me exponentially more in return."

—Rep. Max Rose, D-N.Y., Captain, New York Army National Guard
"It's the importance of culture, the importance of team building, the importance of being mission-oriented, the importance of communicating things," he says.
Rose says his election offered an opportunity to give back to an institution that has given him so much. "For every incredible small amount I've ever given the military, the military has given me exponentially more in return," he says.
The three new lawmakers aim to give back in several ways. Rose wants to ensure the Guard and Reserve receive adequate resources and respect. "In the eyes of the American public, they are looking at the Guard as weekend warriors who aren't making an incredible operational impact," he says. "But we do not have sound and effective national security without the National Guard."
Thousands are deploying each year, he notes. And he aims to educate his fellow legislators.
"The most cost-effective thing the entire U.S. government does is the Guard and Reserve," Rose says. "It's on the backs of hardworking M-day soldiers working countless hours when they are not compensated. I want to talk about that."
Timmons wants to help break the partisan divide and "figure out a way to get back to actually legislating."
He's learning how to be a congressman as he is learning to be a soldier, he says. And those experiences are often complementary. "Think big thoughts," Timmons says, repeating a phrase from his commander in the 253rd. "I was sent here to help change things."
Waltz, too, wants to make an impact. As a member of the House Armed Services Committee, he has already introduced a bill to expand benefits for Gold Star families and is pushing for legislation that would incentivize national service for young people, not only for those
who join the military, but for those who work in inner cities or join the Peace Corps.
Waltz says the Guard, especially, has a role in making America a better country.
"They do more than augment," he says, explaining how Guardsmen are uniquely suited to take the lead in cyber, space and stability operations.
Now it's up to him, and others in Congress, to make sure the Guard and veterans are getting what they need from Washington. 
Members of Congress with Guard Service
Rep. Ralph Abraham, R-La.
Third Term
Mississippi Army National Guard
1986-1989

Rep. Brian Babin, R-Texas
Third Term
Texas Army National Guard
1969-1975

Rep. Jack Bergman, R-Mich. *
Second Term
Rhode Island Army National Guard
1975-1978

Rep. Vern Buchanan, R-Fla.
Seventh Term
Michigan Air National Guard
1970-1976

Sen. Tammy Duckworth, D-Ill. *
First Term
Illinois Army National Guard
1996-2014

Sen. Mike Enzi, R-Wyo.
Fourth Term
Wyoming Air National Guard
1967-1973

Sen. Joni Ernst, R-Iowa *
First Term
Iowa Army National Guard
2001-2015

Rep. Tulsi Gabbard, D-Hawaii *
Fourth term
Hawaii Army National Guard
2003-present (major)

Sen. Lindsey Graham, R-S.C. **
Third term
South Carolina Air National Guard
1989-1995

Sen. Jonny Isakson, R-Ga.
Third term
Georgia Air National Guard
1966-1972

Rep. Trent Kelly, R-Miss. *
Third Term
Mississippi Army National Guard
1985-present (brigadier general)

Rep. Peter King, R-N.Y.
14th Term
New York Army National Guard
1968-1973
Rep. Adam Kinzinger, R-Ill.
Fifth Term
Illinois Air National Guard
2001-2003
Wisconsin Air National Guard
2003-present (lieutenant colonel)

Rep. Steven Palazzo, R-Miss. **
Fifth Term
Mississippi Army National Guard
1997-present (staff sergeant)

Rep. Scott Perry, R-Pa.
Fourth Term
Pennsylvania Army National Guard
1980-present (brigadier general)

Rep. Collin C. Peterson, D-Minn.
15th Term
Michigan Army National Guard
1963-1969

Rep. Harold Rogers, R-Ky. **
20th term
Kentucky Army National Guard
1956-1957, 1958-1963
North Carolina Army National Guard
1957-1958

Rep. Max Rose, D-N.Y.
First Term
New York Army National Guard
2013-present (captain)

Rep. Robert C. Scott, D-Va.
14th term
Massachusetts Army National Guard
1970-1974

Rep. Steve Stivers, R-Ohio
3rd term
Ohio Army National Guard
1988-present (brigadier general)

Rep. William Timmons, R-S.C.
First Term
South Carolina Army National Guard
2018-present (first lieutenant)

Rep. Michael Waltz, R-Fla. *
First Term
Maryland Army National Guard
2002–2011, 2016–present
(lieutenant colonel)
Texas Army National Guard
2012–2015

Rep. Joe Wilson, R-S.C. *
10th Term
South Carolina Army National Guard
1975-2003

Rep. Steve Womack, R-Ark. **
Fifth Term
Arkansas Army National Guard
1979-2009
Note: Names in italic are current National Guardsmen. *Denotes member of the House or Senate Armed Services Committee
**Denotes member of the House or Senate Appropriations Committee