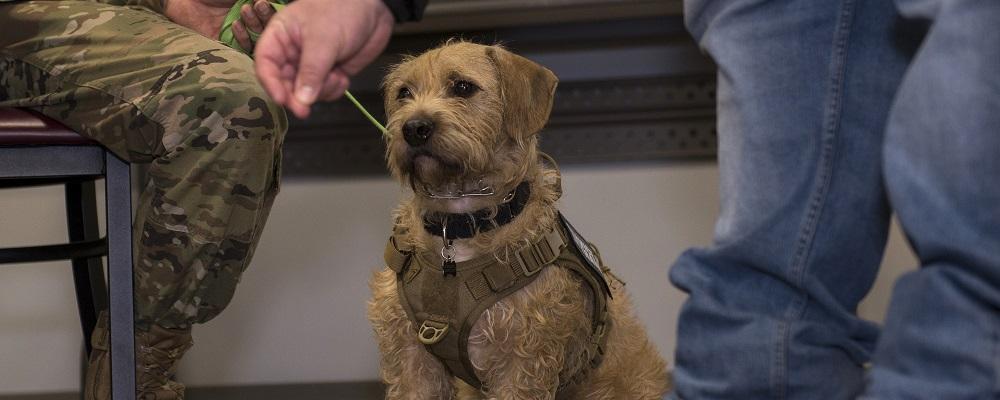 Veterans receiving care from the Department of Veterans Affairs could eventually be paired with therapy dogs as part of their treatment for post-traumatic stress and other mental health disorders.
The House unanimously passed the Puppies Assisting Wounded Servicemembers (PAWS) for Veterans Therapy Act (H.R. 4305) last week. The legislation, which still needs to be approved by the Senate, would direct the VA to begin a five-year program of providing federal funding to nonprofit organizations that match service dogs with veterans.
The bill was introduced by Rep. Steve Stivers, R-Ohio, and a bipartisan coalition. Stivers is brigadier general in the Ohio Army National Guard and a veteran of the Iraq war.
"A soldier under my command during Operation Iraqi Freedom recently told me what his service dog means to him: he was able to fly on a plane for the first time in 10 years and he took his fiancée to dinner," Stivers said. "That is the impact this bill can have on the lives of our veterans. I'm incredibly grateful to our coalition for their efforts to create this program, and I look forward to getting this bill signed into law so that our veterans can receive the care they need."
There is no service dog program currently available through the VA. Research on whether canine therapy improves the outcomes of veterans with mental health issues is currently ongoing.
The legislation has been praised by veterans groups and animal advocates alike.
American Humane applauded the vote, saying the bill underscores the critical role trained service dogs play in helping veterans recover from post-deployment mental health issues.
"We are thrilled to see the House pass the PAWS Act which validates what we at American Humane have long believed — trained service dogs are critical to helping veterans in need," said Robin Ganzert, American Humane president and CEO. "Today's action by the House will spur much needed attention in this space and help veterans and their canine heroes live more fulfilled, healthier lives."