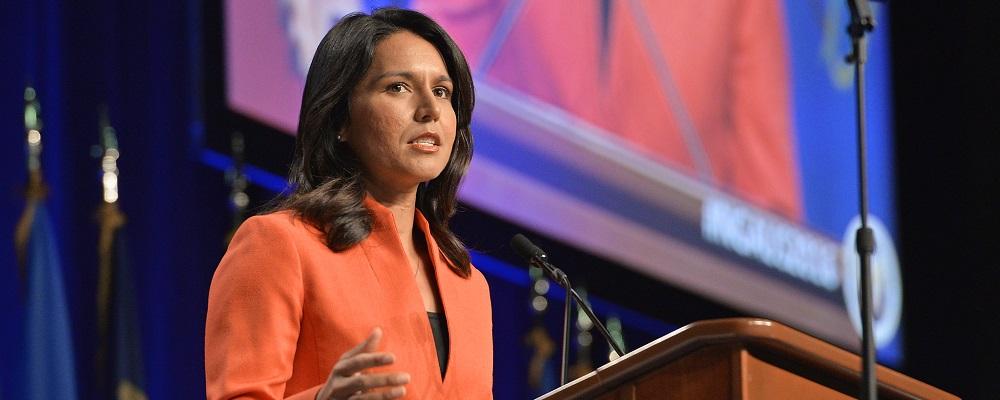 Rep. Tulsi Gabbard, D-Hawaii, has introduced a slew of legislation aimed at serving veterans.
The four bills were introduced earlier this month. Gabbard is a major in the Hawaii Army National Guard and one of nine Guardsmen currently serving in Congress.
The Post-9/11 Veteran Business Acceleration Act (H.R. 4991) would allow veterans who are eligible for educational assistance under the Post-9/11 Educational Assistance Program to participate in a pilot program that would allow them to use the benefit to start a business.
Gabbard introduced the bill with a bipartisan pair of colleagues, Al Lawson, D-Fla.; and Rep. Ross Spano, R-Fla.
"This bipartisan bill will allow veterans to explore new possibilities with their earned benefits and build businesses that will service themselves, their families, and benefit the communities in which they live," Gabbard said.
The other bills are focused on supporting health care benefits for veterans and service members.
They include:
The Recovery Engagement and Coordination for Health-Military Innovations for Life Act (H.R. 4992) which would direct the DoD to provide pre-emptive care and support for service members at high risk of suicide;
The Refer and Equip Veterans and Military Personnel Act (H.R. 4993), which would update the health-related requirements of the Transition Assistance Program for military separation; and
The TRICARE Payment and Reimbursement Study Act (H.R. 4994), which would help determine whether existing reimbursement rates and proposed discounts offered to mental health providers are limiting access to care.