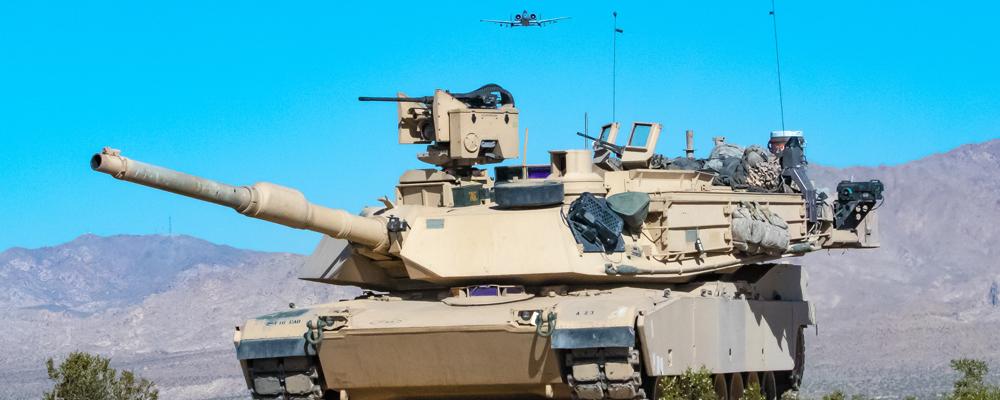 When an A-10 Thunderbolt II fighter landed in a cloud of dust in a dry lakebed in a California des-ert earlier this summer, it marked more than just one historic achievement.
Not only was the event the first for an A-10 at the austere Freedom Landing Strip, it was also a symbolic example of what is believed to be another first — the deployment of an armored brigade and an fighter wing from the same state to one of the nation's premier combat training centers. 
The Idaho Army National Guard's 116th Cavalry Brigade Com-bat Team exercised at the National Training Center (NTC) on Fort Irwin, California, for four weeks beginning in late May. The soldiers faced an opposition force simulating a near-peer adversary and conducted live-fire missions with M1 Abrams tanks, Bradley Fighting Vehicles and M109 Paladin howitzers.
And during much of the training, the brigade received close-air support from familiar face  in the Idaho Air Guard's 124th Fighter Wing.
A-10 pilots from the 190th Fighter Squadron would land their jets in the lakebed to pour over maps, discuss targets, strategy and next steps with their Army counterparts. Soon after, they would return to the air and the battle.
It was a novel experiment, years in the making, according to Ida-ho Guard leaders. But it could also be a sign of things to come as the U.S. military — and the Guard in particular — gears up for so-called great-power competition.
"This is the first time we've done this," says Brig. Gen. Timothy J. Donnellan, the Idaho assistant adjutant general–Air. "But one day, the units could deploy together."
Pairing the two units makes perfect sense amid a new National Defense Strategy that requires the U.S. military to be prepared to respond to a more complicated and dangerous battlefields than those faced during counterinsurgency operations in Iraq and Afghanistan, the general says.
"We're meeting the requirement to train to the NDS and that's a whole new ballgame," Donnellan says. "The ultimate goal is the highest level of readiness we can get at. That's the key. And if we can mass fire on the battlefield, that's what wins the fight. We see what the future is and we want to be a part of it and the only way to do that is to get ourselves in sync."
More than 3,000 brigade soldiers took part in the NTC rotation. They include roughly 1,800 soldiers from across Idaho and another 1,200 soldiers from Montana, Nevada and Oregon Guard units.
The 124th Fighter Wing sent about 190 airmen in support of the rotation as part of a Green Flag-West, a realistic air-land integration combat training exercise, with the airmen largely based at Nellis Air Force Base in Nevada. Its 12 A-10s flew more than 128 sorties in direct support of the brigade. And 16 Joint Terminal Attack Controllers with the wing's 124th Air Support Operations Squadron embedded in the 116th to call in the close-air support.
"What we validated is that relationships do matter."

—Col. Shannon Smith, commander of the Idaho Air National Guard's 124th Fighter Wing
IN IDAHO, the 116th and 124th are located less than a mile apart on Gowen Field in Boise. The two units make  up  the  majority  of  the  Idaho  Guard's force structure.
But leaders say the two neighbors have not always had close ties, instead preferring to largely keep to themselves.
Donnellan and his Army counterpart in the state Guard leadership — Brig. Gen. Farin D. Schwartz — have changed that.
"It started two years ago," Schwartz says. At that time, he was commanding  the  brigade  and  Donnellan  was  at  the  helm  of  the wing. "We had similar leadership styles and we sought out collaboration."
The unit's current leaders, Col. Scott Sheridan and Col. Shannon Smith, have continued those efforts, even as each have prepared their units for upcoming missions.
Smith will deploy some of his wing to Afghanistan early next year. And Sheridan is preparing his entire brigade to participate in Defender 2020, the largest training event on the continent in 25 years and one in concept similar to the old Cold War REFORGER (Return of the Forces to Germany) exercises.
Schwartz, who served as a senior trainer during the NTC rotation,says the two units started small and gradually built up to complex exercises. Army Guard leaders have addressed airmen while standing atop jet wings. And their Air Guard counterparts have traveled to armories to address soldiers in more rural parts of the state.
The efforts focused on building a trust between the units that is vital, but often not earned until a deployment is well underway.
Schwartz called the joint training deployment at NTC a "unique opportunity" and said it was a showcase of the capabilities of the Idaho Guard.
He says NTC officials built in scenarios meant to test the relationship between the two units and created an order of battle that allowed both units to flex their muscles amid the simulated near-peer fight, with enemy air defenses, austere operating locations and enemy armor having to be taken into account.
Capt. Steven Trickey, who commands A Company, 2nd Battalion, 116th Cavalry, says the operational tempo of the rotation was "pretty grueling."
"NTC is hard for a reason," he says. "It's harder than anything these guys will ever face, even if we're in a real fight."
Trickey says Idaho A-10s made several passes over his tanks. And he says the experience should make both units that much better. "We'll be a more conscious and effective fighting force," he says.
Smith, the wing commander, agrees. "What we validated is that relationships do matter," he says. "And the lessons will continue. We'll only get better."
Other cooperative efforts are also underway, with shared professional development opportunities for leaders at all levels and more joint training at Idaho's Orchard Combat Training Center, where A-10s are now conducting live-fire exercises alongside Army Guard armor and artillery.
Under the direction of Maj. Gen. Michael J. Garshak, the Idaho adjutant general, Donnellan says the state is looking for every opportunity it can to bring soldiers and airmen together.
"We're a better formation because we've taken those steps to reach across the aisle to our Air Guard brethren," Schwartz says. "When you deploy, you don't have an incredible amount of time. Those relationships have to be built quickly and it's a complicated process, especially when you add in attack aviation and field artillery.
"What we have in Idaho is built over months and years. They know each other and the confidence is there. In Idaho, when we speak, we're speaking the same language."