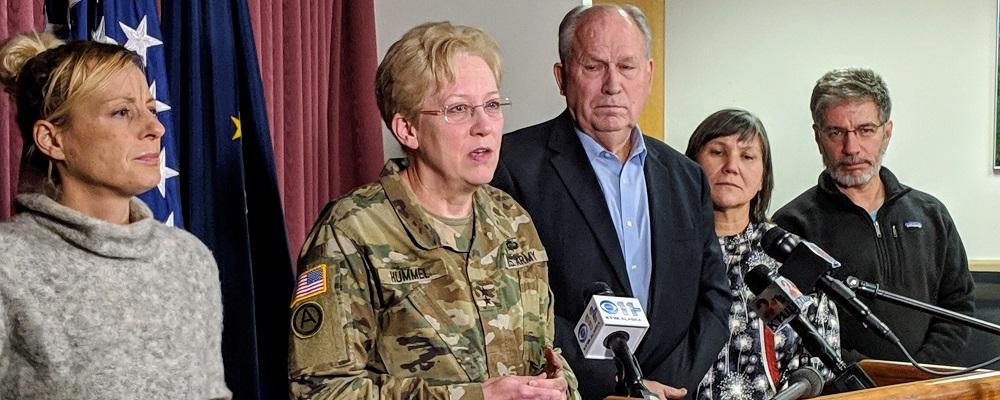 A former adjutant general of Alaska is back serving the National Guard again.
Retired Army Maj. Gen. Laurie Hummel is now the National Guard Bureau's new inspector general. 
She retired from the military and her post in Alaska in 2019. She said she thought she was ready to slow down before the offer to become the NGB inspector general presented itself.
Hummel she said it was an opportunity to once again be part of something bigger than herself.
"[It's] a job where you can help commanders create a safe and respectable and productive and collaborative environment for the Guard family — that's a win-win," said Hummel, who became the NGB IG in May.
The importance of the inspector general, and Hummel's role in that position, can't be emphasized enough, said Air Force Gen. Joseph Lengyel, the NGB chief. 
"Inspectors general are a tremendous asset because they help us uphold trust — trust in the unit, in the Guard, and with the general public," he said. "They are our impartial eyes and ears, who make sure we are efficient, effective, and operating within the law."
Hummel said upholding that trust sometimes requires dispelling myths about the inspector general being "some monolithic, mysterious and scary thing."
"Let's take those two words: 'inspector' and 'general.' So who really wants to spend a lot of time with either an inspector or a general?" she joked. "Developing trust across the enterprise that [inspectors general] are here to assist can be a challenge."
Addressing that challenge, she said, involves emphasizing to Guardsmen that the NGB-IG office is composed of "folks dedicated to helping all of us in the National Guard be our best."
Achieving that comes through a variety of efforts, including inspections, teaching the force and, should they be warranted, investigations, said Hummel.
Hummel brings a wealth of experience to the table.
After graduating from the U.S. Military Academy West Point in 1982, she served in a variety of military intelligence assignments before returning to West Point as an instructor. 
She retired from the active-component Army in 2012, but then came back on duty as the adjutant general of the Alaska Guard in 2015 — a post she said will help her navigate some of the challenges in her new role.