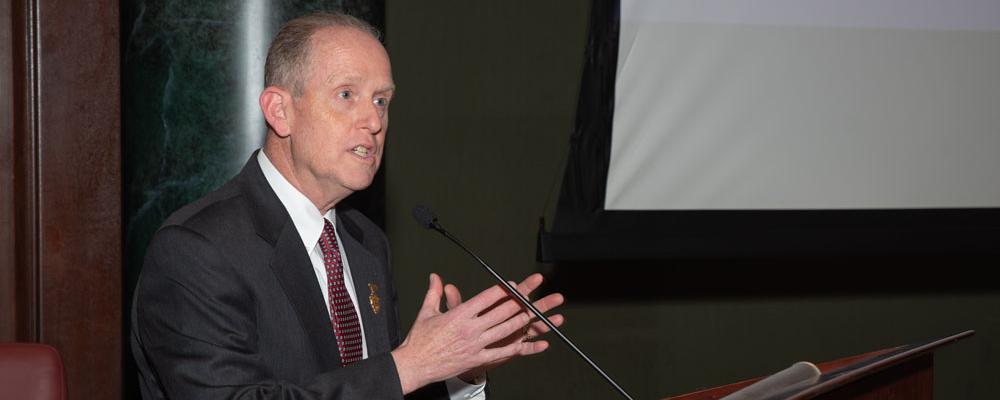 One of the best parts of being chairman is concurrently presiding over the NGAUS entity that preserves and tells the Guard story — the National Guard Educational Foundation.
This capacity gives me the privilege of leading a small delegation to Normandy, France, next month to help commemorate the 75th anniversary of D-Day.
Our group's big event will be a wreath-laying ceremony as dawn breaks June 6 at the National Guard Monument in the village of Vierville-sur-Mer. The monument sits on top of an old German pillbox overlooking a stretch of shoreline still known as Omaha Beach.
NGAUS constructed it in 1969 as a tribute to every Guardsman who fought in Europe in World War I and II. NGEF maintains the monument and has returned every five years to lay a wreath since the 25th anniversary of D-Day.
This will be my first time on what is sacred ground for the Guard, but, through my reading, I know what happened there and what most of my words will be to those gathered for our ceremony.
It is hard to imagine the fear that gripped Europe 75 years ago. A powerful force bent on domination held most of the continent in its grip. Looking back, we can see the tide was slowly turning, but to the people of Europe, there was no sense of the evil ending soon.
In the face of this menace, free nations determined that the only way forward was to invade and liberate the continent. On June 6, 1944, soldiers, sailors and airmen from the United States, Great Britain and Canada launched the largest amphibious landing in history.
What is now a tranquil coast belies the massive armada just off shore that day. There were more than 5,000 ships carrying over 170,000 men. Roughly 132,000 would land by nightfall. Allied airmen flew more than 14,000 sorties in support.
The numbers are impressive, but they hardly tell the full D-Day story, let alone share the courage of the young men who stormed ashore in the face of withering fire.
That is best learned from the dwindling few who were there. We will be fortunate in Normandy to host four D-Day veterans from the 29th Infantry Division — the famed "Blue and Gray" Guard division from Maryland, Virginia and the District of Columbia.
Our Army's ranks grew to several million during World War II. Many were volunteers, others were draftees and almost the entire the National Guard was called to active duty. They all contributed, but the Guard added something unique to America's Army.
The Guard is a state force under the Constitution, unless and until mobilized for federal duty. Today, our Guard serves on federal orders almost every day, but that was an unusual occurrence in the 1940s.
Congress has long envisioned the Guard as the primary combat reserve of the Army and drafted most combat and combat support units for service in World War II. Guard units also brought something else — already cohesive units.
Elements of the 29th Infantry Division were part of the first wave at Omaha beach. Most came from towns across Maryland and Virginia. They went to school together, double-dated to the prom and vied for glory on football fields and baseball diamonds. And, on June 6, 1944, they showed the world and Nazi Germany what free men can do.
By nightfall, they had helped establish a beachhead on what would become known as Bloody Omaha, opening the door for victory in Europe. Many paid the ultimate price and those who survived, returned home and built quiet lives of success with their families.
Can there be any greater glory for a soldier? I think not.
It will be a great honor to meet some of these heroes and walk the beaches they risked everything to liberate.