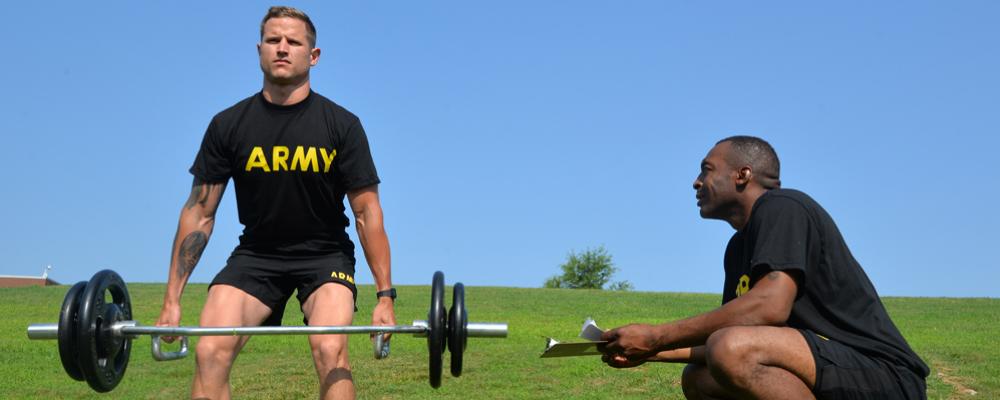 The Army's new physical-training test goes service-wide this month, and for many soldiers, it could be a big adjustment.
Dubbed the Army Combat Fitness Test (ACFT), it is a more comprehensive assessment of the functional strength required on the battlefield than its predecessor, the three-event Army Physical Fitness Test (APFT), say service officials.
The new test has six events, and most are tests of core strength: a maximum deadlift; a standing power throw; arm-extension pushups; a sprint-drag-carry shuttle run; leg tucks while hanging from a pullup bar; and a 2-mile run.
Arm-extension pushups replaced hand-release pushups on the list last month as Army officials announced final changes and fiscal 2020 scoring for each event.
Required equipment includes a hexagon barbell, weight plates, barbell collars/springs, nylon sleds, a rubber medicine ball and kettlebell weights. One set costs about $2,000. It will take 16 sets to administer the ACFT to a unit of 120 troops in two hours, according to the Army.
Service officials say each event has an application to common soldier tasks. For example, the deadlift correlates to lifting and moving a heavy load, whether it be equipment or a wounded comrade.
The test is administered quickly, with minimal time between events. Scoring will be age- and gender-neutral, but passing marks differ by occupational specialty, with com-bat-arms positions requiring the highest scores.
While the ACFT is now a graduation requirement at all initial-entry schools, officer and enlisted, soldiers in the force will test only for practice. Over the next year, active-duty troops will take two diagnostic tests and Army National Guardsmen and Army Reservists will take one.
Army officials believe the ACFT will do more than just improve individual readiness. They think it will reduce preventable injuries and related attrition and enhance mental stamina and toughness, while transforming the force's "fitness culture."
But it's a big change from the nearly 40-year-old test that includes pushups, sit-ups and a 2-mile run.
"We're going from something that requires no equipment and is muscular and aerobic endurance to something that resembles the CrossFit Games," says one of the Army National Guard's leading fitness experts, Sgt. 1st Class Ken Weichert of Tennessee.
Weichert is an Army Master Fitness Trainer, a personal trainer and motivational speaker. He has written several how-to fitness articles and hosted Fit for Duty on the old Pentagon Channel. And while he likes the ACFT "overall" and says a new test is "long overdue," Weichert has concerns  with  the  test in the Guard.
"I'd say probably 80% of the National Guard ... is working so hard to make ends meet in either a physically demanding job or a cubicle environment that they aren't doing the training necessary to succeed in this type of event," he explains.
"Will we have an adequate amount of time to do the training necessary to mitigate the risk factors associated with improper form and improper readiness that would lead to injury?" he says. "That's where I'm worried."
We're going from something that requires no equipment and is muscular and aerobic endurance to something that resembles the CrossFit Games.

—Sgt. 1st Class Ken Weichert, Army Master Fitness Trainer, Tennessee Army National Guard
JUST GETTING FAMILIAR with the equipment will be a challenge, he and others say.
While a handful of Guard units were involved with ACFT field-testing over the last 12 months and some Guard soldiers have taken a practice test at an Army school, most have little to no access to the equipment, which is not likely to change soon.
The Arkansas Army Guard has few of the 300 sets it needs, says Command Sgt. Maj. Rick Megoloff, the state's senior enlisted soldier.
"We thought we would have the equipment about now," he says. "But because of some of the protesting that went on with the award of the contract, we've been informed it's probably going to be in three or four months. I'm assuming March through June."
Once it arrives, units will have to find time — and probably not just once — to teach soldiers how to use the equipment and how to train for the test on their own without it. That only adds to the ever-growing list of unit requirements, says retired Maj. Gen. Terry M. Haston, the NGAUS vice chairman-Army and former adjutant general of Tennessee.
"You've got to figure out what's going to fall off the table," he explains. "We have to be thoughtful on the implementation."
Maj. Gen. John C. Harris Jr., the adjutant general of Ohio, says he plans to empower his commanders to accept the risks of prioritizing physical training over other tasks.
Harris says more time devoted to physical training means less "death by PowerPoint" and more of an emphasis on lethality. That, he says, is in line with directives from the Army chief of staff.
Meanwhile, the APFT is not completely gone. The National Guard Bureau says Guard soldiers will have to pass the old test for record this year while they transition to the new test.
Most of this isn't new to the troops. Many have been monitoring the development of the ACFT for years. Some soldiers on online message boards actually think the new test might be easier to pass than the APFT, but much harder to "max."
Field testing seems to validate the latter theory. Only one soldier, Maj. Timothy Cox, the executive officer of the 22nd Chemical Battalion at Fort Bliss, Texas, recorded a perfect 600 score as of Sept. 1.
In an Army press release, the former college athlete and two-time Army Best Ranger participant attributed his mark to the "everyday" help he received from unit members and the battalion's involvement in the Army's Holistic Health and Fitness pilot program.
The program, Cox said, provides the battalion with "health and physical fitness professionals, two strength coaches, along with a physical therapist and a certified athletic trainer."