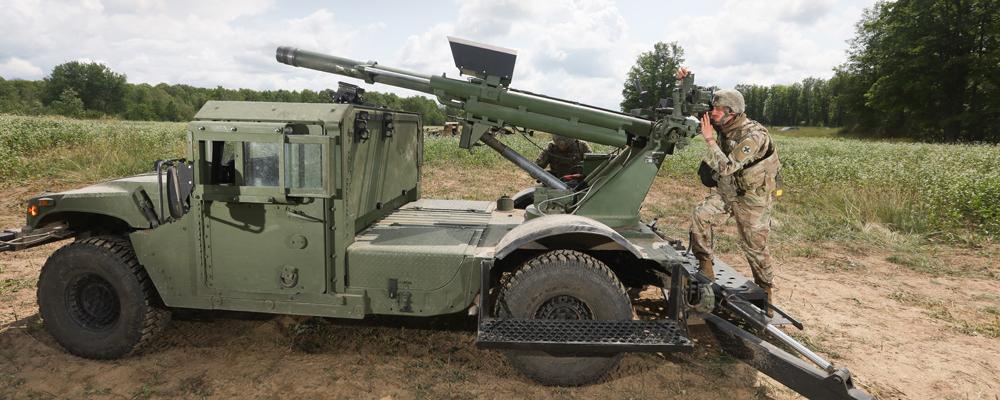 The king of battle is looking to retake its throne. After years of taking a backseat to counterinsurgency operations in Iraq and Afghanistan, U.S. Army artillery is undergoing a renaissance of sorts as part of a new defense strategy focused on great-power competition.
The renewed focus on the Army's big guns comes at a time when American artillery finds itself outranged and outgunned by two of its biggest potential adversaries — Russia and China.
But the gap is closing, officials say. And Army National Guard artillery units, which make up more than half of the Army's artillery force, are in line to benefit from new technology,  better munitions and greater emphasis on training.
"You know the term red-headed step-child? Well, we were the red-legged step-child," says Capt. Robert Riddle, the brigade fire control officer for the Oklahoma Guard's 45th Infantry Brigade Combat Team. "In Iraq and Afghanistan, all of the love went to the infantry. These last couple of years, we definitely feel like we're getting love and attention."
He says artillerymen in Oklahoma have newer equipment and more training resources than in the past. Better still, their focus is on preparing for artillery missions — some-thing that many artillery battalions could not say during the peak of the wars in Iraq and Afghanistan. For nearly two decades, they have been limited to providing security at overseas bases, overseeing detainee operations and other work unrelated to putting rounds on target.
Riddle says his last two deployments have been for nonstandard missions.
"There's really not room for artillery in a COIN [counterinsurgency] environment," he says. "The enemy blends in with civilians and they operate in remote areas. ... But in a peer fight, [Army leaders] realize the value that we add. We're a game-changer."
In the fight with a conventional force, Army artillery will be asked to not only target enemy formations, but also to destroy air defenses, ships and other targets that can open space for other weapon systems and troops to move into enemy territory.
To do that, the Army is investing billions of dollars to increase the range and lethality of existing and future artillery. They are also developing new technology and reviving old tactics designed to increase the survivability of artillery forces operating against a peer or near-peer foe.
"Artillery is very much a growth industry right now," says Brig. Gen. Russell D. Johnson, an Idaho Guardsman and deputy commanding general for field artillery at the Army's Fires Center of Excellence at Fort Sill, Oklahoma. "There's a lot of new initiatives designed to close the gap on a peer-to-peer fight."
Johnson, who is also the chairman of the NGAUS Fire Support Task Force, says artillery formations took a hit during Army down-sizing in past years. Batteries were armed with fewer guns as leaders saw no immediate need to mass fires in a COIN environment.
But the tide has turned. In recent years, Guard artillery battalions with towed cannons have added new weapons, with many states gaining the larger, M777 light 155mm howitzer to pair with the M119 105mm howitzer. And the Army continues to develop an upgraded M109 Paladin self-propelled howitzer and new munitions for the M270 Multiple Launch Rocket Systems (MLRS) and M142 High Mobility Artillery Rocket Systems (HiMARS)."In a peer-to-peer fight, artillery plays a more prominent role in ma-neuvering and closing with and destroying the enemy," Johnson says.
"Artillery is very much a growth industry right now."

—Brig. Gen. Russell D. Johnson, deputy commanding general for field artillery at the Army's Fires Center of Excellence at Fort Sill, Oklahoma
THE INVESTMENT in artillery is a sign of the Army's shifting priorities. Army leaders have identified six top modernization priorities. They include long-range precision fires, the next generation com-bat vehicle, future vertical lift, network, air and missile defense and soldier lethality. Long-range precision fires, which includes cannon and rocket artillery, is No. 1.
The  Long  Range  Precision  Fires  Cross-Functional Team, part of the new Army Futures Command, is leading efforts to modernize artillery by increasing the range of current and future fire systems, increase the volume of fire and in-corporate enhanced sensors. The team's efforts include:
The Precision Strike Missile program, which aims to introduce a new surface-to-surface, all-weather missile that can be fired from the MLRS and HiMARS and eventually replace the Army Tactical Missile System. Lockheed Martin and Raytheon are each developing a version of the missile, with plans for prototype flight tests later this year. With the U.S. withdrawing from the Intermediate-Range Nuclear Forces Treaty with Russia, officials expect the range for the new missile to exceed the 499 kilometer limit previously imposed by the agreement. Officials expect to field the Precision Strike Missile in 2023.
The Extended Range Cannon Artillery program,  which  is supposed to improve the rate and range of fire for the Army's existing and future howitzers. This month, BAE Systems received a $45 million contract to integrate the ERCA onto the new M109A7 Paladin. The program would replace the Paladin's 39-caliber turret with a 58-caliber, 30-foot long gun barrel.
The development of precision guidance kits with anti-jamming capabilities, known as PGK-AJ, that are compatible with existing and new long-range rounds for howitzers. The kits would allow soldiers to turn traditional artillery rounds into "smart" precision rounds.
New, rocket-assisted projectiles, such as the XM113, which have doubled the range of a M777 howitzer during tests.
Taken all together, the Army hopes the programs and others like them will help boost the range of cannon artillery to 70 kilometers (43.5 miles) in the coming years, more than doubling the ranges of current systems and restoring the edge over possible foes.
From there, hypersonic technology and other advances could eventually push the range of artillery to well over 1,000 nautical miles.
Meanwhile, the Army is focusing not only on the quality, but on the quantity of fires with advances meant to make artillery more maneuverable, faster and lethal.
The force is developing autoloaders for its newest weapons, the M109A7 Paladin, and has tested two other systems: Hawkeye, a 105mm gun built onto a Humvee; and Brutus, a 155mm gun that is built onto a flatbed cargo truck. Soldiers with the Illinois Guard's 2nd Battalion, 122nd Field Artillery, recently trained with the Hawkeye.
Riddle says soldiers in Oklahoma, co-located with the Home of Artillery at Fort Sill, are very aware of the coming developments in their field.
"It's all about regaining our advantage," he says.
Nearly a decade ago, Riddle says the Oklahoma Guard was still firing the M102 — a Vietnam-era howitzer. In recent years, the force has upgraded once again, to the M119A3 and M777A2.
Those newer howitzers are faster to use than the guns they re-placed, Riddle says. They are more advanced, too, with digital components capable of instantaneously receiving a target's location from a forward observer.
But during recent training at Fort Sill, he says soldiers needed to know how to use both the newer, digital targeting system and older methods, which require maps and protractors. Digital is easier and more precise, but advanced systems that rely on GPS are subject to jamming technology and other electronic warfare tactics.
"We won the digital fight in the COIN environment," Riddle says. "There's a chance we might not in a near-peer fight."
"It's all about regaining our advantage."

—Capt. Robert Riddle, the brigade fire control officer for the Oklahoma Guard's 45th Infantry Brigade Combat Team
RIDDLE says soldiers are also growing accustomed to being on the move and receiving unplanned missions while on the move — so-called "hip shoots."
Gone are the days of setting up a firebase, he says. In a real-world fight against a modern military, being in one place for too long means death. Hence, the reason for putting howitzers on Humvees and trucks.
"In a peer-to-peer fight, a lot of times we're going to be out-gunned and outranged," Riddle says. "We have to be mobile. Speed is critical. We have to move every time we shoot."
Johnson, at the Fires Center of Excellence, says training at Fort Sill has become more complex, even as the weapons themselves have evolved and improved.
Today, units must be able to operate in degraded environments. And they must be able to "move, shoot and move again" in order to survive against a modernized military enemy.
A lot of that training is driven by real-world observations from places like Ukraine, where artillery batteries have been targeted with unmanned aerial systems and electronic warfare, Johnson says. In such an environment, even setting up an antenna is putting a bulls-eye over the troops' heads.
"It's caused us in the field artillery world to go back to the basics," Johnson says. "We can't rely on GPS. In the last 18 years, we've taken for granted the ability to pick it up and talk to anyone in the world."
For some, the back-to-basics approach means a return to capabilities not exercised since Vietnam.
In late April, soldiers of the Virginia Guard's 1st Battalion, 111th Field  Artillery, loaded an M119A3 howitzer and two Humvees  onto a landing craft belonging to the Joint Expeditionary Base Little Creek-Fort Story, Virginia-based 11th Transportation Battalion.
Setting sail from Camp Lejeune, North Carolina, they traveled several miles up the Intracoastal Waterway before beaching the craft and conducting a firing mission into a nearby impact area.
Operation Gator, as the exercise was known, was the first Army artillery mission from a landing craft in nearly 50 years.
Lt. Col. Shawn Talmadge, the battalion commander, says soldiers dusted off decades-old doctrine and adapted techniques from aged field manuals to conduct the proof of concept. Now, they are involved in creating standard operating procedures for similar training in the future.
"We demonstrated the capability is still viable," Talmadge says, adding that the mission opens the doors to future, more complex waterborne operations.
"We validated another way to employ our weapons," he says. "Most of the world is covered in water. This way we can better position our artillery and provide the enemy another threat they have to deal with."
Talmadge, like other artillery leaders, says he believes the King of Battle lost some of its edge while the military focused on COIN.
"We skewed away from artillery because the mission demanded it," he says. "We had to have very precise targeting to reduce collateral damage. We were not dealing with columns of tanks. Our skills to fight a near-peer fight had atrophied, both in our targeting and in our delivery."
But Operation Gator has Talmadge excited for what comes next.
"It's really a testament to our need and the fact that we can return to large-scale combat operations," he says. "That's really impacting artillery in a big way."