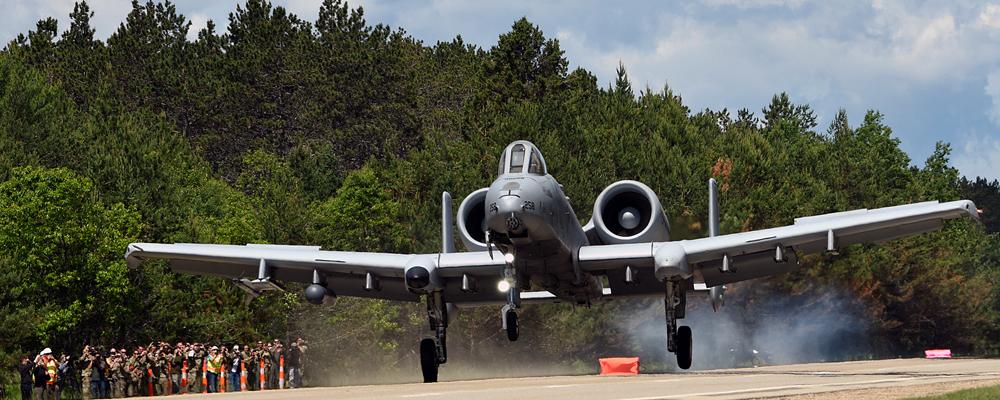 National Guard Magazine |
Road Work
When an aircraft runway isn't around, sometimes a long stretch of road can suffice in a pinch to project airpower.
That's what some airmen from around the country proved the last week of June during the Michigan Air National Guard's exercise Northern Agility 22-1 in the state's Upper Peninsula.
Last year, airmen made history during the exercise by landing four A-10 Thunderbolt II fighters and two C-146 transport aircraft on a closed portion of Michigan State Highway M-32 — the first time Air Force aircraft intentionally landed on a civilian roadway on U.S. soil.
This year, exercise participants took it a step further, practicing integrated combat turns on a closed section of Michigan State Highway M-28, where airmen quickly rearmed and refueled the aircraft while they were still running so they could take off again and rejoin the fight.
The move required multiple ground crew members to work together to pull it off, all without the usual facilities of a large air base or an expansive tarmac.
They turned multiple Air Guard A-10, Air Force Reserves C-146A Wolfhound and Air Force Special Operations Command C-145A Combat Coyote, MC-12W Liberty and U-28A Draco aircraft.
Guard airmen from Maryland and Oklahoma joined those from Michigan in the exercise.
The activity occurred on what exercise organizers called "Hawk LZ" in honor of F-16 pilot Maj. Durwood "Hawk" Jones of the Wisconsin Air Guard's 115th Fighter Wing, who lost his life in a training accident in Michigan in 2020.
Northern Agility 22-1 demonstrated "the ability of our airmen to generate combat power anytime, anywhere," said Brig. Gen. Bryan Teff, the assistant adjutant general and commander of the Michigan Air National Guard.
"Michigan is a champion for Agile Combat Employment, so when it comes to leveraging our state's unique partnerships, training environment and resources to ensure the joint force stays one step ahead of our adversaries, today was a huge success."
The exercise is meant to prepare airmen in case they have to operate in "austere environments," like remote Pacific islands where the only runway available may be an ordinary road or just a dirt strip.
That's a possibility senior Air Force leaders are already working on.
"We've surveyed almost every piece of concrete in the Pacific for whether we can use it for a hub or a spoke" for projecting airpower, Gen. Kenneth S. Wilsbach, the commander of Pacific Air Forces, told reporters last September.
The exercise required significant planning not only across the components of the Air Force, but also several state and local agencies, Michigan Guard officials said.
"Northern Agility 22-1 would not be possible without the long-term partnerships that exist between the Michigan National Guard and the Michigan State Police, Michigan Department of Transportation, Alger County Sheriff's Office, and of course, support from our neighbors in the Upper Peninsula," said Lt. Col. Brian Wyrzykowski, the exercise's lead operations planner.
The Kelly Johnson Joint All-Domain Innovation Center at Selfridge Air National Guard Base near Detroit was also involved.
The center teamed with industry partners to demonstrate technologies for augmented reality to enhance the multi-capable airman concept, rapid integration of the command and control ecosystem, synthetic aperture radar and advanced threat detection and visualization.
"Michigan is home to an incredible manufacturing spirit, business culture and immense pride and patriotism that makes it a great place for the Department of Defense to continue to train for the future warfight," said Maj. Gen. Paul Rogers, the adjutant general of Michigan.
- By Capt. Andrew Layton