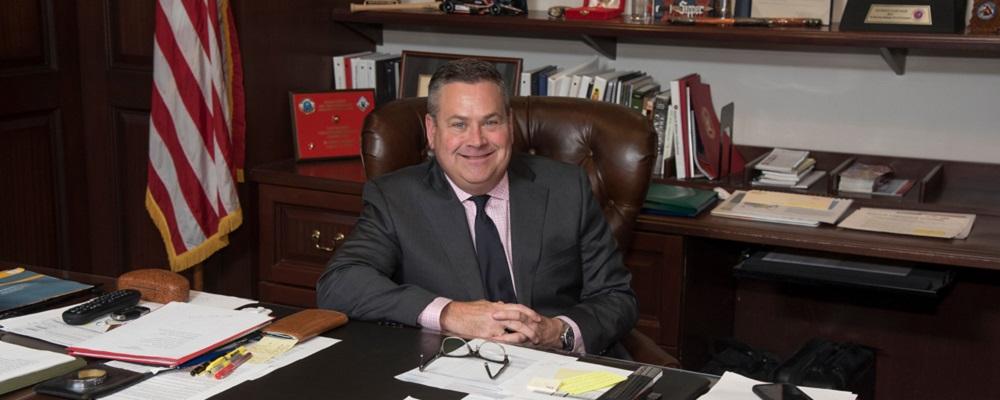 National Guard Magazine |
Remote Success
It's great to be back in my office at the National Guard Memorial, the NGAUS headquarters in Washington, D.C.
I returned June 1 after 10 weeks of working remote. The rest of the staff came back in phases over the next few weeks.
We were part of the first wave in the nation's capital to return to work. We're fortunate that most of our employees have individual offices that provide natural social distancing. A lot of other organizations in the city have much closer quarters, and many are still out.
I'm also a little bit old school. I think planning big events is just more productive with all the key players in the same room, albeit now six feet apart. That's how we are getting ready for a conference the likes of which NGAUS has never imagined, let alone produced.
Our return also brought to an end one of the most unique and surprisingly successful chapters in association history.
Advocacy on Capitol Hill has long been best accomplished in person. That's why our building is so close to the Capitol. Lawmakers and their staffs are only a short walk away. And we take full advantage of it.
But for nearly three months, that wasn't possible. We were on shutdown. So were most congressional offices.
We still had a job to do, however. In fact, the workload actually grew. The thousands of Guardsmen suddenly on the coronavirus front lines needed a voice. Items like medical coverage couldn't wait for a more convenient time.
Working from home, we relied largely on texts and email to leverage existing relationships on the Hill. It helped that lawmakers keep an eye on the news back home and the Guard COVID-19 response was getting a lot of coverage in many places.
The first order of business was convincing federal authorities to move mobilizations that began on state active duty to Title 32, the provision in law that covers Guard's federal mission while under state control.
Lengthy mobilizations under state active duty are a burden for the states, even when 100% of the costs are reimbursable by the federal government. More importantly, they don't provide TRICARE medical coverage.
We sent letters to the president and congressional leaders advocating Title 32. We also spent time explaining to their staffs and the media the complexities of Title 10, Title 32 and state active duty.
The president eventually allowed 44 states, three territories and the District of Columbia to mobilize Guard soldiers and airmen under Title 32.
But the initial authorizations were only in increments of 30 days, one day short of eligibility for TRICARE. So we went back to work with lawmakers and the media in an effort to convince decision-makers to make it 31 days.
One more day became a mantra, and the authorization was changed accordingly.
But the orders were only of limited duration. As each expiration date approached, we stepped up our communications to convince the White House to push it further to the right.
And when the expiration date was set at June 24, lawmakers, the governors and the media quickly picked up on the fact that it left some Guard soldiers and airmen just shy of reaching the 90-day threshold to qualify for the Post-9/11 GI Bill and early retirement.
The expiration is now Aug. 21.
We brought one major piece of unfinished COVID-19 business back to the office. Guardsmen who go overseas get six months of TRICARE coverage when they return. Title 32 doesn't provide the same.
So, as it stands, the heroes of the pandemic will return to their families with no medical coverage.
This can't stand, and many in Congress agree. There are bills in the House and Senate that would provide transitional coverage for domestic missions. We are now working to speed the legislative process along.
I remain humbled by what we were able to accomplish while we worked from home. I think it shows what NGAUS can do, even under difficult circumstances, especially when those we represent are so visibly doing great things.