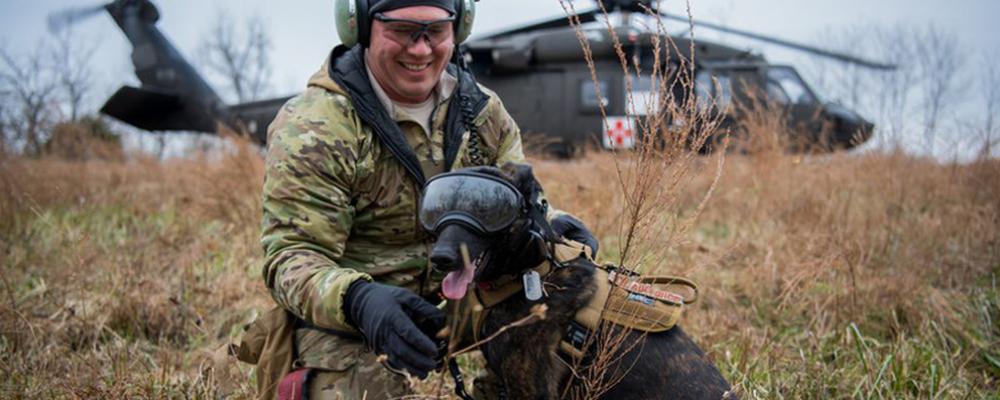 National Guard Magazine |
A Real Rescue Dog
An energetic five-year-old was the face of the National Guard's response to the severe flash flooding that hit eastern portions of the state in late July.
Callie, a search and rescue dog belonging to the Kentucky Air Guard's 123rd Special Tactics Squadron, was among the hundreds of Guard soldiers and airmen from Kentucky, Tennessee and West Virginia involved in the effort to save lives.
They used boats and helicopters to reach people cut off by the fast-rising floodwaters. Many were on rooftops or clinging to trees.
And when soldiers and airmen had difficulty locating someone, Callie's well-trained nose and ears were a real help.
"Local, state and federal agencies all have search and rescue dogs, but what we bring to the table is the ability to get a dog, with its incredible capabilities, to normally inaccessible locations potentially faster," says Master Sgt. Rudy Parsons, a pararescueman in the squadron and Callie's handler.
"Callie is able to travel via helicopter, boat, nonstandard vehicles, rope systems and can even insert via parachute with her handler in order to bring a high-level capability to accelerate life-saving measures in situations where minutes matter," Parsons says.
Although Callie is trained in "live-find' detection" — searching for living or missing people — "she also did a great job of telling us specific locations to investigate more thoroughly to recover fatalities, to help bring closure to those individuals' families."
In all, Callie helped locate several people, which led to their rescue. She also found the bodies of others, including four children from one family.
And as a photogenic Dutch Shepherd and the U.S. military's only search and rescue dog, she also found a lot of attention, both during the mission and the day that followed.
Parsons and Callie did guest appearances on several local Louisville, Kentucky, television news shows and even ABC's Good Morning America.
Other than emotional-support animals, dogs are rare in the Guard. The only unit with "working dogs" is the Connecticut Army Guard's 928th Military Working Dog Detachment.
But Parsons says that Callie is just another member of the unit. Her skill set closely aligns with the 123rd STS, which performs combat control, pararescue and special reconnaissance.
This dog goes everywhere with us and can do everything we can do.

—Master Sgt. Rudy Parsons of the Kentucky Air National Guard's 123rd Special Tactics Squadron
"This dog goes everywhere with us and can do everything we can do, including all our travel methods like military freefall and rotary-wing operations," he says.
At roughly 50 pounds, Callie also has the slightness and agility that helps her quickly and easily navigate tight spaces like collapsed buildings. Her best asset, however, may be her nose.
For more than four years, the 123rd STS has used Callie's nose to improve its rescue capabilities.
"The search part of search and rescue is now amplified a hundredfold," Parsons says.
Yet Callie's most impressive feat might be making Defense Department history.
In July 2018, the 123rd STS proposed adding a search and rescue dog through the Air Guard innovation program. Available to every unit, the program funds new innovations. It's not an ATM machine, however. A solid case has to be made that the money is a good investment.
The 123rd ultimately won approval from Kentucky's deputy adjutant general-Air; the commander of the 123rd Airlift Wing, the 123rd STS's parent unit; and Kentucky's U.S. Property and Fiscal Officer.
But adding a search and rescue dog to the unit required more than adopting a dog from the local rescue shelter.
Facing hazards like tornados, the 123rd STS required not only a dog with special training, but also the fortitude to handle heights and tough terrain as well as lengthy long-distance travel.
"This ere don't need to be bullets flying for there to be danger," says Chief Master Sgt. Karl Grugel, the 123rd STS's senior enlisted leader.
In addition to the right canine with the right training, the unit needed the right handler. "I needed a seasoned operator who didn't have six kids at home," Grugel says.
Parsons became a pararescueman about 15 years ago, serving six years in the Air Force before the Guard. Before Callie, Parsons faced search and rescue challenges where he could have used Callie's skills.
Take 2016, when Parsons recovered 13 bodies from a C-130 Hercules military transport aircraft crash in Afghanistan. Locating the 11 Americans killed in the incident took Parsons approximately 36 hours, a hunt he suggests Callie would have finished in under three hours.
Enter the Penn Vet Working Dog Center in Philadelphia, which paired Callie and Parsons five months after the 123rd STS pitched the initiative in 2018.
Pat Kaynaroglu, the center's training manager, says Callie was a natural, eager to learn and always happy to seek work. "She was like, 'I'm so glad to be on a rubble pile,'" Kaynaroglu says.
The center trains dogs using a rewards-based system beginning when the animals are puppies. They choose a toy that serves as their reward for finishing tasks like examining rubble fields. Callie chose a tug toy that still motivates her search and rescue efforts today.
Kaynaroglu says the center teaches the animals to find their unique "paycheck" utilizing sight and smell. Gradually, these exercises involve discovering one or more people hiding everywhere from inside barrels to behind trees.
They complete agility, obedience and detection exercises before obtaining handlers. Once partnered, the dogs and trainers prepare to work professionally together.
Grugel estimates the 123rd STS spent approximately $60,000 procuring, training and equipping Callie.
The training, however, continues. It has to, says Kaynaroglu, to keep both dog and handler sharp. "When you have a search and rescue dog, the training never stops," she explains.
Since leaving the center, Callie has joined some of the unit's toughest missions, including last summer. The unit helped rescue 40 people, but couldn't reach those four children in time.
Parsons says Callie has helped him navigate such painful moments. "Having her in my life has added a lot of happiness," he admits. "She's the only dog in the entire DoD that goes home with her handler."
Grugel guesses search and rescue dogs normally work for about seven years depending on health and risk factors.
"The other squadrons are kind of watching them," he says of Parsons and Callie. "The team really, really values her."
The 123rd has already started developing Callie's successor before she retires, a year-old Belgian Malinois named Pits.
"The hope is that this takes hold in pararescue in the National Guard," Parsons says of the SAR canine program.
Grugel argues more Guard units will adopt similar initiatives once Callie directly saves someone's life for the first time. "When that happens — and it will happen — everyone in the Guard is going to want this capability," Grugel promises.
The author can be reached at [email protected].
---
AT A GLANCE — CALLIE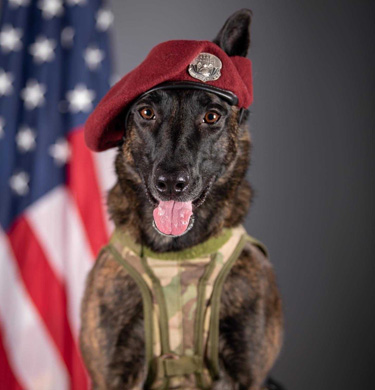 Breed: Dutch Shepherd
Weight: 50 pounds
Age: Five years old
Year entered service: 2018
Years of Training: Five
Diet: Purina Pro Plan Sport Blend (3¼ cups daily) supplemented with probiotics, oils and glucosamine
Favorite Off-Duty Activity: Shredding stuffed animals
Source: 123rd Special Tactics Squadron