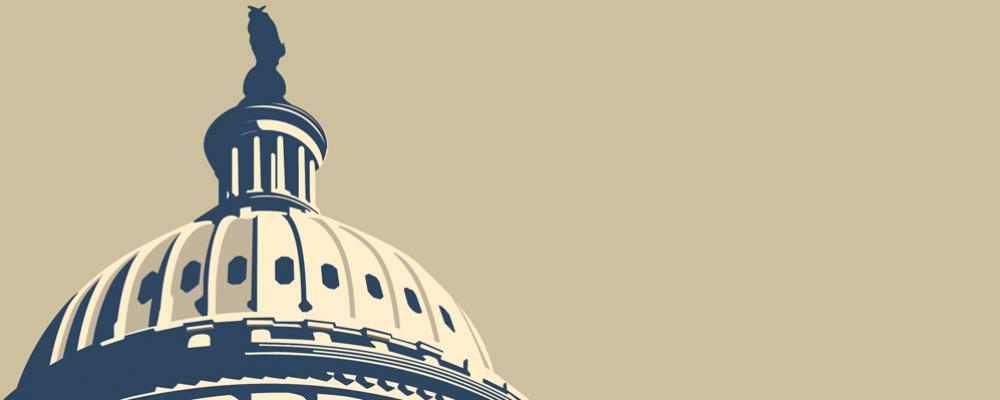 National Guard Magazine |
Into the New
The federal government is under new management. President Joe Biden, like his predecessors in the White House, is installing new leaders in every federal agency — people he trusts and who share his vision.
Last year's election also affected Congress. The Democrats now control both the House and the Senate. Their majorities may be thin, but they now control the agenda and drive much of the conversation.
How all of this impacts the National Guard going forward will largely first be felt in this year's deliberations on the fiscal 2022 defense policy and spending bills.
"There has been a seismic shift in power in Washington," says retired Brig. Gen. J. Roy Robinson, the NGAUS president. "But we have always worked both sides of the aisle, and the vast majority of members of Congress know the importance of the Guard to the nation, especially after the last 12 months.
"There will be challenges, of course. There always are with a shift in power and spending priorities," he adds, "but there will also be opportunities."
The first challenge is the delay in the president's fiscal 2022 budget proposal to Congress. The annual request normally arrives on Capitol Hill in February, heralding the start of the legislative process, but it's always late in a new president's first year. The proposal is the product of years of work and officials in a new administration always revise it to reflect their priorities.
Most signs point to the budget proposal arriving sometime in May or June.
Congress is antsy to get started. The chairman of the House Armed Services Committee says debate over annual defense policy and spending bills could be delayed until fall if the Biden administration doesn't deliver its budget May 10.
Rep. Adam Smith, D-Wash., has accused the administration of "dragging their feet" on the budget request. He says committee "markups" of defense legislation won't be possible before a month-long August recess if the budget is further delayed.
"I try to be respectful and not hurt anyone's feelings, but…the budget doesn't have to be perfect," Smith said. "We will make changes. So if there's something in there that you don't like, that isn't exactly the way you want it, there is time to fix it."
Waiting until after the August recess would likely force Congress to approve a continuing resolution before the end of the fiscal year Sept. 30, Smith warns. A CR keeps the government funded but at the previous year's levels with no new programs.
White House officials did provide a glimpse of their overall spending plans April 9. Biden will ask for $753 billion in national security funding, including $715 billion for the Defense Department, which amounts to a slight decrease when adjusted for inflation. It is about $10 billion more than enacted 2021 budget levels, but short of the $722 billion that was projected in former President Donald Trump's final budget.
Meanwhile, the president wants to boost nondefense spending by 16%, to $769 billion. This includes an $8.5 billion, or 8.2%, increase in the Department of Veterans Affairs' budget to $113.1 billion.
The defense plan identifies confronting China as the "top challenge," prioritizing the Pacific Deterrence Initiative that is designed to bolster U.S. military capabilities in the Indo-Pacific region. Accordingly, it "optimizes" Navy shipbuilding. It also "modernizes" the nuclear deterrent and will invest in a "responsive mix of longer-range strike capabilities."
Administration officials also make clear they want Congress to scrap older weapons systems, many of which reside in Army Guard combat units and Air Guard flying wings. Guard leaders and their supporters on Capitol Hill will go along only if most of the affected units are firmly included in Army and Air Force fielding plans for next-generation equipment.
And in what it calls "a significant budgetary reform," Biden's budget will also seek to eliminate the overseas contingency operations account. Every defense dollar would be in the base budget. OCO originally was intended to cover war costs. In recent years, however, critics have said the account has become a tool to skirt the standard budget process.
Other details will have to wait until the new administration submits its full spending proposal.
Last year really demonstrated that there are gaps in medical coverage across the Guard.

—Retired Col. Mike Hadley, the NGAUS vice president-government affairs
RETIRED COL. MIKE HADLEY, the NGAUS vice president-government affairs, believes there is little chance Congress gets its work done on the defense budget before the new fiscal year begins Oct. 1.
The late budget submission is only part of it. A bigger reason is, lawmakers now almost routinely miss their deadlines. Only once in more than a decade has Congress completed appropriations bills on schedule, and that was for fiscal 2019. And it was a product of a two-year, bipartisan budget agreement reached in early 2018.
Nevertheless, Hadley says, now is the time to lay the groundwork for fiscal 2022 defense legislation, and his staff is already busy.
Unfortunately, telling the Guard story on Capitol Hill hasn't gotten much easier over the past year. Many congressional staffers are still largely working from home to help stem the spread of the coronavirus. Many only come in for hearings. This means the association lobbyists are still relying much more on phone calls, email and text than they did pre-COVID.
Added security since the Jan. 6 riot on Capitol Hill has made things even more of a challenge. JC Cardinale, the NGAUS legislative affairs manager for joint-personnel programs, says he hasn't been in any of the House or Senate office buildings in months.
"It's tough to get in," he says, "but there are plenty places to get coffee only a short walk away. They work great for face-to-face meetings."
Before the pandemic, Cardinale says he could walk the short distance between the National Guard Memorial, the NGAUS headquarters in Washington, D.C., and the House and Senate office buildings and drop by several congressional offices in one trip.
"I would speak to military legislative assistants in each office, maybe a member [of Congress] or two and drop off some of our priorities cards," he say. "It's especially helpful at the beginning of a new Congress, when there are a lot of new members, like now. I'm looking forward to getting back to that kind of access soon."
Marcy Weldin, the association's legislative affairs manager for Army programs, says it's those in-person meetings that build the relationships that are critical to advocacy.
She is new to the association but not Capitol Hill or the Guard. She came to NGAUS after serving as the director of governmental affairs for the Texas Military Department. The job required her to spend a week every month in Washington, D.C.
Weldin knows well the 38 members of the Texas congressional delegation. Now, she says, she is working on forging ties with the offices of lawmakers outside the Lone Star State.
Hadley, Cardinale, Weldin and Priya Ghosh Ahola, the association's legislative affairs manager for Air programs, all say the visibility of the Guard over the past year is making their job a little easier.
"Members and their staffs have seen what the Guard does, both back in their states and districts and during the Capitol Hill security mission," Ghosh Ahola says. "It enables us to jump right into what the Guard needs."
There will be challenges, but there will also be opportunities.

—Retired Brig. Gen. J. Roy Robinson, the NGAUS president
NGAUS has the same overarching legislative priorities (see below) as last year: parity for the Guard with the active component on equipment, benefits and resources.
"We made some progress last year, but it's really a multiyear effort," Hadley says. "We're trying to overcome decades of the Guard being treated like a second-string force. We need the same equipment, benefits and resources if we are going to operate alongside the active component."
Among the priorities is zero-cost TRICARE medical coverage for every Guardsmen in uniform.
"Last year demonstrated that there are some real gaps in medical coverage," Hadley says.
"Members [of Congress] didn't realize it until we started talking to them about it."
Many lawmakers have long thought that everyone in uniform has health care, he says. Full-time Guardsmen do, but the bulk of force, the part-timers, only receive coverage when they are federal orders for more than 30 continuous days.
There is a low-cost option, TRICARE Reserve Select; however, about 14% of Guardsmen have no health insurance, according to the National Guard Bureau.
The price tag for zero-cost TRICARE will be high, which will mean Congress would have to find "offsets" in a flat budget, but Hadley believes the program would help pay for itself long term in higher medical readiness.
"It would also be a game-changer with recruiting and retention," adds Robinson, "and make Guardsmen more attractive to civilian employers."
Association lobbyists will also be keeping an eye on the congressionally directed National Guard and Reserve Equipment Account. Funding dipped in fiscal 2021, a year after the Pentagon reprogrammed the entire fiscal 2020 appropriation to help pay for the wall on the southern border.
"We need to remind Congress how important NGREA is to keeping Guard's equipment in the fight," says Weldin.
Another priority, military construction, may get some help with the return of "earmarks" to appropriations bills. Earmarks, provisions that directed dollars to specific projects, have been banned since 2010 as wasteful spending, but in the last seven years of their use, they provided the funds for as much as a third of all new Army Guard readiness centers.
"Banning them really didn't save money," Cardinale says. "Congress just deferred its power of the purse to the executive branch. It also eliminated a great tool to induce compromise."
Now that earmarks are back, maybe Congress can put a dent in the Guard's billions of dollars in backlogged construction projects.
John Goheen is the NGAUS director of communications. He can be reached at 202-408-5882 or [email protected].
---
2021 NGAUS Legislative Priorities
(For the deliberation of the fiscal 2022 defense authorization and appropriations acts)
The Same Equipment
● Concurrent and proportional fielding of equipment to the National Guard, includes:
   ■ UH-60M Black Hawk, F-35A Lightning II, KC-46A Pegasus & C-130J Super Hercules procurement
   ■ AH-64E Apache battalions at 24 aircraft each
● National Guard equipment modernization & recapitalization, includes:
   ■ UH-60V Black Hawk, Humvee, M1 Abrams tank & M2 Bradley
   ■ C-130H Hercules, A-10 Thunderbolt II, F-15 Eagle & F-16 Fighting Falcon
The Same Resources
● Future multidomain battlefield interoperability, includes:
   ■ Deployable & interoperable equipment & force structure
   ■ Space National Guard as the primary combat reserve component of the Space Force
   ■ Continued National Guard integration in the Total Force cyber mission & training
● Increased National Guard military construction funding
● Robust National Guard and Reserve Equipment Account funding
The Same Benefits for the Same Missions
● Zero-Cost TRICARE to ensure reserve-component medical readiness
● Post 9/11 GI Bill parity
● Ready access to mental health care and suicide prevention
● Protecting National Guard equities in duty-status reform
● Tax incentives for Guardsmen and employers
● Providing benefits and leave policies befitting the operational National Guard