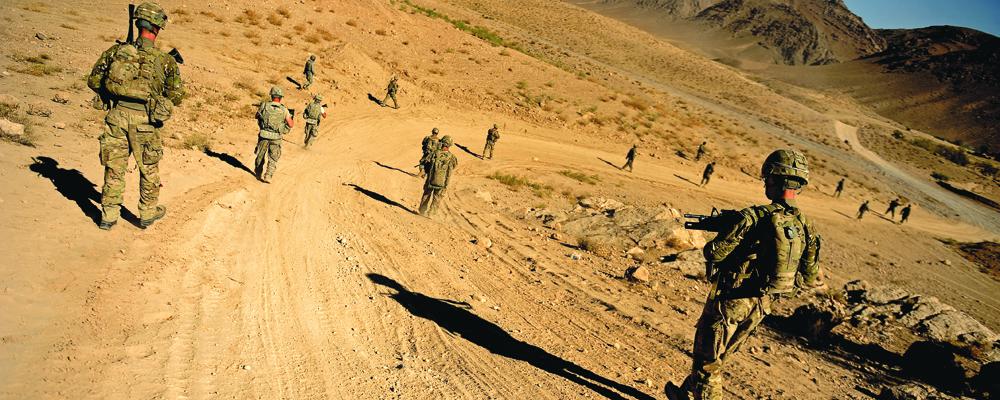 National Guard Magazine |
The Longest War
Chief Master Sgt. Douglas Rhodes is long enough in the tooth to detect a sort of generation gap among the airmen in the Wyoming Air National Guard's 153rd Airlift Wing.
There are those who vividly remember Sept. 11, 2001, as does Rhodes, the wing's new command chief. He was 26 when the al-Qaida terrorists struck. There is also a growing number of young men and women who don't recall that day quite so clearly, if they recall it at all.
They have undoubtedly heard the stories about that day which, in President Franklin Roosevelt's immortal words about Dec. 7, 1941, "will live in infamy." A multitude of photos, videos and stories are at their fingertips. But they are still somewhat removed from personal recollections about the attacks that just may have influenced their decision to join the National Guard.
That multiple generations took part in Operation Enduring Freedom is a peculiar aspect of America's longest war that went on for 20 years. That's a long war by most American standards — as long as a traditional military career. It consumed the last half of some careers and the first half of others.
Rhodes said he began showing airmen in the wing's security forces squadron a PowerPoint presentation about the attacks during the Septembers that followed.
"I started really noticing probably 12 years later that I was getting to the age when members were in elementary school," he says. "Now I have new Defenders who weren't even born yet. They've grown up with us always being deployed to Afghanistan and hearing of 9/11, but they weren't born when the actual incident occurred."
Nonetheless, these Millennial and Gen Z service members still find purpose for their service if a Georgia Army Guard combat engineer is an example.
Pfc. Kendrix Conley, a member of the Georgia Army Guard's 848th Engineer Company, was 19 and the youngest Guardsman in the room when Gen. Frank J. Grass, the chief of the National Guard Bureau, held a town hall at the Kandahar Airfield in Afghanistan in November 2013. Conley would have been about 7 years old on 9/11 and when the United States launched the war in Afghanistan the following month.
He was doing his bit in Afghanistan a dozen years later. The general presented the private with his coin. The soldier told the general why he was there, as reported in an International Security Assistance Force story.
"I'm doing it for my family — my little brother, my nephew and my mom," he said.
All of us are proud that we did what we did and survived. And we took some terrorists off the battlefield.

—Maj. Thomas Hanley of the Georgia Army National Guard
PRESIDENT GEORGE W. BUSH let loose the hounds into the ancient land of teaming cities and rugged, mountainous terrain for Operation Enduring Freedom on Oct. 7, 2001 – just 26 days after four al-Qaida hijacked jetliners had killed 2,977 innocent people in America.
Bush acted after signing the congressionally approved Authorization for Use of Military Force Against Terrorists on Sept. 18, a week after the attacks, and backed by the NATO and United Nations charters.
Defense Secretary Donald Rumsfeld announced the mobilization of 5,131 Air Guard and Air Force Reserve personnel in 25 wings two days later, according to a National Guard timeline.
Eighteen of those were fighter wings. A dozen more Air Guard units, including nine air refueling wings, were mobilized two days after that. This didn't necessarily mean that all of those airmen immediately deployed, cautions Air Guard historian David Anderson. But they were on call, and the Bush administration meant business.
The Guard was in on the hunt practically from the get-go, and the capabilities it provided reflected the nature of the operations during the early going. It was not, some people acknowledge, an invasion in the vein of Normandy in 1944 or what would occur in Iraq in 2003.
It was more of an American-style insurgency into Afghanistan to hunt down al-Qaida terrorists, including Osama bin Laden, and drive the Taliban from power.
The Air Guard got in its licks early on, surmises Anderson, because a "rainbow," or composite, squadron of about 12 A-10 fighters and 300 personnel from wings in Connecticut, Pennsylvania and Maryland was deployed to Kuwait for Operation Southern Watch missions over Iraq from late 2001 into 2002. That made that unit available for Enduring Freedom missions in Afghanistan.
"I can't say that on Oct. 7, 2001, we had Air Guard units flying combat missions over Afghanistan," Anderson explains. "But they were available. The A-10 pilots and maintenance personnel found themselves flying two operations at the same time. One day they might be flying a Southern Watch mission, and the next day they're flying an OEF mission."
The A-10s were especially critical for close-air support required for the ground missions in which the Army Guard soon became engaged.
One soldier from the 20th Special Forces Group's Support Element 01 in Birmingham, Alabama, got the first mobilization call, for a year, Nov. 2, reports the Army Guard's Mobilization Division at NGB. The widely dispersed 19th Special Forces Group mobilized soldiers from Colorado, Utah and West Virginia for Global War on Terrorism duty in Southwest Asia on Dec. 5. And on Jan. 3, 2002, 318 soldiers from 20th Special Forces Group battalions in Alabama, Florida, Mississippi and Virginia represented the largest mobilization of Army Guard Special Forces troops for the war to that point.
Nearly 1,200 Army Guard personnel — including Special Forces, combat engineers, military police, and other specialized assets — mobilized by the first anniversary of 9/11, according to Mobilization Division numbers. Some 110,000 Guard soldiers deployed for operations Enduring Freedom and Freedom's Sentinel over the 20 years of operations in Afghanistan. Many belonged to 22 brigade-level and higher commands placed on active federal duty.
Two hundred twenty-one Army Guard and four Air Guard members were killed in action, as reported by the Defense Casualty Analysis System and NGB.
The Guard held its own throughout — including the middle years when Operations Enduring Freedom and Iraqi Freedom were conducted simultaneously and troops were surged to Iraq and then Afghanistan; and during multiple Noble Eagle homeland security missions, as well as catastrophes such as Hurricane Katrina in 2005, on U.S. soil.
"It never really stretched the rubber band to the breaking point. We were very committed to those two [OEF and OIF] mission sets as well as the domestic mission," said retired Gen. Craig McKinley, the Air Guard director from 2006 to 2008 and Guard Bureau chief from 2008 to 2012.
Army and Air Guard troops were also in the thick of things leading up to Aug. 30, the final day of Operation Allies Refuge, the massive airlift that evacuated an extraordinary 123,000 people out of Kabul during August's final two weeks.
Eleven Air Guard C-17 transports manned by 19 crews were flying people out by Aug. 25, and another 11 KC-135 tankers, and 22 crews, were refueling aircraft over the country, NGB reports.
Air Guard remotely piloted MQ-9 Reapers were watching their backs from the air. Minnesota and Vermont Army Guard soldiers manned security posts with active Army and Marine forces on the ground at the Hamid Karzai International Airport where an ISIS-K suicide bomber killed a dozen Marines and another individual, wounded 18 more service members, and killed another 170 civilians desperate to leave the country.
Another 26 Air Guard C-130s, with 30 crews, were flying evacuees within the United States.
THREE STORIES — a firefight in 2003, an agricultural development program during the middle years and the prolonged reduction in U.S. forces — exemplify how the Afghanistan war unfolded and how Guard troops experienced it.
THE LITTLE-KNOWN Battle of the Boneyard was typical of enemy encounters. It was believed to be an ambush under a full moon after midnight Oct.12, 2003, when an Afghan militant apparently fired a single shot at five Guard infantry soldiers who were traveling in two pickup trucks through a "boneyard" of abandoned Soviet armored vehicles outside the capital city of Kabul.
The five embedded tactical trainers working with the fledgling Afghan National Army took cover behind the old, battered vehicles, and three of them, led by Nebraska Army Guard Lt. Col. Thomas Brewer, moved to a low stone wall to check out a battle-scarred, three-story building from which the initial shot was fired, according to an American Forces Press Service account.
Brewer was hit multiple times in the chest of his body armor and extremities after making his way beyond the wall to confirm the suspected enemy situation as firing from the building intensified and as the Guard soldiers fired back.
Five more Army Guard soldiers and a Gurkha soldier arrived during the next 45 minutes and joined the fight, reported Georgia Army Guard Maj. Thomas Hanley.
Brewer, down but not out, managed to make radio contact with Hanley, who had desperately radioed, "Oklahoma Sioux, talk to me. Come on. Talk to me." After plotting his escape route, Brewer climbed and stumbled back over the wall. "He ran unsteady, hunched over, dragging his weapon, head down, and limped toward safety," Hanley reported. Two of the other combatants helped Brewer return to the Guard team.
Nineteen heavily armed reinforcements from the 10th Mountain Division and members of an International Security Assistance Force rolled in a while later. Brewer was treated in an ambulance before being evacuated. No one else was wounded.
The 10th Mountain soldiers cleared the three-story building and smaller structures after daybreak, Hanley stated. They captured 17 Afghan militia troops, rocket-propelled grenades and AK-47 rifles. Three additional militants were reportedly arrested later after seeking medical attention for gunshot wounds at local hospitals.
"All of our training paid off when we needed it," Hanley said. "All of us are proud that we did what we did and survived. And we took some terrorists off the battlefield."
I still absolutely feel that the mission was extremely important, and it had many success stories and many projects that helped the Afghan people.

—Sgt. Maj. William Cary, a member of the Nebraska Army National Guard's Agribusiness Development Team
THE THREAT OR THE REALITIES OF COMBAT are a constant in any warzone — even for troops who are deployed for an altogether different purpose than seeking and destroying the enemy.
Such was one mission for some 3,000 Guard soldiers and airmen with farming backgrounds who rotated to Afghanistan during nearly six of the middle years — March 2008 to January 2014 — to introduce American agricultural practices to the country where at least 70% of the people rely on agriculture, including poppies for the drug trade, for primarily subsistence livelihoods.
They were members of the Guard ADTs — Agribusiness Development Teams. Army Secretary Francis Harvey latched onto the idea in 2006 and asked Lt. Gen. Clyde Vaughn, the Army Guard's director, to make it happen.
Vaughn was a long-time Missouri Guard soldier who knew and enlisted others who were seasoned in large deployments and the business, education and politics of big agriculture. Among them were Maj. Gen. King Sidwell, the adjutant general of Missouri, and Brig. Gen. Charles Krause who became "lead mules in the race," Vaughn explains in a detailed report.
Self-sustaining Guard ADTs, heavily armed and including their own security forces, began deploying to Afghanistan in March 2008, about 17 months after the army secretary first called Vaughn. President Barack Obama gave the program some traction in 2009 by pledging to "focus our assistance in areas — such as agriculture — that can make an immediate impact in the lives of the Afghan people."
Team members trained provincial ministers and agents in basic farming techniques such as seed cleaning, animal health, caring for fragile fruit trees, beekeeping, greenhouses and root cellars, National Guard reported in May 2013. Developing small check-dams, maintaining irrigation channels, and growing high-value crops such as saffron were also included.
Fifty-two teams, totaling 3,025 Army and Air Guard personnel, came from 17 states, the House of Representatives' Committee on Agriculture was informed in July 2016. The teams executed more than 700 projects totaling more than $45 million in 16 different provinces.
"Nowhere does today's 21st-century minuteman embody the citizen-soldier promise better," praised McKinley, the NGB chief, in December 2009. "We send Guardsmen, whose skills and livelihood are earned in agribusiness in the United States, to this war-torn country to help better its farming industry."
Younger Afghans were more receptive to the American methods, such as controlling the flow of water for irrigation, than the more influential provincial elders, recalled Sgt. Maj. William Cary, a hydrologist on a 12-member team from Nebraska assigned to the eastern province of Paktia, near Pakistan, in 2011 and 2012.
"That cultural hurdle was extremely difficult. People get into a way of doing certain things, and it's hard to break that," Cary says. "I still absolutely feel that the mission was extremely important, and it had many success stories and many projects that helped the Afghan people. I still feel it was an excellent mission."
So why did it end in 2014? The Vaughn report leaves no doubt: It was "curtailed with the drawdown of forces in Afghanistan." Obama initially announced the end of combat operations that December.
DOUGLAS RHODES, the Wyoming command chief, experienced that drawdown during the war's final six years — beginning in 2015.
Rhodes said he spent six months of that year at Bagram Airfield as the enlisted manager for security force personnel as the Air Force was reducing its numbers. He served another six months in 2020 as the 451st Air Expeditionary Squadron's superintendent for all Air Force enlisted personnel at Kandahar Airfield which was being closed before being turned over to the Islamic Republic of Afghanistan.
"At Bagram, we were [maintaining] the status quo, focusing on the long-term reduction of the number of service members but not focused completely on pulling out of Afghanistan," Rhodes elaborates. "Then at Kandahar five years later that was the focus. We needed to close that airfield, figure out how we were going to do it during the COVID pandemic. We had to move resources such as vehicles, towers, radios — making sure they reached their destinations and then closing the base."
End of mission occurred with the massive, 11th-hour airlift at Kabul's international airport about a year later.
You showed [the Afghan people] what is possible when people are free. You will go down as the heroes of this story.

—Maj. Gen. James Eifert, the adjutant general of Florida
IT WAS HARD TO FIND MANY PEOPLE who had an encouraging word about Afghanistan after the United States closed the final airlift's curtain. Although President Joe Biden had determined that it was time to leave after bin Laden had been dead for 10 years, his administration was criticized for what people considered a hasty and ill-timed withdrawal.
There didn't seem to be much to justify this "forever war," a term often used by the previous resident of the White House. The price tag had soared to some $2.26 trillion; the efforts to forge an Afghan army that would stand up and fight failed miserably; and U.S. casualties climbed to more than 2,300 killed and 21,000 wounded, according to investigative reporter Craig Whitlock in his book The Afghanistan Papers: A Secret History of the War.
All rhyme and reason for the war seemed to evaporate within two years after it was started and after the United States and its allies had uprooted the Taliban by the end of 2001.
"The launching of the Iraq War 17 months after the intervention against the Taliban turned the Afghanistan War into a sideshow. Wars should be never be sideshows," wrote Washington Post columnist E.J. Dionne Jr.
Critics claim that it never really got back on track. "No campaign plan" and "no coherent long-term strategy" were observations by senior American and British military leaders Whitlock quoted. In addition, history didn't favor America and its allies.
"Afghanistan, easy to march into, hard to march out of," Alexander the Great is said to have lamented some 2,000 years ago after Afghani tribesmen tied up much of his army in that corner of his empire.
Afghanistan has been giving other military powers fits for a long time — Great Britain for about 80 years beginning in 1839, the Soviet Union in the 1980s, the United States since 2001 — because it has never been well understood, says military historian Michael McNaught.
"We don't understand the language. We don't understand the culture. Most particularly, we don't understand that this is a very, very tribal country," McNaught says. "The family, the tribe, the warlord is more important than any centralized government. We just don't get that, and we don't learn."
That, plus the lack of a long-range strategic plan, seems to have made any grandiose ideas for reshaping the country virtually impossible.
There was, however, satisfaction in staying the course and seeing the mission through. Guard leaders were quick to thank the force for a job well done even if the war was not won.
"As the combat reserve of the Army and Air Force, our presence was significant," Gen. Daniel R. Hokanson, the sixth consecutive NGB chief to deal with the Afghan war, wrote to the Guard community in mid-August. "Answering our nation's call, we left behind families, civilian jobs, and communities. We performed and served with honor, and never lost sight of our duty as citizen-soldiers and airmen. … Our thoughts are especially with our Gold Star families and those who still bear the wounds of war."
"You sweated under the summer sun and shivered under the winter moon. Some of you spilled your blood there," Maj. Gen. James Eifert, the adjutant general of Florida, addressed Sunshine State Guardsmen. "You showed [the Afghan people] what is possible when people are free. You will go down as the heroes of this story."
Operation Allies Refuge triggered an avalanche of observations in the traditional and social media about how the war was waged and what the U.S. actually accomplished during two decades in Afghanistan. Members of the Guard family, still serving and retired, weighed in.
Retired Maine Army Guard Col. Michael Pooler candidly expressed his feelings in a Bangor Daily News guest column. "I take pride in my deployment and bringing all the troops in my unit home," wrote Pooler who "led a 15-man … team that trained a 400-man Afghan army infantry battalion" for eight months in 2008.
"Like many veterans of that war, I feel conflicted over how the goals … changed over almost 20 years, my role and the public's role in it, and I feel anger over how it ended," he lamented.
"It's a slap in the face for the sacrifice that everybody made," stated Mark DeLuzio to the Hartford Courant in Connecticut about the speed with which the Taliban seized control of the country late last summer. DeLuzio's son Steven, a Vermont Army Guard sergeant, was killed in 2010.
All honor is due veterans of the war, DeLuzio was quoted, "because they were doing what their country asked them to do. But you have to ask why we were there to begin with when there were no final objectives as to win and loss."
"We … gave the people a better life for the 20 years we were there," Nevada Army Guard 1st Sgt. Larry Harlan told the Las Vegas Review Journal. Girls were able to attend school, and women didn't need a male guardian to leave the house, added Harlan who "recalled the smell of…Afghans burning tires and trash to stay warm; the mushroom clouds of cars being blown up;" and the helicopter that crashed on his base.
"I just wish it could have been handled differently, so it's not going to go back to where it was before we got there," he stated.
It's still far too early to know how Afghanistan will play out, says McKinley, the former NGB chief.
"I've always been hopeful that some of the things we did, like the ADT and some of the issues [addressed by] some of our female soldiers and airmen who went into the schools for women and girls, stay in place," McKinley says. "But it's too early to tell. I think our country will see over the next few months and years whether some of those things will be lasting and that the people who learn from that will be able to continue. I'm certainly hopeful they can."
Bob Haskell is a retired Maine Army National Guard master sergeant and a freelance journalist in Falmouth, Mass. He may be contacted via [email protected].
---
AT A GLANCE: AFGHANISTAN
LAND AREA: 252,071 square miles (slightly smaller than Texas)
TERRAIN: Mostly rugged mountainous with plains in the north and southwest. Highest point (Noshak) is 24,580 feet.
CLIMATE: Arid to semiarid; cold winters and hot summers
CAPITAL: Kabul (also its largest city)
POPULATION: 37,466,414 (estimate)
LIFE EXPECTANCY: 53.25 years (227th in the world)
LITERACY: 43% (male: 55.5%/female: 29.8%)
GDP: $77.04 billion (98th in the world)
GDP PER CAPITA: $2,000 (214th in the world)
BRIEF HISTORY: A multiethnic land located along important trade routes connecting southern and eastern Asia to the Middle East and Europe, Afghanistan has a long history of domination by foreign powers and strife among internal factions. Its modern boundaries were established in the late 19th century as buffer between the British and Russian empires. The country won independence after the Third Anglo-Afghan War in 1919, eventually becoming the Kingdom of Afghanistan in 1926.
The monarchy lasted until 1973, when it was overthrown and a republic established. A 1978 coup led to a socialist state and civil war. A year later, the Soviet Union invaded and occupied parts of the country for a decade. A Soviet-puppet government survived the withdrawal but a fundamentalist Islamic militia group, the Taliban, took over in 1995, establishing a totalitarian regime. It also gave safe haven to Osama bin Laden and his al-Qaida terrorist organization.
Following the Taliban's refusal to turn over bin Laden after 9/11, U.S. and British forces launched airstrikes against al-Qaida and Taliban targets in Afghanistan. They also provided close-air support and ground advisors to anti-Taliban fighters, and on Nov. 7, 2001, the North Alliance entered Kabul. The Taliban fled, morphing into an insurgency to fight U.S. and NATO forces defending the new Afghan government. U.S. troop levels in Afghanistan one point reached beyond 100,000. The fight continued until the militants returned to power nearly 20 years later as the last of Western forces withdrew.
Data source: CIA World Factbook