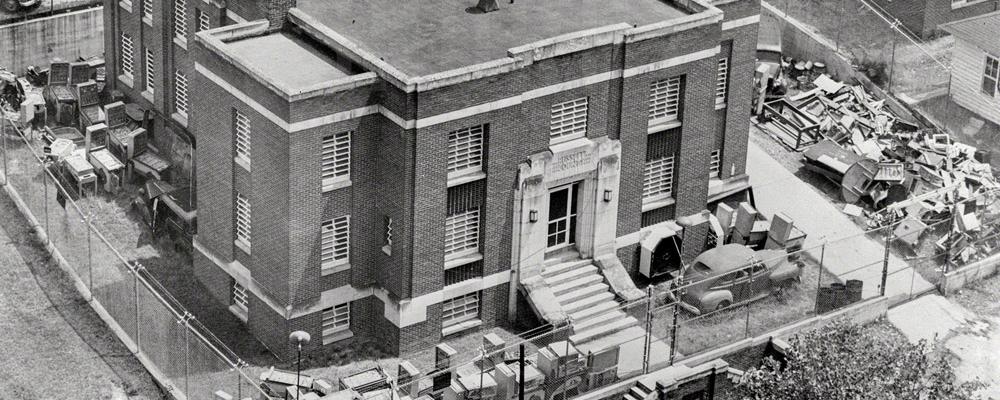 National Guard Magazine |
Last Resort
In 1954, "SIN CITY, U.S.A." wasn't a sexy slogan for a burgeoning oasis in the Nevada desert. It was an apt description of Phenix City, Alabama, a place so evil the press dubbed it "America's Wickedest City." Gen. George S. Patton once threatened to flatten it with his tanks.
The town across the Chattahoochee River from Fort Benning, Georgia, offered every conceivable vice: gambling, prostitution, bootleg whiskey and drugs. Backroom abortions and baby selling were also part of the local trade. Phenix City even had a factory that produced loaded dice and marked cards and a school that taught safe cracking.
That all of these activities were illegal in Alabama meant nothing. Phenix City (1954 pop: 23,000) was a 20th-century Dodge City — a place without limits to the pursuit of pleasure and profits.
Other military towns and lonely outposts of the day may have tolerated some of the same depravity. But nowhere else did criminal interests have such a ruthless grip on the local political and law-enforcement hierarchy. In some cases, they were one and the same.
For several decades, homegrown mobsters and thugs ran the town and trampled the citizenry. Beatings and bombings were common. Unprotected young women were forced into prostitution. Elections were meaningless because the crooks counted the votes. And as they also controlled the courts, crime often went unpunished.
Young soldiers from Fort Benning were their favorite marks. The world's toughest fighting men were easy targets in Phenix City's bars and brothels. Lured by bright lights and big come-ons, many troops dropped entire paychecks in a single night. Most were simply fleeced by hookers and crooked dice. Others were slipped knockout drops and robbed. Those resisting were sent home battered as well as broke. A few wound up dead in the Chattahoochee River.
None of this was a secret outside the town. Newspapers across the river kept up a steady drumbeat of exposure. The place was notorious in military channels. State officials were also well aware of Phenix City's reputation, but they dismissed it as a "local matter." That's how the vice trade flourished. It might have thrived years longer if not for a tenacious Alabama adjutant general and a force of National Guard soldiers and airmen.
At the direction of the governor, they took control of the town after the assassination of Albert Patterson, the presumptive Alabama attorney general-elect. A local attorney, he had vowed to clean up Phenix City if elected. In the wake of his death, the Alabama National Guard made good on that pledge.
Wickedest city in America.

—Secretary of War Henry Stimson
THE RIVER TOWN on the west bank of the Chattahoochee long had a reputation as a refuge for bootleggers and outlaws.
It just wasn't always known as Phenix City. In 1833, the village of Girard sat across from Columbus, Georgia, where the federal road crossed into Alabama. Girard, or "Sodom" as travelers knew it, was a frontier trading post where booze, gambling and prostitutes were plentiful, and differences were often settled with a knife. As the 19th century unfolded, the frontier moved west, but the village never shed its vigilante code. State officials periodically tried to crack the whip. As soon as the outsiders left; however, the violence and criminal activity invariably returned. Frustrated, authorities consolidated Girard with a newer and more civilized community nearby in 1923, eventually renaming the combined town Phenix City, which later became the new seat of Russell County.
The hope was that Girard's unruly population would gradually adopt the rest of the merged town's more law-abiding ways. Instead, the criminals began fouling Phenix City. They then sealed the town's fate by making local officials an offer they thought they couldn't refuse in a time of need.
Phenix City was largely a bedroom community for low-income textile workers who toiled in the mills across the river in Columbus. It had little tax base. When the Depression pushed the town to the brink of bankruptcy, city fathers compromised with the only industry in town, permitting otherwise illegal gambling for the payment of annual licensing fees.
"At first, it doesn't look so bad," John Patterson, Albert Patterson's son, told National Guard in 2004. "Phenix City mobsters contributed a lot of money to Little League ball teams and charity and paid mortgages on churches and things like that, and the people said, 'They're not bad guys.'"
They also employed hundreds of townspeople at a time when jobs were scarce. Their license fees funded schools and public services while keeping taxes low. The brothels and gambling houses catered to outsiders, he said, so it was easy for many locals to avert their eyes and let the ends justify the means.
But it was only a matter of time, Patterson said, before a growing criminal syndicate controlled the juries and the ballot boxes, either through payoffs, intimidation or fraud. Eventually, every local official and law-enforcement officer owed his job to what became known as the Phenix City machine.
Meanwhile, this veil of local legitimacy enabled the racketeers to grow their sordid businesses at a time when Fort Benning's World War II troop expansion increased demand for their products and services. It also allowed them to operate with near impunity.
No practice was out of bounds. Unconsumed beer was rebottled and re-sold. Drinks were spiked. Bar and brothel customers were rolled. Players faced marked cards, loaded dice, mechanically controlled roulette wheels and slot machines that returned less than five cents on a dollar. Pawnshops took the uniforms off soldiers' backs and the boots off their feet. And brass knuckles, chains and nightsticks awaited anyone who complained.
Fort Benning commanders knew what awaited their soldiers in Phenix City. They occasionally put the worst establishments off limits. In 1940, Secretary of War Henry Stimson, after reviewing the Army's classified record of the troops beaten, robbed and murdered in the town, declared it the "wickedest city in America." That's when Patton proposed his solution.
Danger, however, only seemed to fuel the lure. Fort Benning officials once estimated that 80% of their 80,000 personnel dropped more than half of their pay in the town. That helped push the combined take of all the rackets to about $100 million a year (the equivalent of more than $1.1 billion today).
AFTER WORLD WAR II, many Phenix City residents were growing weary of what their town had become and its impact on future generations. But it took courage to speak out, let alone openly fight the machine.
"If you didn't like [what the machine was doing], they would pressure you, they would threaten you," John Patterson said. "And if that didn't work, they would kill you."
The pressure didn't stop a small group of citizens from forming in 1951 the Russell Betterment Association, whose goal was to bring honest government back to Phenix City and Russell County. Hugh Bentley, a local merchant, and Albert Patterson, who fought in World War I with the Texas Guard's 36th Division, were among its founders.
The association "sent delegations to Montgomery to see the governor," Patterson says. "It always fell on deaf ears. Before you got out of the governor's office, somebody would be on the phone calling Phenix City and telling [the machine] who was there and what they said. And somebody would be waiting for you when you got home."
Bentley's home was bombed in 1952 while his family slept. Miraculously, no one was hurt. Later that year, Bentley and several of his friends and a Columbus Ledger reporter were beaten at a polling place, and the Patterson law office was set on fire.
Bruised and nearly out of other options, the RBA decided it could achieve its goals only with the strenuous support of the state's chief legal officer. In 1954, Albert Patterson turned his law practice over to his son and ran for attorney general.
The elder Patterson pledged to fight crime, especially the rackets in Phenix City. He easily won the three-candidate Democratic primary May 4 to earn a spot in automatic runoff June 1 with runner-up Lee Porter. The machine poured thousands of dollars into Porter's campaign, bought votes and intimidated voters. He also had the support of the outgoing Attorney General Silas Garrett.
Despite the formidable opposition, Patterson prevailed. But that hardly ended the controversy. Within days, Lamar Reid, the Jefferson County Democratic Committee chairman, testified before a grand jury that Garrett and Arch Ferrell, the Russell County District Attorney, had pressured him to change vote totals to help Porter.
Patterson had heard of similar activities involving Garrett and Ferrell elsewhere in the state. He promised to tell "all I know" to the same grand jury June 21. Patterson was also getting death threats. So many that he told a church group June 17 that his chances of taking office were less than "one in 100." It was an ominous prediction considering that winning the Democratic nomination in Alabama at that time was tantamount to be being elected.
On the evening of June 18, Patterson, after working late at his Phenix City office, was gunned down next to his car. He was struck three times: in the chest, in the arm and in the mouth — the local death-mark for informers.
News of the assassination quickly swept across Alabama. Gov. Gordon Persons knew the killing was akin to throwing a lit match on a powder keg and immediately ordered Maj. Gen. Walter J. "Crack" Hanna, the adjutant general of Alabama, and the Alabama Guard to Phenix City to prevent further bloodshed.
As serious as combat and the moral equivalent of war.

—Maj. Gen. Walter J. "Crack" Hanna
AT 5 FEET, 7 INCHES, Hanna, who earned his nickname on the rifle range, was built like a bulldog and renown as twice as pugnacious.
Fast with his fists, he took up boxing as a boy. At 15, he reportedly swung at a recruiting sergeant who denied him enlistment into the Marines. But he saved his best fighting for the South Pacific during World War II, compiling a historic ratio of enemy killed to unit losses as a regimental commander with the Alabama Guard's 31st "Dixie" Division. He returned home from the war with a Silver Star and, even more important to him, most of his men.
Phenix City was for Hanna another military objective, no less important than his World War II battles, and perhaps even more so because this fight was in Alabama. He felt he had two missions. The first was to keep the peace, which began when his troops arrived June 19.
The second mission was to help local authorities clean up Phenix City. The governor had warned locals that the "days of Sin City were over." The problem was that anybody of any authority in the town was part of the machine, and they had no interest in either cleaning up the town or finding Patterson's assassin. And Hanna initially didn't have the authority to take over law enforcement.
"It slowly became apparent that the crime and corruption were on a scale, and of a magnitude, that was almost beyond comprehension," Lt. Col. Jack Warren told National Guard in 1981. Warren, a Birmingham police officer in 1954, was one of Hanna's key subordinates. "If you were a burglar, you couldn't get caught. If you were a murderer, you'd get off. The whole place was involved, up to and including the court system."
Hanna had an even more colorful description of what he found: "It was a whole damn town of ill repute," he said in 1981. "We uncovered 28 murders that had taken place in the previous four years, without even an indictment, much less a conviction. Much of the time, it was cheaper—and safer — to kill people than to buy' em, because dead people stay dead."
Frustrated, Hanna went to the governor in early July 1954 and asked for more authority. Persons, hoping the Guard's continued presence alone would compel the local authorities to do the right thing, told Hanna to go back and just keep the peace.
Instead, the general, ever the battlefield tactician, returned and created his own plain-clothes intelligence cell. Often working at night, his sleuths conducted interviews with informants and found barns filled with gambling equipment waiting to be brought back when things cooled down.
Hanna went back to Montgomery two weeks later with what he had uncovered. This time he implored his boss to declare martial law so that the Guard could enforce the law without interference from the machine. Persons again balked, telling him one more time to return to his post and follow his orders.
Hanna then did something unthinkable for a soldier. According to accounts, he called the Jefferson County District Attorney and arranged to meet the editor of the Birmingham Post-Herald, bluntly filling in both on the obstacles to progress in Phenix City. Only then did Hanna return to his post.
The next day, the Post-Herald published an open letter to Persons noting the lack progress in Phenix City. The paper urged the governor to move swiftly. Later that same day, under a threat of immediate subpoena, Persons reluctantly appeared before the Jefferson County Grand Jury. He was none too pleased by the rebukes, which he knew were forcing his hand.
On July 22, after a quick trip to Washington, D.C., to consult with President Dwight D. Eisenhower, FBI Chief J. Edgar Hoover and constitutional lawyers, Persons declared "limited martial rule" in Phenix City. The move, the first such declaration by any governor, enabled the Alabama Guard to fire the Phenix City police, the Russell County sheriffs and immediately take over law enforcement.
AFTER INSTIGATING the public criticism of Persons, Hanna had made sure that he was prepared — personally and operationally — for the governor's inevitable declaration.
On July 20, Hanna ordered his staff to screen the records of every Alabama Guardsman for lawyers, police officers and prison guards. He wanted a specialized force that could get to Phenix City on short notice and seamlessly assume law-enforcement duties. The ensuing task force totaled 60 men already on annual training. Other Guardsmen could then be called to relieve the initial force in the weeks that followed.
Persons announced his martial rule proclamation at 4:30 p.m. Hanna only had a few hours' notice, but it was sufficient time to deploy his handpicked force. As the governor read his order in Montgomery, the general and a small band of Guardsmen with fixed bayonets marched into Russell County Courthouse and fired the sheriff and his deputies. He then moved over to city hall and dispatched the mayor and the Phenix City Police Department.
When the takeover was complete, Hanna gathered his entire Phenix City force for a motivational session. He said the mission before them "is as serious as combat and is the moral equivalent of war." But he emphatically added that he wanted it accomplished "without so much as the firing of one shot."
Within hours, Hana's forces launched a series of around-the-clock raids on every establishment suspected of offering gambling or other illegal activities. They broke down doors when owners refused to cooperate and collected truckloads of gambling, bootlegging and drug paraphernalia, much of it found in secret rooms. They also apprehended dozens of people and began closing gambling houses and brothels.
The initial raids got the machine's attention. Several Guardsmen were threatened. Hanna received death threats and bribe offers that reached $250,000 (more than $2.5 million today). Undaunted, Guardsmen uncovered the full depth of Phenix City's activities. Meanwhile, hundreds of previously intimidated informants came forward. Their testimony coupled with a mountain of evidence led to 749 indictments against 152 people. The list read like a who's who of Phenix City and Russell County officials. Of these, all but two either pleaded guilty or were found guilty.
Among those indicted was Russell County's chief deputy sheriff, who provided legal protection to area houses of prostitution for a cut of up to half the profits. Albert Fuller also used his badge to force many young women into prostitution. He would keep an eye peeled for unaccompanied women looking for employment in Phenix City and arrest them on trumped-up charges. He then would arrange for brothel owners to bail the women out in exchange for "work."
When the Guard arrived, Phenix City had as many as 1,000 prostitutes. Many were regularly beaten and forced to steal. One brothel reportedly tattooed a mark under the lower lip of each of its women so others would know to whom they belonged.
Approximately 600 Alabama Guardsmen received the state's Phenix City Disturbance Medal for their participation in the operation, but no more than 150 served in Russell County at any one time during the cleanup. By the end of 1954, most were quietly withdrawn. Gone, too, was any semblance of the machine or the criminal activity. And they remain gone today.
PHENIX CITY'S VICE TRADE, the Patterson assassination and the resulting Guard cleanup under martial rule generated headlines across the nation, several books and a 1955 movie. They also dramatically altered Alabama politics. John Patterson, a man without previous aspirations for elected office, took his father's place on the ballot and ran unopposed in the November 1954 general election. After a term as attorney general, he became in 1959, at age 37, Alabama's youngest governor.
Three men with clear motive were eventually indicted for the elder Patterson's murder: Fuller; Ferrell, the Russell County district attorney; and Garrett, the attorney general. However, only Fuller was convicted.
In 2004, then-Alabama Gov. Bob Riley paid tribute to Albert Patterson, Hanna and Judge Walter Jones, who presided over the grand jury that ultimately crushed the machine. They were "leaders who did not allow Phenix City to be consumed," he said.
The governor also commended the work of the Alabama Guard in the ceremony for the 50th Anniversary of the Restoration of Law and Order in Phenix City. "We must not forget what the Alabama National Guard did 50 years ago when they liberated the Alabama citizens in Phenix City from the corruption and crime that imprisoned the city," Riley said.
Today, one of the few reminders of Phenix City's past is a life-size bronze statue of Albert Patterson across the street from where he took his last breath. Dedicated last year, he is depicted as he looked in 1954 relaxing on a park bench.
It's likely something he couldn't do very often there in the final years of his life.
John Goheen is the NGAUS director of communications. He can be reached at [email protected].