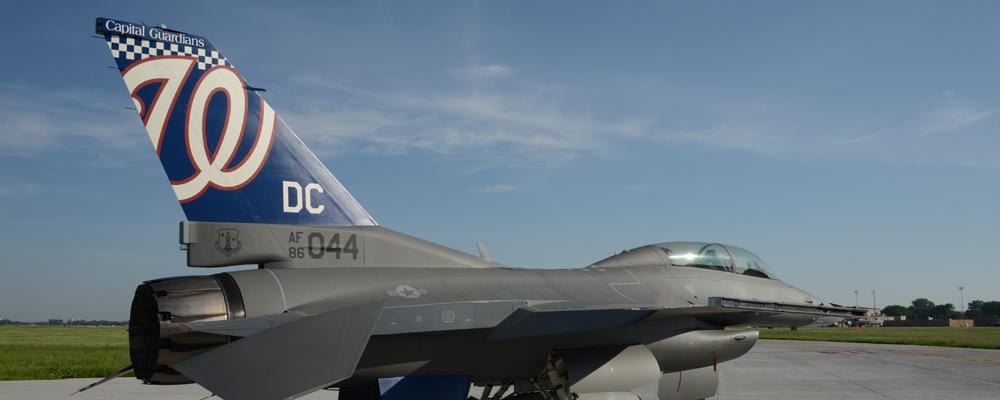 National Guard Magazine |
Iron Canvas
So ya think our Air National Guard's twin-tailed, lean, mean F-15 Eagle fighters all look alike.
Well, folks, that ain't necessarily so.
Especially after Guard members with healthy helpings of vision, imagination and sense of mission conjure up the nose art that makes some of those seasoned fighters stand out in the crowd.
That's been the case for F-15s on both sides of the country — the "Screamin' Eagle" that was operated for nearly two years by the 173rd Fighter Wing in Oregon and the "Flagship" that is being flown today by the 104th Fighter Wing in Massachusetts.
The art makes the difference.
A bald eagle on the hunt and painted on both sides of the nose punctuated the ornate tip-to-tail art, including renderings of feathers on the top and bottom of the wings, on the Kingsley Field fighter at Klamath Falls, Oregon, from April 2016 until early spring 2018. It marked the 75th anniversary of the Oregon Air Guard.
"Basically, we just wanted something bold that was going to make an impact," Master Sgt. Paul Allen, the wing's structural maintenance corrosion manager, told Air Force Times in 2016. He and his team — six airmen working days, two working nights — created stencils and applied them to the jet using low-tack vinyl. "The guys took a lot of pride in this. ... And people considering coming into the Guard who see this [would] see we have a lot of pride in our unit."
The F-15 in Massachusetts features American flags on each side of the nose of the bird at Barnes Air National Guard Base in Westfield, Massachusetts. The flags are formed from the last names, in alphabetical order, of the 890 people that were serving in the wing in October 2020, says Master Sgt. Leo Burbee, the 104th's aircraft structural maintenance supervisor. Thirteen names highlighted in gold honor the wing members who have died because of aircraft-related incidents.
The Air Guard abounds with aircraft of all kinds — fighters, tankers and transports — that feature artwork which is euphemistically called nose art whether it be on the noses, the tails or, in some cases like the Screamin' Eagle, all over it.
Which begs a couple of questions: What exactly constitutes nose art? And why do we have it?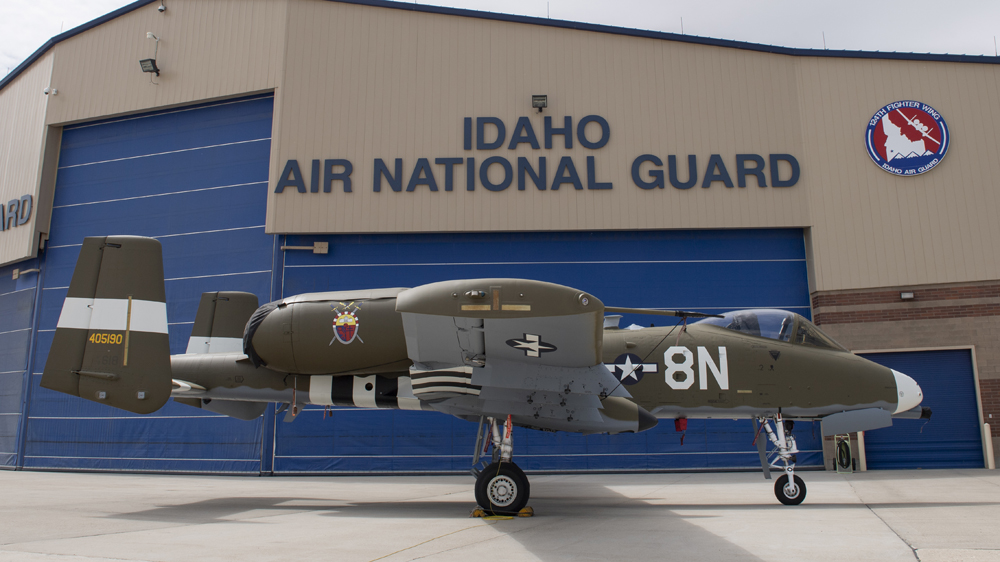 The explanation provided by Brett Stolle, a curator with the National Museum of the United States Air Force at Wright-Patterson Air Force Base in Ohio, is as eloquent as anyone's.
"Nose art is identified as personalized artwork or cartoons applied to an aircraft by its pilot, aircrew or maintainers," he says.
"Nose art's primary contribution is to morale and team-building — generating pride and unit cohesion by granting an aircraft's crew a tangible personal stake in, and shared ownership of, their airplane.
"Nose art forms a bond, a connection between these inanimate weapons of war, on which our airmen rely to carry them safely through the day," Stolle says. "Bestowing an aircraft with a name and identity fulfills our human need to personify these objects and share with them our hope, our trust, honor, humor and fears."
Art and history show us who we are and who we were.

—Brett Stolle, curator at the National Museum of the United States Air Force
ARTWORK IN ONE FORM OR ANOTHER has been painted on aircraft for about as long as men in flying machines have been engaging their nations' enemies in the wild blue yonder — beginning in World War I, wrote Caroline Galambosova in Daily Art Magazine in November 2020. German, French and Italian pilots were the first to employ personalized decorations.
"It had a very practical purpose — visual markings were needed to separate friendly craft from foe," she stated.
"One of the most interesting and famous examples is the red airplane of Baron Manfred von Richthofen, known as the 'Red Baron.'"
A British Sopwith Dolphin and a German Roland C.II are believed to be the first planes bearing the shark-face insignia later made famous early into World War II by the First American Volunteer Group — the Flying Tigers.
Brig. Gen. Benjamin Foulois, the chief of the American Expeditionary Forces' Air Service, on May 6, 1918, ordered the creation of distinct, readily identifiable squadron insignia. Examples included the "Hat in the Ring" of the 94th Aero Squadron and the "Kicking Mule" of the 95th Aero Squadron.
The sultry innocence of the Memphis Belle that personified the first B-17 credited with completing 25 bombing missions over Europe is considered the mother of all nose art that proliferated on U.S. warplanes during World War II, considered the golden era of nose art. Alluring, long-legged pinup gals stole the show, but cartoon characters were also popular.
"I think what the nose art represented, and has always represented, was a personal side to the war," says aviation artist and historian Jim Harley from Akron, Ohio.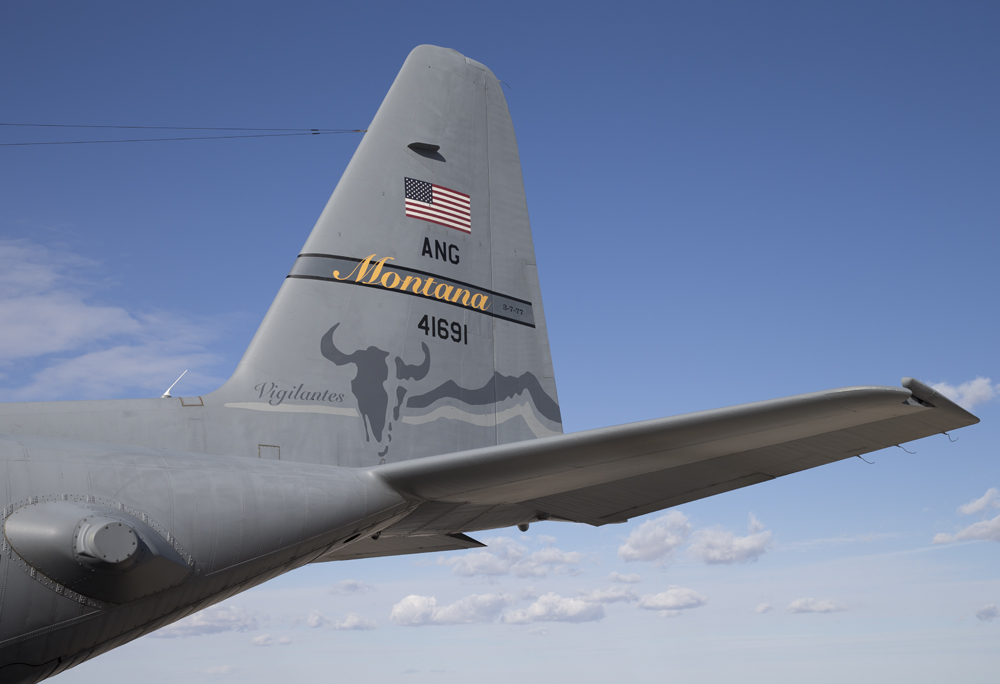 The flak and fighters that 8th Air Force bomber crews, and other aviators, endured "was a deadly game, and these guys didn't know if they were coming back every day," he adds.
[Those who survived] "got to get back in that airplane in the next day or two and go back and do it again. Anything they could do to keep the morale up was important."
Nose art was neither officially sanctioned nor necessarily encouraged, but commanders tolerated it for that very reason. It evolved during the war from clean, innocent cartoons to the more risqué pinup art to emphasize the airmen's attitudes that "this is what we're fighting for.
We want our girls. We want our country. We want our freedom. This is why we're here," Harley says.
"It just ran the spectrum from classic pinups to angry cartoons of taking care of the enemy."
"By no means did every aircraft in World War II, for example, have nose art," points out Nicholas Hurley, the curator of the New England Air Museum in Windsor Locks, Connecticut, who is also an artillery battery commander in the Rhode Island  Army Guard. "Some unit commanders did not want anything painted on the aircraft. Other times people weren't artistic enough or just didn't have the motivation to deck out their aircraft."
Still, unsanctioned airplane art remained in vogue for some time and became even more graphic, even pornographic. "That stuff came out of Vietnam," Harley laughs. "There's some nose art from Vietnam that was pretty out there. [World War II airmen's] heads would have exploded if they saw some of the stuff they did in Vietnam."
Some in the Pentagon apparently did see. Nose art died for a spell in the early 1970s when the Air Force chief of staff, Gen. John Ryan called for a moratorium on the practice. It came back with controls in place to ensure the art is culturally correct.
"One of the things we look at … is to make sure we've got stuff that is basically in good taste," says former fighter pilot and retired Air Guard Col. Charles Melton, the Air Guard's associate director of logistics at the National Guard Bureau. "We're in a different era now. We have to be cognizant of the diversity of our force and still take pride in our unit and have unifying symbols."
ANG Instruction 21-105, a supplement to the Air Force's regulations, states that nose art must "Be distinctive, symbolic, and designed in good taste. Enhance unit pride. Be gender neutral."
Nose art must "be distinctive, symbolic, and designed in good taste. Enhance unit pride. Be gender neutral."

—ANG Instruction 21-105, a supplement to the Air Force regulations
AIRPLANE ART NOWADAYS is not painted on a whim and a prayer. It falls into two categories — optional markings and nonstandard art work. It all has to be approved at an official level.
Optional markings are common to every plane in a specific unit, including horizontal tail flashes with the aircrafts' home state or city. Nicknames and call signs are not authorized with one exception as noted in 21-105: The 130th Airlift Wing in Charleston, West Virginia, is authorized to use Charlie West on its C-130 tails rather than Charleston which might be confused with the South Carolina city or the Air Force base.
Authorization for optional markings is delegated to the wing commanders.
Nonstandard artwork is a plane of a different color. They include Oregon's Screamin' Eagle and other planes that are painted for special occasions for about a year. One aircraft in each squadron can be given that special treatment. Nonstandard art must be approved by the wing commander and by the Aircraft Maintenance Division at the Air Guard Readiness Center at Joint Base Andrews in Maryland, Melton says. Corrosion control managers weigh in because there are essential sections of every plane that cannot be painted over.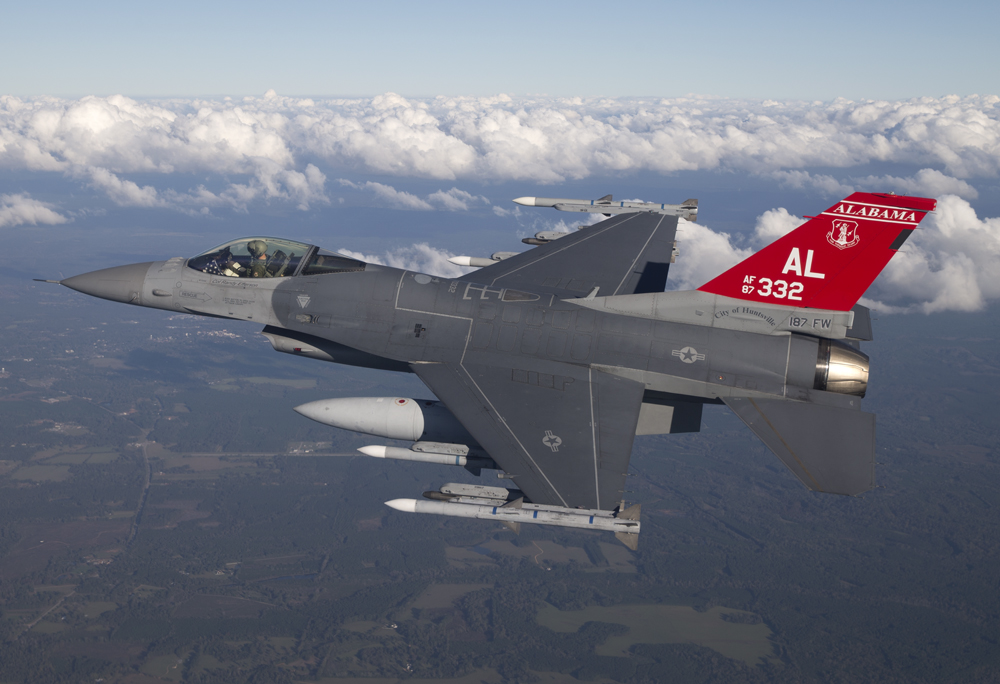 Nose art is expected to reflect units' histories or ties to the areas where they are based. It ranges from invasion stripes on C-130s commemorating the D-Day landing and 9/11 markings on C-17s to Kentucky C-130s named for Triple Crown winners to KC-135s highlighting state pride in Alabama and Auburn university football teams, Melton adds.
Three tails on the F-16s flown by Alabama's 187th Fighter Wing in Montgomery, Alabama, are painted bright red to honor the legacy of the Tuskegee Airmen who achieved World War II fame as the "Red Tails," a Black fighter squadron.
Another F-15 in the Oregon wing featured a specially painted tail honoring Lt. David Kingsley, an Oregon native and B-17 bombardier who was posthumously awarded the Medal of Honor during World War II. Kingsley Field is named for him.
"Everything should have a meaning behind what you're doing," says Burbee of the art marking the 104th's F-15s at Barnes. The venerable Minuteman logo on the inside of each twin tail reflects, he adds, that Barnes got F-15s from the 102nd Fighter Wing at Otis Air National Guard Base on Cape Cod when the 102nd was converted to an intelligence wing.
Lightning bolts beneath the cockpits, symbolizing "Swiftness to Strike" and encompassing the names of pilots and crew chiefs, reflect the 104th's legacy as a former A-10 Thunderbolt II fighter wing, he adds. Two of the F-15s have green stars signifying enemy kills as active Air Force fighters.
Everything should have a meaning behind what you're doing.

—Master Sgt. Leo Burbee, aircraft structural maintenance supervisor of the Massachusetts Air National Guard's 104th Fighter Wing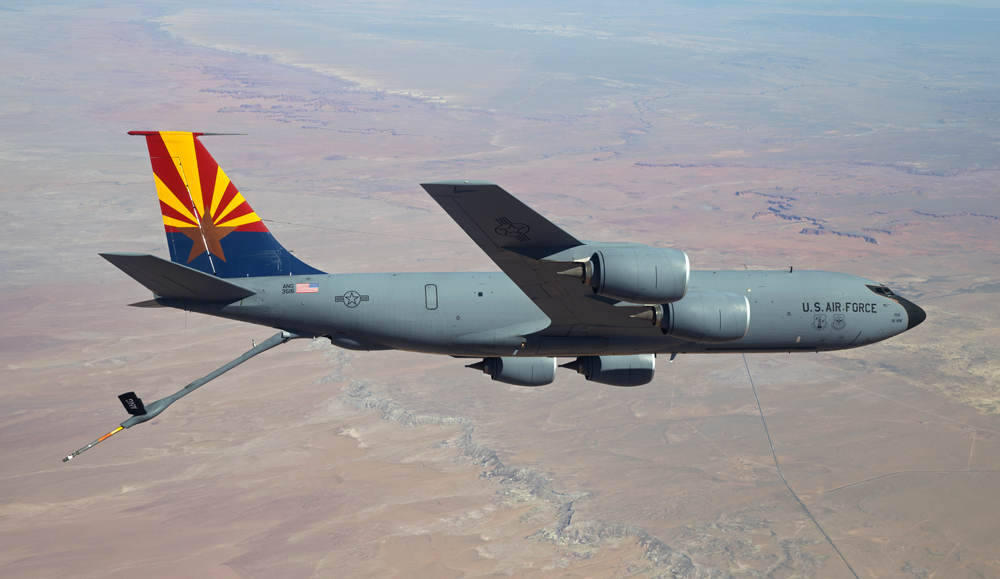 INTEREST IN AIR GUARD COMMEMORATIVE ARTWORK increased about five years ago as units began celebrating their 75th anniversaries and the Air Force celebrated its 70th, says Col. Shawn Streck, the commander of the 185th Air Refueling Wing's Mission Support Group in Sioux City, Iowa.
The Air Guard's 13-member paint facility is part of that group and has been scuffing, sanding and repainting between 35 and 50 fighters most years to protect against corrosion, and enhance fully mission capable rates, since December 2000, he says.
Whereas the Screamin' Eagle and Flagship artworks were designed and applied by personnel at the wings in Oregon and Massachusetts, the paint facility has done nonstandard commemorative paint jobs on other fighters. Adding World War II heritage markings on an F-16 from the Texas Guard's 149th Fighter Wing in 2017 was among the first of the anniversary jobs the facility took on, Streck says.
Other masterpieces include a bright blue and white F-16 from the 114th Fighter Wing celebrating the South Dakota Air Guard's 75th anniversary and a black and gray "Blacksnake" A-10 commemorating the Indiana Guard's two fighter wings and the Hoosier State's 100-year military aviation history.
The South Dakota jet also honors native son Joe Foss, a World War II Marine pilot and Medal of Honor recipient who, with 26 kills, became America's first "ace of aces" in World War II. He was instrumental in establishing the South Dakota Air Guard in 1946. He is also the namesake for the Joe Foss Field Air National Guard Station in Sioux Falls, the 114th's home.
The A-10's paint scheme in Indiana honors the 122nd Fighter Wing's "Blacksnakes" in Fort Wayne and the 181st Intelligence Wing's "Racers" in Terre Haute which was formerly a fighter wing. The distinctive twin engines are embossed with an Indiana Air National Guard centennial logo, a large number 100 and the years 1921–2021, harking back to the Interwar period.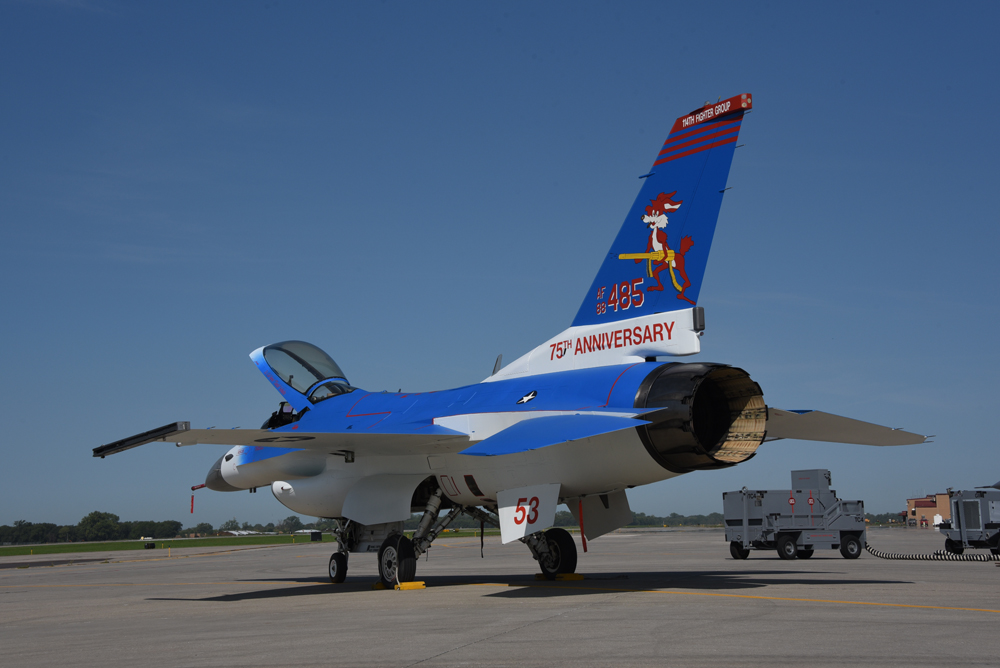 THE AIR FORCE is not exactly enamored with the distinctive markings painted on Air Guard aircraft. "The Air Mobility Command requested that its reserve components not put unit-specific markings on the planes," Melton says. "We non-concurred with that request. As long as the tech order permits it, we want to leave the discretion to our wing commanders."
In short, the Air Guard is still doing it.
Lt. Gen. Michael A. Loh, the Air Guard director, "wanted to maintain the ability to do unit insignia for a number of reasons, not the least of which is our connection with the community and the unit pride that goes with having those things," Melton says. "I've seen pictures. You look at a flight line, and you look at a row of tails. And you see the tail flashes from multiple Air Guard units and active-duty units together. You see a Total Force there. They're all the different units that are brought to the fight."
And there's no denying the history that this art imparts about the planes and those who flew them.
The Alabama Guard's 106th and then Nevada's 192nd tactical reconnaissance squadrons got their hooks into a McDonnell Douglas RF-4C Phantom II during the 1991 Persian Gulf War. That plane, now on display at the Air Force's national museum, features the nose art "Spook," a cartoon character with a spyglass. The Guard squadrons flew that camera-carrying fighter, nicknamed the "Iraqi Scud Seeker," on 172 sorties during operations Desert Shield and Desert Storm, the most sorties by any F-4 during that war, Stolle says.
An A-10 on prominent display at the New England Air Museum is a striking example of how pilots have influenced nose art. The plane was named "The Full Armor of God" in the active Air Force during the Gulf War before it was flown by the Connecticut Guard's 118th Tactical Fighter Squadron and then turned over to the museum.
The pilot, Capt. John Marselus, was deeply religious, and the biblical reference Ephesians 6:10-18 was printed on the A-10's nose. The artwork features a Crusades-era Christian knight grasping a sword as well as decals signifying the 34 tanks, trucks and other targets Marselus took out during his 57 combat sorties to "take up the shield of faith, with which you can extinguish all the flaming arrows of the evil one."
"Nose art reflects our modern and historical cultural values and identity," says Stolle, the curator at the National Museum of the United States Air Force. "Art and history show us who we are and who we were."
Bob Haskell is a retired Maine Army National Guard master sergeant and a freelance journalist in Falmouth, Mass. He may be contacted via [email protected].