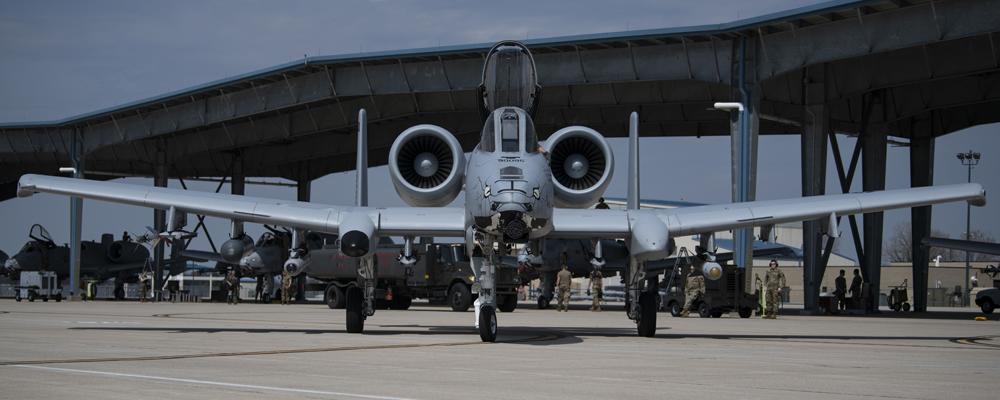 National Guard Magazine |
Hollow Numbers
Congress has only started deliberating fiscal 2023 defense policy and appropriations legislation, but one thing is already clear: Lawmakers will almost certainly add billions, perhaps tens of billions of dollars, to the president's budget request.
The Biden administration asked for a record $813 billion for national defense in fiscal 2023. This includes funds for the Defense Department and national security programs performed by the Department of Energy's nuclear laboratories and other agencies.
DoD's share is $773 billion, the calculus for which, officials say, was developed before inflation reached a 40-year high.
"This budget assumes an inflation rate of 2.2%, which is obviously incorrect, because it's almost 8%," Gen. Mark A. Milley, the chairman of the Joint Chiefs of Staff, told Congress in April. "It might go up, it might go down, but most forecasts indicate it's going to go up and it could level out at 9 or 10%. Who knows, but it's clearly higher than what the assumption was in this budget."
Defense leaders have long said they need annual increases of 3-5% over inflation to cover modernization. The Pentagon topline request is $30 billion, or 4% more than what was enacted for fiscal 2022. The fiscal 2023 spending plan thus purchases less than this year's budget.
Fuel is one example of lost buying power. Everybody is paying more at the pump, including the military. DoD believes it will spend $3 billion more in fiscal 2022 than planned.
None of this is lost on lawmakers, who added $25 billion to the president's request last year for fiscal 2022.
Rep. Mike Rogers of Alabama and Sen. Jim Inhofe of Oklahoma, the ranking Republicans on the House and Senate Armed Services committee, are pushing for a 5% increase to defense spending over inflation and are counting on enough Democrats to support them.
Such a boost could bring the current $743 billion Pentagon budget to well above $800 billion, though Republicans haven't offered an exact figure.
"Probably looks a lot like last time," Rep. Jim Banks, R-Ind., a HASC member, said in April. "Biden lowballs it and Republicans push for a much-needed increase, and the way things are going around the world, Democrats get on board because they realize that we don't have a choice."
Rep. Elissa Slotkin, D-Mich., another HASC member, agrees. She said there is bipartisan support for "at least making sure that the department is keeping pace with inflation."
But some Democrats will pump the breaks. "It can't just be a debate about the topline," said Rep. Adam Smith of Washington, the HASC chairman.
He opposed efforts to add money to the defense budget for fiscal 2022, but he concedes the Russian invasion of Ukraine will result in a larger military posture in Europe and higher defense spending this time around.
"Making sure we're investing in information systems and survivable equipment and understanding how warfare has changed. All that matters, too," Smith said. "And we want to make sure we keep that as a central part of the debate while we will also, ultimately I'm sure, debate the number."
In adding to the request, lawmakers would likely begin, as they did last year, by funding items on unfunded requirements lists. Each service chief and combatant commander submits one to Congress. So does the chief of the National Guard Bureau; his focuses on domestic response needs.
While the documents are commonly known as "wish lists, Inhofe, a leading defense hawk, calls them "risk lists."
For fiscal 2023, the lists total more $21 billion. The Army's $5.1 billion list, for example, includes more upgraded tanks for Army National Guard armored brigade combat teams and four more AN/TPQ-53 radars to Army Guard armored division artillery units.
The Air Force's $4.6 billion list includes seven more F-35 Lightning II fighters. Their destination is unknown. The service asked for 33 in the fiscal 2023 budget request, 15 fewer than 2022 and 27 less than 2021.
This budget assumes an inflation rate of 2.2%, which is obviously incorrect, because it's almost 8%.

—Gen. Mark Milley, the chairman of the Joint Chiefs of Staff
THE REQUEST FOR FEWER F-35s is one of several Air Force aircraft decisions drawing the attention of Congress.
Another involves the F-15EX Eagle II, the fourth-generation fighter meant to replace the rapidly aging F-15C/D, which six Air National Guard wings fly. The service wants to double its buy in 2023, from 12 to 24, but intends to reduce the overall number it purchases from 144 to 80.
Budget documents indicate the Air Force plans on buying only 82 new aircraft in 2023. Meanwhile, the service wants to retire 150.
Among the cuts are 21 A-10 Thunderbolt IIs from the Indiana Air Guard's 122nd Fighter Wing. The unit would receive a like number of F-15 Fighting Falcons.
Other planes on the chopping block are the bulk of the E-3 Sentry airborne early-warning-and-control platforms and E-8 JSTARS fleets, KC-135 Stratotankers, C-130H Hercules cargo planes and some older F-22 Raptor fighters.
The service also wants to transfer 100 MQ-9 remotely piloted aircraft to an unnamed federal agency.
Air Force officials say these aircraft will not survive fighting a near-peer competitor. They add the savings from retiring or divesting the platforms would allow the service to redirect billions of dollars to higher defense necessities.
Expect more of the same from the Air Force in the years ahead. Budget documents indicate the service is looking to scrap nearly 1,500 aircraft over the next five years.
But Congress has the final say. The service wanted to cut 201 aircraft in fiscal 2022 legislation; lawmakers agreed to 159.
The Air Force also wants to reduce personnel — 4,900 in the active-component and 300 in the Air Force Reserve. The Air Guard would add 100 positions, according to budget documents.
The Army's personnel plans are similar. It wants to cut 12,000 active-component troops. The Army Guard and Army Reserve would maintain their current personnel levels, 336,000 and 189,500 soldiers, respectively. Overall, the Total Army would dip below 1 million troops.
Army officials say the decision is about quality, not the budget.
"The genesis of [the cut] was really recognizing that as we look ahead to recruiting projections ... we weren't going to be able to get where we needed to be in [fiscal 2022 and 2023] without making some decisions about changing our standards," said Army Under Secretary Gabe Camarillo.
Army leaders say the cut is temporary. They plan to bring the active force back to 485,000 personnel within five years.
There's also a pay raise in the request — 4.6% — the highest in 20 years, but still less than the inflation rate.
THE 2023 BUDGET REQUEST leaves major Army Guard force structure intact. It supports eight divisions, 27 brigade combat teams, one security force assistance brigade and one cyber brigade. Brigades from Hawaii and New Jersey are set to participate in combat training center rotations.
The proposal also increases the flying hour program from 6.9 to 7.4 hours for Army Guard aviators.
New equipment is proposed. This includes 25 UH-M Black Hawk helicopters. There were 24 in the fiscal 2022 request for the Army Guard. Congress added nine more in final appropriations.
There are also 44 M1A2 System Enhancement Package version 3 Abrams tanks. There were 70 in last year's request. Congress added 20 more in final appropriations. An armored brigade combat team requires 87 tanks. The Army's unfunded list would cover the balance for fiscal 2023 appropriations.
There are also funds in the request to add 126 sexual-assault response coordinators and 170 more full-time employees for suicide prevention in the request.
And 14 major construction projects are included. The proposed $297 million would go toward new readiness centers in Delaware, Indiana, Iowa, Michigan, Minnesota and Vermont; armory or readiness improvements in Hawaii, Nevada and West Virginia; and new maintenance shops in Florida, New York, North Carolina, Wyoming and Puerto Rico.
While the request is good news for affected states, the total continues to be far less than the overall need.
Guard leaders who accessed Army Guard facilities nationwide in recent years and crunched the numbers believe the force requires more than $1 billion annually for 15 years to raise the collective condition index to "fair."
The Air Guard's MILCON needs are less, but so is the figure in the budget proposal. The request would provide $149 million for five projects. They include land acquisition in Arizona; a training facility in Alabama; a F-35 flight simulator in Florida; a munitions, maintenance and storage complex in Indiana; and a maintenance shop in Tennessee.
Budget documents also contain a request to close the Air Guard's Air Dominance Center in Savannah, Georgia. The facility conducts air-to-air combat training missions for Army, Navy and Marine Corps fourth- and fifth-generation fighters.
The potential action has already angered Georgia's congressional delegation, both Republicans and Democrats.
In addition, to advocating for more Guard equipment in final fiscal 2023 defense appropriations, NGAUS will be pushing to the include of several provisions in the authorization legislation.
Among the provisions is the establishment of a Space Guard and medical coverage for every member of the Guard and Reserve.
About 16% of Guard soldiers and airmen have no health insurance, according to NGB, and they don't receive coverage under TRICARE, the military's health care provided, for many domestic missions.
The next couple of months will likely be critical to deliberations.
The HASC will consider its annual defense policy bill June 22, the panel's chair has declared.
The aim, Smith says, is bringing the fiscal 2023 National Defense Authorization Act up for debate on the House floor in July before Congress breaks for its long summer recess.
House appropriators plan to begin subcommittee markups in mid-June and approve all 12 government funding bills at the full committee level by the end of June.
Plans in the Senate aren't as firm. But the real time variable is the election-year calendar, which will almost certainly delay reconciling differences between the two chambers and finalizing final authorization and appropriations legislation until after the midterm elections.
Some matters may not be resolved until the new year and a new Congress. That means many of these discussions are far from over.
John Goheen is the NGAUS director of communications. He can be reached at [email protected].
---
2021 NGAUS LEGISLATIVE ACCOMPLISHMENTS
(In recently enacted laws & related actions)
● Incentive pay parity for Guardsmen and Reservists with their active-component counterparts
● Creation of a federally recognized service document (DD-214-1) for all Guardsmen and Reservists upon completion of military service for better access to earned benefits
● Burial rights for all Guardsmen and Reservists in federally funded state veterans' cemeteries
● 90 M1A2 SEPv3 Abrams tanks for the Army National Guard
● 33 new UH-60M Black Hawk helicopters for the Army National Guard
● $100 million for the Army National Guard Humvee modernization program
● 16 C-130J Super Hercules cargo planes for the Air National Guard
● $272.2 million for Air National Guard C-130H modernization, including:
■ $151 million for NP200 propeller upgrades
■ $79 million for T-56 3.5 engine modifications
■ $20 million for the Modular Airborne FireFighting System
● $95.8 million for AESA radars for Air National Guard F-16 Fighting Falcons
● $642.9 million for National Guard military construction projects, including:
■ $337.9 million for Army National Guard
■ $305.0 million for Air National Guard
● $950 million the National Guard and Reserve Equipment Account, including:
■ $285 million each for Army National Guard and Air National Guard
---
2022 NGAUS LEGISLATIVE PRIORITIES

(For the deliberation of the fiscal 2023 defense authorization and appropriations acts)
The Same Organization
● Future multi-domain battlefield interoperability, including:
■ Deployable & interoperable force structure that is validated & doctrinally consistent
■ A Space National Guard as the primary combat reserve component within the Space Force
■ Continued National Guard integration in the Total Force cyber mission & training
The Same Equipment
● Deployable, Interoperable & Sustainable Equipment
● Concurrent and proportional fielding of equipment to the National Guard, including:
■ UH-60M Black Hawk, F-35A Lightning II, KC-46A Pegasus, C-130J Super Hercules & Future Vertical Lift procurement
● National Guard equipment modernization & recapitalization, including:
■ AH-64E Apache, M1 Abrams tank & M2 Bradley, Humvee
■ A-10 Thunderbolt II, F-15 Eagle & F-16 Fighting Falcon
The Same Resources & Benefits
● Zero-cost TRICARE to ensure reserve-component medical readiness
● Post-9/11 GI Bill parity
● Robust National Guard & Reserve Equipment Account funding
● Tax incentives for Guardsmen and employers
● Ready access to mental health care and suicide prevention
● Increased National Guard military construction funding