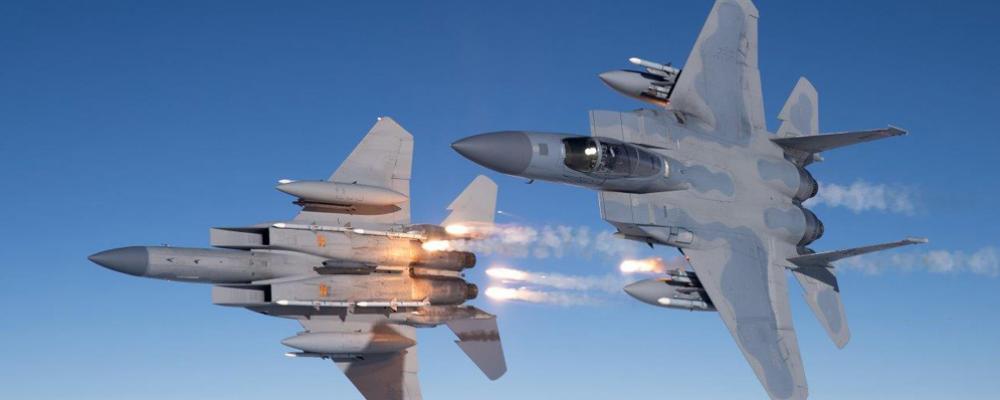 National Guard Magazine |
High Speed
It's an experience most people never have — hurtling through the skies at the controls of an aircraft greatly exceeding the speed of sound while defying forces many times normal gravity.
For Air National Guard fighter pilots, it's more than a job, it's a calling, one that many people may hear but only a few possess the combination of attributes and drive to satisfy.
Fighter pilots must not only be fit, highly intelligent and self-assured, they also need to have near-perfect vision, great hand-eye coordination and steely nerves. They must also be willing to make a 10-year commitment to attend Air Force pilot training.
"There's nothing to compare it with," says Capt. Patrick M. "Stratus" Kurtz of flying F-15C Eagles with Oregon's 142nd Fighter Wing. "You've got to be the varsity quarterback and the valedictorian all in one."
A certain attitude must also be part of the package when you are in the air, many pilots say. Kurtz, the standards and evaluation liaison officer for the wing's 123rd Fighter Squadron, calls it "a killer mindset."
The Air Force obviously believes the skills and mindset translate to senior leadership; nearly every service chief of staff has been a fighter pilot.
Hollywood also loves them — especially their outward confidence and catchy call signs. Top Gun: Maverick, this summer's box office blockbuster, is only the most recent of many movies over the years featuring fighter pilots.
But many pilots say such portrayals are over the top and miss the dedication and teamwork required to operate a warplane today.
"The best pilot in the squadron will never say it," says Lt. Col. Peter "Sly" Liggieri, an F-22 Raptor pilot with the 192nd Wing's 149th Fighter Squadron in the Virginia Air Guard. "Even though we all think we're the best. Either we're going to win and we're going to succeed as a team, or we're going to fail as a team."
Retired Lt. Gen. L. Scott "Catfish" Rice, a former A-10 Thunderbolt II pilot, says Guard fighter units, where pilots and crews often spend many years, cultivates the kind of cohesion and cooperation needed to make fighter pilots great.
"Even if it's part-time, you're with those people for years and you commit your life to them literally and figuratively as you grow and evolve in the Guard," says Rice, who flew for the 104th Fighter Wing's 131st Fighter Squadron in the Massachusetts Air Guard after an active-duty stint.
"And because pilots often move on active duty, you don't have that type of comradery with the members of your unit or squadron like you do in the Guard," he adds.
Capt. Cole R. "Hannibal" Skinner, who flies F-15C Eagles in the Massachusetts Air Guard, says post-mission debriefing helps make the Guard's strongest fighter pilots. During daily training, pilots debrief by critically discussing deviations from the flight lead's briefing for the day and their specific fighter.

"Some flights may last less than an hour," says Skinner, who flies for the 131st Fighter Squadron, 104th Fighter Wing. "However, the debrief can extend up to tens of hours. The training the National Guard provides to its pilots is exceptional — find a weakness, fix that weakness."
 
Being a fighter pilot is definitely the apex of aviation.

—Capt. Genevieve "Titos" Anonsen, a F-16C Fighter pilot with the District of Columbia Air National Guard
Capt. Genevieve "Titos" Anonsen credits her teammates with helping make her a better F-16C Fighting Falcon pilot. "You can't make it through training being a maverick or singleton," says Anonsen, who flies full-time for the 121st Fighter Squadron in the District of Columbia Air Guard's 113th Wing. "Even though we might fly a single-seat aircraft, we work together as an extremely cohesive team.
"Being a fighter pilot is definitely the apex of aviation," she adds. "We really want to be perfect. We're never going to reach that perfection, but we can try."
The 121st Fighter Squadron illustrates the pressure Guard pilots like Anonsen face daily. The squadron provides the National Capitol Region around Washington, D.C., with a 24/7 aerospace control alert force.
At a moment's notice, Anonsen and the wing's other pilots might scramble their F-16s for potential threats. "We're an integral part of the chain of defense here," Anonsen says. "It's knowing you're serving your country by employing a weapon system.
"There's just not enough time in the jet, time in someone's career to make the same mistakes as someone else or make the same mistakes twice as an individual," she continues.
Piloting fighter jets places steep demands on the body no matter the aircraft. Take F-22s, which Liggieri states can execute turns at nine-and-a-half times gravity's pull. Under such strain, Liggieri says his 10-pound helmet feels about 100 pounds instead.
Even worse, he admits these extremes can cause blackouts.
"Putting your spine, your neck, your back through that rollercoaster everyday has its drawbacks," he says. "It's very similar to what professional athletes go through, actually.
"The average age in our squadron, being a Guard squadron, is probably the low 40s," Liggieri concludes. "How many 40-year-old football players do you see these days playing out there in the NFL?"
The training the National Guard provides to its pilots is exceptional — find a weakness, fix that weakness.

—Capt. Cole R. "Hannibal" Skinner, a F-15C pilot with the Massachusetts Air National Guard
THE AIR FORCE SENDS TO PILOT TRAINING only those with a high probability of graduating.
Cost is a factor. Aircraft are expensive, but so is pilot training, which is why fliers must make a long-term commitment. A 2019 RAND study found that training basic qualified fighter pilots ranged from $5.6 million for F-16s to $10.9 million for F-22s in fiscal 2018 dollars.
Capt. Reece Whitley says he joined the Florida Air Guard in 2015 with the goal of flying F-15Cs. His journey began with the Air Force Officer Qualifying Test, the Test of Basic Aviation Skills and a medical screening. Whitley then completed a series of training programs, including Officer Training School, Undergraduate Pilot Training and Introduction to Fighter Fundamentals. Only then could he take the F-15 qualification course.
Whitley now flies F-15Cs for the 159th Fighter Squadron of Florida's 125th Fighter Wing. "The whole process, from hire to being back at the unit flying F-15s, takes about three to four years," he says, adding that the training never ends. "You learn something every day as a fighter pilot on how to get better, no matter how old or experienced you are."
Capt. Jake E. "Scooby" Dubie, an F-35A pilot in Vermont, agrees. "You have to be competitive, and you have to always have this burning desire to succeed," says Dubie, part of the 134th Fighter Squadron, 158th Fighter Wing. "You have to always be preparing, studying and learning about your capabilities and your adversaries' capabilities."
Most Guard fighter pilots pick their aircraft, which range from air superiority, like the F-15 and F-22, to the multirole, like the F-16 and F-35, to the A-10, a comparatively slower-moving close-air support aircraft. "Our whole training philosophy, our whole mindset, is to help out those on the ground," says Maj. Gregory "HUDS" Kirk, an A-10 pilot with Idaho's 190th Fighter Squadron, 124th Fighter Wing.
"That kind of sums up the mission of the A-10, that being to protect that 18-year-old with a rifle and get him home," adds Kirk, who's also the 190th's training chief.
A-10s boast 30mm Gatling guns, weapons illustrating how connected pilots become to their aircrafts. "When you shoot it, it's a full-body experience," Kirk says. It's sight, sound, smell, touch, everything. "You can kind of taste the gunpowder a little bit," he reveals. "It's a thrill every single time we get to shoot, and just flying the aircraft itself."
Conversely, F-22s focus on air-to-air combat — the "dogfights" the Top Gun movies dramatize.
Liggieri says F-22s prioritize power, maneuverability and speed for clearing the skies for U.S. military forces. "We are the best in that mission set," he states. "We spend about 95% of our training on air-to-air combat.
"Our platform is a key enabler to the rest of the joint fight, which is super important," Liggieri says.
The F-22, a fifth-generation aircraft, was intended to replace the F-15, which entered the Air Force in the 1970s, but the Air Force never bought enough to make the full conversion happen. Despite the age of the aircraft, pilots who fly the F-15 still love it.
"The F-15 is the world's greatest air-superiority fighter," says Lt. Col. Daniel Schiller, the commander of the 159th Fighter Squadron. "With an air-to-air kill ratio of 104-0, the F-15C is a chariot of death to all who face it in combat.
"The F-15 is the last great fighter jet where the pilot is truly flying and operating the weapons system without digital flight controls and sensor fusion," he says.
For pilots, danger requires constant attention and confidence in one's abilities. "I think sometime folks look at these jets and yeah, they do a lot of cool stuff, but they're weapons at the end of the day," Liggieri adds. "That's what our job is — to employ the weapons.
"The stress," he says, "is all managed by staying focused internally on the mission," he adds. "If you're not able to adapt and manage that on the fly, you're going to have problems."
Among U.S. military personnel, Guardsmen often have the deepest roots at home. "We're citizen soldiers," says retired Maj. Heather "Lucky" Penney, a former F-16C pilot for the District of Columbia's 121st Fighter Squadron who scrambled on 9/11 to stop United Flight 93, the aircraft the passengers helped bring down near Shanksville, Pennsylvania.
"Every Guard unit is like a family," adds Penney, who's now a senior resident fellow at the Mitchell Institute for Aerospace Studies in Arlington, Virginia. "You've got to love each other and figure it out because you've got to deploy together."
"Some of the best experts are in the Guard," she ends. "Part of what the Guard does for our nation's national security is we retain the talent that leaves the active duty."
Amid rising tensions with near-peer competitors like China, fighter pilots protecting America appear increasingly valuable.
Penney suggests the Guard's fighter pilots will play pivotal roles in future fights for air superiority.
"It's going to be crucial for decades to come," she says. "Every single element — the Space Force, the Marine Corps, the Navy — they all rely on air power. The Guard is a key component of that. Everything a wing brings to bear in combat is also really relevant to caring for communities at home."
Flying fighter jets may test pilots, but Anonsen argues the Guard builds the resilience needed for overcoming challenges.
"You don't have to be born with confidence," Anonsen says. "But you have to cultivate it throughout your life."
Mark Hensch is the NGAUS senior writer/editor. He can be reached at [email protected].
---
Air National Guard Fighter Inventory
A-10 Thunderbolt II (aka Warthog)
MISSION: Close-air support
TOP SPEED: 420 mph
STATES: Idaho, Indiana, Maryland and Michigan
F-15 Eagle
MISSION: Air Supremacy
TOP SPEED: 1,875 mph
STATES: California, Florida, Louisiana, Oregon (2, includes schoolhouse) and Massachusetts
F-16 Fighting Falcon (aka Viper)
MISSION: Multirole
TOP SPEED: 1,500 mph
STATES: Alabama, Arizona, Colorado, District of Columbia, Minnesota, New Jersey, Ohio, Oklahoma, South Carolina, South Dakota, Texas and Wisconsin
F-22 Raptor
MISSION: Air Dominance (Stealth)
TOP SPEED: 1,500 mph
STATES: Hawaii and Virginia (Classic Associate)
F-35 Lightning II
MISSION: Multirole (Stealth)
TOP SPEED: 1,200 mph
STATES: Vermont
Source: Air Force