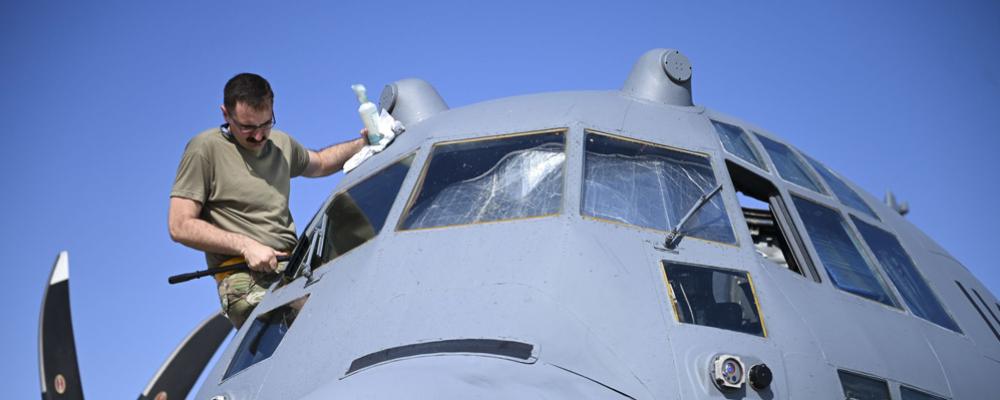 National Guard Magazine |
Headliners on the World Stage
My career as an Illinois Air National Guard C-130 Hercules pilot has taken me around the world supporting many of the major operations and exercises of the last two decades. I've worked with members of many of our allies and partners. I thought I had pretty much seen and done it all.
That was until Air Defender 2023, the largest air exercise in NATO history, conducted June 12-23. The experience renewed my immense pride in the Air Guard.
Led by the German air force from bases mostly in Germany, more than 10,000 personnel and 250 aircraft from 25 nations took part, including roughly 2,000 airmen and 100 planes from the Air Guard in 42 states.
I was the C-130 officer-in-charge at Wunstorf Air Base in northern Germany. This gave me the privilege of working with the base commander, Col. Christian John (pronounced Yohn), a fourth-generation German military officer who is the highest air mobility commander the Luftwaffe.
Over the month I was in Germany, I led alongside some of the most important and influential leaders in the Atlantic alliance. It was an extraordinary opportunity for a former small-town boy from the Midwest who began his military career as an Army Guard utility equipment repairer.
AD23 received a lot of attention from officials in Germany and the press across Europe. I participated in multiple press conferences and briefings to senior German officials, and I was humbled to represent the ideals that NATO holds dear: safety, security and stability.
The Air Guard, which comprised the largest contingent in the exercise, was also a source of considerable curiosity. Col. John enabled me to share exactly how we were able to effectively deploy and provide air mobility on the world stage with a nearly 70% part-time force.
The briefings were a labor of love. I touted not only what we do as part of the Air Force, but also the unique qualities of most of our airmen: they are members of their community with a wide range of full-time civilian occupations as well as trained, professional airmen with a passion to serve both their states and the nation.
I've always known that these qualities are special, but hearing myself describe them to worldwide military leaders and the press reaffirmed just how remarkable our people are, not only for what they do, but for who they are.
The audiences were outwardly impressed. During more than one presentation, I heard German officials discuss how they might create their own Air Guard. Wunstorf Air Base would be a fantastic location for such a unit was one thought, as Airbus plans to build a facility right outside the front gate.
I fed the idea, of course, saying the facility would be a great way to recruit and retain part-time aircrews, engineers and maintainers at the base.
My comments clearly resonated with Col. John. Following a briefing to the state secretary in the Federal Ministry of Defense, Nils Hilmer, my new friend re-gifted a plaque from the secretary. "Here, I want you to have this," he said. "You may just have had the most influence on Germany creating an Air National Guard."
What a compliment, an honor and a gift.
The experience renewed my immense pride in the Air Guard.
Strategic Leadership & Growth
Lt. Gen. Michael A. Loh, the director of the Air Guard, often says he needs every Guardsmen to see themselves in the National Defense Strategy. There should be no doubt that the Air Guard is in the NDS, AD23 proved our capability.
Nevertheless, I would have never guessed back in the spring of 2022 that becoming a part of AD23 would be such a watershed moment for the Guard. Although I did know that it would be a great opportunity for my unit, the 182nd Airlift Wing from Peoria, Illinois.
As soon as I got word of the exercise, I brought my staff together to decide if we had the capability and availability to lead the C-130 portion of the exercise. I knew I would be stressing my maintenance group, operations group, installation deployment officer and chief of tactics. Taking on AD23 would involve juggling exercise planning with day-to-day jobs and family obligations. Battling time zones was another concern.
Still, we wanted to proceed, because we knew from the past that leading an international exercise with such significance enables the wing, and its people, to grow on so many levels.
The initial plan was to have two C-130 operating locations, a C-130J base in Poland and a C-130H base in Germany. However, due to runway construction in Poland, the exercise shifted to Germany as the sole C-130 operating location. With interest and visibility of the exercise growing, and with the 182nd as the lead unit, we decided to invite nine other Guard C-130 wings to come join us in Europe with one aircraft each and support personnel.
This was a generous and exciting endeavor, but it didn't come without challenges. First, we had 10 different wings with six different C-130 variants, a reflection of the current Guard Herc fleet. It would make operations much more difficult, but it was a must if we wanted to showcase our capabilities.
We highlighted the fact that AD23 was an exercise, and that we had to max perform the flight schedule to see if our mixed fleet could handle the integrated combat turns, formations, specialized fueling operations, low-level insertions and airdrops within agile combat employment scenarios.
The result was obvious, and the outcome was a resounding success. The Air Guard will continue being one of the strongest air forces in the world and a major component of the largest Air Force on the planet.
We had 10 different wings with six different C-130 variants, a reflection of the current Guard Herc fleet.
Exercise Goals
The goal of AD23 was to integrate the Air Guard's capabilities into the German-led exercise and to support the host-nation's tactical and strategic requirements. We not only accomplished this goal with the timely transatlantic deployment, theater tactical missions and redeployment, but also through enhanced interoperability with our NATO partners.
The tactical airlift plan was aggressive. It included a maximum performance sortie schedule with demanding tactical missions that challenged our interoperability with our NATO allies. The hurdles to jump were known, as operating C-130Js and C130Hs with modified engines, propellers and valve housings added complexities to an already complex mission set.
The combination of all these variables was much more extreme than our typical Air Expeditionary Force construct that brings together just two C-130 wings with the same aircraft variants and 30% more maintenance support than we had available for six different variants at AD23. Additionally, our C-130H fleet was still recovering from a fleetwide grounding due to propeller problems last fall that left each wing with fewer than their required tails.
For the exercise to succeed, especially air operations, we had to have the right maintainers — and we did. The contributions of 95 maintainers across 10 C-130 units were instrumental in strengthening partnerships, adapting to unfamiliar environments and showcasing our mobility capabilities.
The MX airmen also seamlessly integrated with their counterparts from Germany and Romania. Collaborating with different units and allies, they ensured the aircraft were mission-ready, boasting an impressive 95% aircraft utilization rate. Their efforts facilitated 262 total aircraft missions, the delivery of 847,000 pounds of cargo and the transport of 1,102 personnel.
We told our airmen that while we may sometimes miss a target during an exercise sortie, we must always hit the target of strengthening our partnerships.
Building Relationships
We told our airmen that while we might sometimes miss a target during an exercise sortie, we must always hit the target of strengthening our partnerships. Success, after all, is often first founded in relationships.
Our German counterparts agreed. As a welcome, they hosted a kick-off party called Nations Day that offered a variety of food and refreshments. The sights were unforgettable. The event started with opening speeches, a prayer and a toast – Prost! It then transitioned into an ice breaker with participants exchanging patches. There were multiple food and refreshments stations, most notably a Romanian station offering goat cheeses, onions and spicy sausages.
As I glanced across the festivities midway through the evening, I saw camaraderie overflowing from the picnic tables into the parking lot. Not only were patches being exchanged, but also rank insignia and uniform name tags. We quickly became one team.
It's been said that explaining the benefits of partnerships to the Guard is like explaining water to fish: it's already understood. Partnerships and relationship-building are so ingrained to what we do every day and within our communities and professions that they integrate seamlessly with military operations. My state has also been part of the State Partnership Program since its inception.
The success of the Wunstorf team can be attributed in no small part to the partnerships we quickly formed. For example, by breaking down barriers early and fostering a collaborative environment, our maintenance teams got off to a quick start. When later faced with operational challenges, the relationships enabled effective problem-solving. And the stars were our drill-status Guardsmen.
Chief Master Sgt. Medie Still, a member of Georgia's 165th Airlift Wing and the AD23 Wunstorf senior enlisted leader, summed up the experience well.
"We really highlighted what makes the ANG so successful, our part-time force," he said. "Many of the people serving in the AD23 are part time in their home ANG units, so to be here full time for a month was really something they haven't even experienced in their home wing. But, as expected, they rose to the challenge by melding their civilian and military experience together and showcased to our German brethren that the ANG is a partnership you want to be a part of."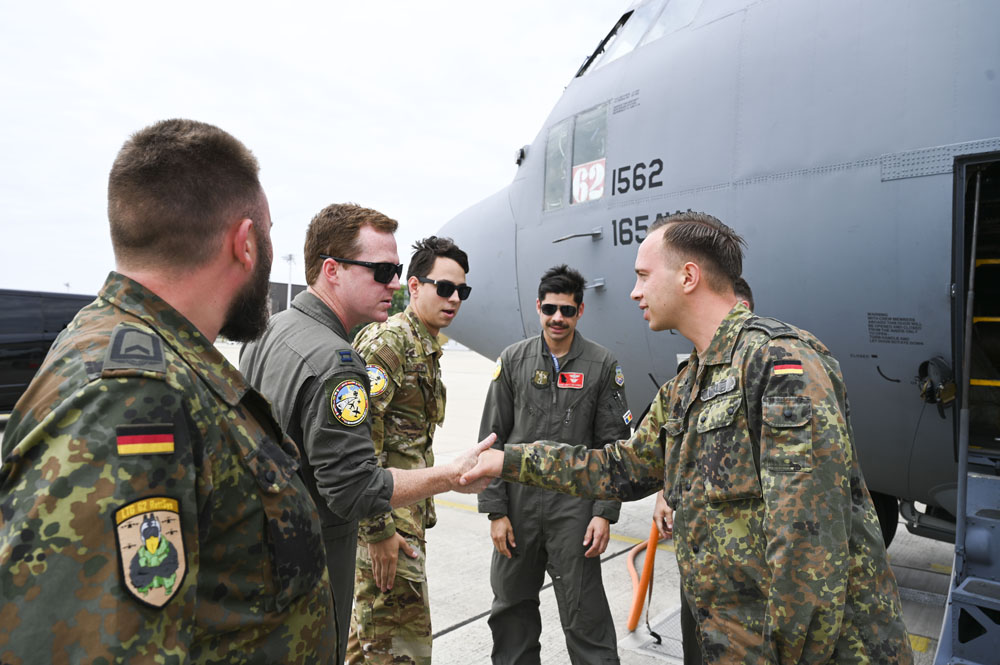 AD23's Impact & Legacy
What I witnessed in Germany was a display of greatness and willingness. Interoperability between Guard wings and NATO and allied partners, opening the airbase with our contingency response brethren and transitioning to the senior airport authority — all while operating at another nation's base — was nothing short of incredible.
AD23 also reminded me over and over that when the Air Guard is tasked, the answer and the product are both positive.
The observations provided by the German military have been nothing but complimentary.
"I am extremely impressed with the Air National Guard," Col. John said. "Their ability to conduct operations right from the beginning was not something we expected. Our base anticipated that we would need to provide more support than we have."
I've traveled through Germany many times as I transitioned to various regions of the world. However, this is the first time I have worked in Germany outside of Ramstein Air Base. I enjoyed and appreciated the hospitality and accommodation that the host wing provided. Col. John ensured that his airmen would be fully accessible and willing to accommodate any reasonable request. We were not only a part of the local German unit, the Air Transport Wing 62, but also part of the Wunstorf community.
Reflections
I appreciated Col. John's generosity and the access he provided to the Wunstorf Air Base facilities. Over coffee at daily one-on-one meetings, we spoke both in and out of the AD23 lanes. We talked about the limitations on German air mobility fleet growth due to lingering guilt the German government feels over World War II.
The military wants to grow, but the legislature after World War II has limited its reach, though recent events in Ukraine are changing some minds. The German air force operates the Airbus A-400M Atlas, which is a giant, state-of-the-art turboprop tactical airlifter that houses a cockpit like the Airbus A-380 jumbo jet. It's larger than the C-130 and just a bit smaller than a C-17 Globemaster II. Current plans, however, limit the German fleet to less than 55 aircraft.
We discussed how military service is perceived in our two nations. Col. John said he was surprised during a trip to the U.S. to see the appreciation many Americans outwardly show those in uniform. When he visited a U.S. Navy base, a cashier even thanked him for his service. He stated how encouraging and motivating it was to be so positively recognized in a foreign land, knowing that just two generations ago our countries had fought a prolonged conflict.
Col. John is proud of the Luftwaffe today, but the overall feeling I got during AD23 was the German public saw their military as a 9 to 5 job rather than a global military force with 24/7 responsibilities. But there is no doubt that AD23's visibility will advance understanding among the German people of the importance, value and necessity of their military on the world stage.
We also talked about the new generation of recruits, and we agreed that society tends to unfairly paint a negative picture of every new wave of airmen. After discussing similar interactions, we realized that we shared the same faith that our militaries will be in a better place as our young service members continue to forge their own paths. They are smart, they are eager and they are prepared. AD23 was just one example proving that there are even brighter days ahead for our militaries.
I remain in awe of AD23 and my position within it, but I never have to wonder how our airmen and our military partners got where they are or where they are going. I have had the privilege of discovering where many of them are from, witnessing what they do and learning who they are.
AD23 reminded me to feel humbled and grateful for all who are serving the Air National Guard, the United States and the world.
---
About the Author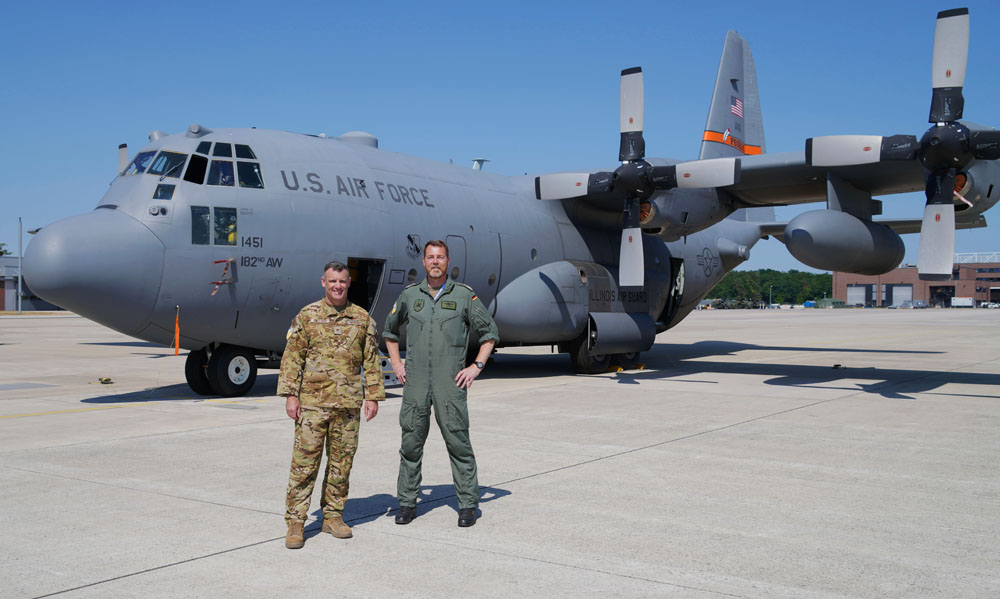 Col. Rusty Ballard is a 30-year member of the Illinois Army and Air National Guard. He is a command pilot with nearly 6,000 flight hours, in both military and civilian fixed/rotor aircraft. Ballard served in the Army National Guard as a UH-60 Black Hawk pilot. He transferred to the Air National Guard in 2003. He has served as the C-130 Operations Group chair and is the present C-130 Weapons System chair. He currently commands the 182nd Airlift Wing in Peoria, Illinois. He is also a pilot for FedEx Express.