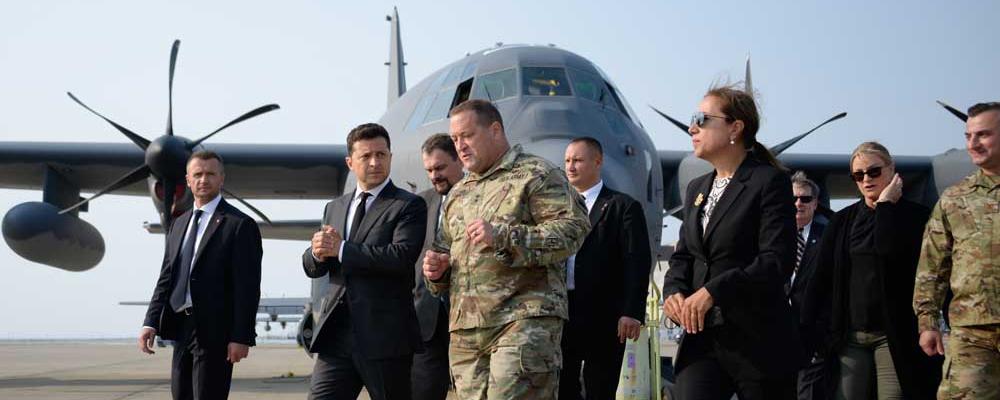 National Guard Magazine |
Friends in Need
Maj. Gen. David Baldwin looks of a man who is just itching to roll up his sleeves and confront a thug who has started a fight with his friends.
In this case, the belligerent is Vladimir Putin and Baldwin's friends are the Ukrainian people, who the Russian president's forces attacked Feb. 24. A 29-year National Guard State Partnership Program link between California and Ukraine is the foundation for the friendship.
"Every one of us wants to go and help our partners. It's what we signed up to do," Baldwin, the adjutant general of California, told KCRA-TV in Sacramento, California, March 10. "We signed up to support and defend the Constitution of the United States. At the end of day that means defending democracy, and democracy is on the line in Ukraine right now."
But other factors — including that Ukraine is not in the NATO alliance and the fear that one mistake or miscalculation could trigger a much wider conflict — has limited the U.S. military response as the unprovoked bombing of civilians went on for nearly a month.
So the California Guard is doing its bit to help supply the equipment and supplies with which the Ukrainians are making the Russian advance far more difficult than anyone imagined.
"As soon as the invasion began," Baldwin explained, "we fully activated our headquarters so that we could . . . [direct] requirements and requests from the Ukrainians to other parts of the U.S. government to break down bureaucracy and get help to the Ukrainians as soon as possible."
A cell of citizen-soldiers and airmen immediately began working the mission 24-7. Javelin anti-tank weapons, ammunition, radios, tents and medical supplies were among the Ukrainians' priorities, Baldwin told DoD News and The Wall Street Journal.
"Now, there are a lot of formal liaison systems and mechanisms and ways to communicate," he said. "But the senior leaders still reach out when they have something urgent. That's just a product of our relationships. Because a lot of these guys that are generals at the top of their organizations, I've known for eight or 10 years. So we have very close personal relationships, and they trust us because they know us."
Supporting their partners nearly half a world away was underscored because of Ukrainian President Volodymyr Zelenskyy's visit to the California Guard, at Moffett Federal Field, for several hours last September.
"He was very interested in the partnership and the things we were doing for the Ukrainian armed forces," Baldwin told KCRA. "We showed him all the capabilities we had."
Baldwin described how the partnership has evolved since 1993 when the Guard began forming state partnerships with eager former Soviet Republics and Warsaw Pact countries. Showing the Ukrainians how to be a military subordinate to civil authority led to emergency response training and then to developing combat capabilities after the Russians invaded eastern Ukraine in 2014.
Anti-armor tactics, casualty recovery, fighter tactics and airfield operations have been part of the training by California Army and Air Guard personnel.
"We're seeing the Ukrainians use the skills that we helped them learn and that they've developed on their own to great effect in blunting these Russian attacks," Baldwin told reporters. "Their air force is a lot better than everyone thought except for the California Air National Guard who knew that these guys were pretty good."
Many Guard members know the country well — cities such as Kyiv and L'viv; the land where 12% of the world's wheat is grown — thanks in part to expanded military training the SPP alliance has made possible.
But Baldwin's troops are not the only Guardsmen who have helped the Ukrainians bolster their defenses. Several other states have sent company-size elements for nine-month tours to train and mentor Ukrainian forces at the Yavoriv Combat Training Center in western Ukraine since 2015. Roughly 165 soldiers from Florida took the mission in November.
Retired Lt. Gen. Ben Hodges, who was the commanding general of U.S. Army Europe, in 2015 leveraged SPP to establish the Joint Multinational Training Group–Ukraine as part of his effort to "make our 30,000 look and feel like 300,000," the U.S. military's Cold War strength in Europe.
"It became clear to me there was no way we could [do that] unless I had the Army National Guard, the Air Guard, the Army Reserve as well as allies and others doing more," Hodges told the NGAUS General Conference & Exhibition in Nashville, Tennessee, in September 2015, the year after Russia invaded and annexed the Crimean Peninsula from Ukraine.
That multinational training ended Feb. 12 when the Pentagon moved the 165 members of the 53rd Infantry Brigade Combat Team out of Ukraine. The Russians invaded the country 12 days later and on March 13 pulverized the base with missiles, killing at least 35 people and wounding another 134.
All the while, Americans like California Air Guard Master Sgt. Phil Cordle wonder and worry about Ukrainians they know. Cordle, who visited L'viv last November, explained his efforts to maintain contact with his friend Dima who has recently joined the National Guard of Ukraine, "trying to keep everybody at bay outside of Kyiv."
Dima served as a Ukrainian civilian liaison with SPP personnel including Cordle. Dima remained in Ukraine with his family because older family members were not well enough to travel, Cordle said.
Others who the California Guardsman knows have gone west and left the country, "although, these days, who knows where certain people are?
"When the bombings started at the end of February, that's when it kind of hit you. It's on! And you just hoped that the Ukrainian people and military are ready to take it."
Baldwin believes they are. "The Ukrainians are proud people. They are very tough," he said. "The fight they're putting up is going to go down in history as one of the most impressive stands of people in the face of illegal aggression."
The author is a retired Maine Army National Guard master sergeant and a freelance journalist in Falmouth, Mass. He may be contacted via [email protected].