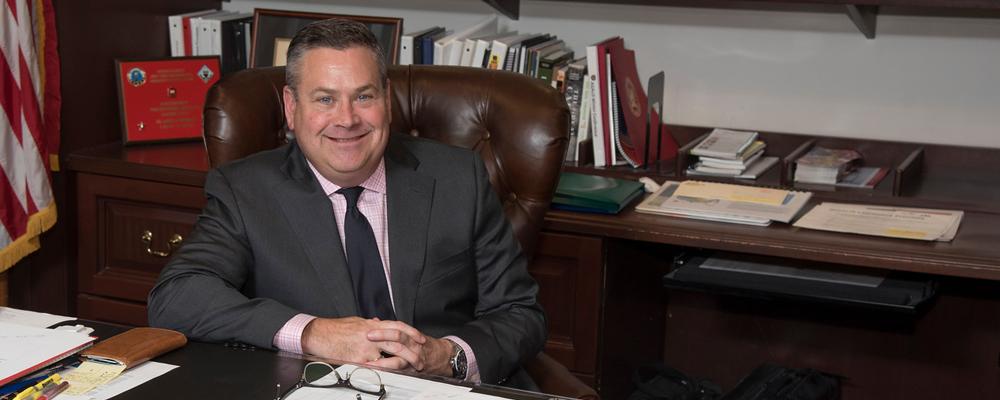 National Guard Magazine |
Finding A Way
Getting things done in Washington can be difficult. Fierce competition for limited resources, partisan divisions and an often arcane bureaucracy all gum up the works.
But NGAUS can find a way. Last year was another example. We scored some significant wins on Capitol Hill for advanced equipment.
It certainly helped that Congress was of a mind to add funds to the president's defense budget request, but the Pentagon had its own ideas where those extra dollars should go.
A bigger factor was your reputation often precedes our visits to Capitol Hill.
Lawmakers and congressional staffers often tell us about Guard soldiers and airmen in their districts. And they know their constituents in uniform are often last in line when the services field new equipment.
One example is C-130 Hercules cargo planes. Most Air Guard airlift units still operate aging H models, which require new engines, propellers and avionics. Their active-component counterparts exclusively fly the newer, more advanced C-130J.
The Air Force has never included a single J model in the president's annual budget request. Additionally, the service has provided limited funds to modernize Guard H models.
This has made recapitalization and modernization of the Guard C-130 fleet a NGAUS legislative priority. And Congress has responded.
Lawmakers have added 58 C-130Js for the Air Guard to defense appropriations in recent years, including 16 in fiscal 2023 at a total cost of $1.7 billion. They also provided $224.7 million for C-130H modernization.
We also accomplished a significant equipment breakthrough for the Army Guard.
The Army considers the MQ-1C Gray Eagle critical to future combat operations. The unmanned aerial system enables ground commanders to see more of the battlefield and pinpoint artillery.
All 10 active-component divisions have Gray Eagles, but the Army has yet to provide one to the Guard, even though Guard divisions need to be equipped the same as active divisions to fulfill their obligations in the National Security Strategy and National Defense Strategy.
So, we convinced Congress to kickstart the fielding process. Lawmakers added $350 million to defense appropriations to purchase 12 Gray Eagles for the Guard, enough to establish a full Gray Eagle company in one Guard division.
Additionally, Congress included 10 more new UH-60M Black Hawk helicopters than were in the president's budget request for a total of 35 for the Army Guard.
Lawmakers also provided $120 million for the Army Guard Humvee modernization program. This was the 11th consecutive year at least $100 million was added to rebuild old Humvees in a unique public-private partnership.
We also worked successfully with Capitol Hill to provide some future relief to Guard officers waiting for federal recognition of their state promotions.
A provision in the fiscal 2023 National Defense Authorization Act requires the appropriate service secretary to backdate the effective date of rank for any Guard officer waiting more than 100 days for their FEDREC after Jan. 1, 2024.
These are positive developments, but they won't alone fix the problem.
Pentagon officials, especially those in the Army, where we see the longest delays, need to streamline things. The process also needs to go digital. Right now, everything is on paper, which is no way to administer something so important in the 21st century.
We also worked successfully with Capitol Hill to provide some future relief to Guard officers waiting months for federal recognition of their state promotions.
Not all of our accomplishments in 2022 were on Capitol Hill.
We ended the year with 960 more active members than we began. And more than a few state and territory Guard associations contributed. Forty-three (chart, page 21) either raised their membership percentage or maintained 100% membership.
This strongly suggests we've turned the corner on the membership downturn almost every military and veterans association experienced during the height of the COVID-19 pandemic.
I know the pandemic hindered our membership marketing. While nearly every state and territory has online dues payment, they still rely on face-to-face membership promotion, which was impossible for much of 2020 and 2021.
Our new digital-life membership also helped. At $500, its half the cost of our standard lifetime membership. The difference is, digital-life members receive this magazine via email instead of through the postal service.
Many states and territories have made this new program more attractive by reducing the cost by the 25% rebate they receive for each life membership sold. This reduces the membership to $375. Some also offer a monthly installment plan, which makes the purchase even easier.
In all, more than 2,000 NGAUS members purchased life memberships last year, an all-time record.
The increased membership in 2022 pushed our membership percentage to more than 51% of those eligible to join. This makes us the envy of other military and veteran associations, most of which have memberships that include a smaller percentage of those eligible to join.
I think we are now positioned for membership growth. When nonmembers learn more about we do, most will want to be a part of it. We just need to find a way to better disseminate our story. And NGAUS certainly has a great story to tell.
Our 2022 accomplishments speak for themselves. So do our historic victories. Nearly every allowance and benefit Guardsmen receive today — drill pay, retirement, TRICARE Reserve Select, to name a few — are products of our association working with Congress.
As are full-time manning, federal money for Guard facilities, much of our equipment and our very existence as the primary combat reserve of the Army and the Air Force.
We rarely get the chance to share our full story, but when we do the impact is telling.
One opportunity occurs when we bring one young officer from every state and territory to the National Guard Memorial, our headquarters in the nation's capital, for two days to get an inside look at how NGAUS and Washington works.
We held two such Capitol Summits last year. Attendees had audiences with association officials, National Guard Bureau leaders and members of Congress. They got to see our relationships and what they bring. They also visited Capitol Hill and the Pentagon.
Most didn't know much about NGAUS until they arrived. But they are absolute believers by the time they leave. That's not just an impression. It's what almost all write on their surveys. And many purchased lifetime NGAUS memberships before they departed.
Capitol Summit is one of two officer professional development programs we run for company-grade officers. The other is at our annual conference.
But I think the entire annual gathering is OPD. Last year, at the 144th General Conference & Exhibition, we heard from the Army chief of staff, the Air Force chief of staff and the NGB chief. Where else can you hear from and pose questions to three members of the Joint Chiefs of Staff? There were also a record 343 companies or organizations exhibiting at the trade show.
We plan to develop an even more worthwhile 145th General Conference & Exhibition in Reno, Nevada, this summer.
Our priorities for 2023 build on last year's accomplishments.
To meet our warfighting obligations to the country, our formations must be interoperable with the active component. This means the same organization, the same equipment and the same resources and benefits as the active component.
There is progress in the Army Guard. The Army is providing its most advanced systems to our attack aviation and armored units. But when Guard units aren't in Army fielding plans for critical equipment, we'll take our case to Congress, like we did last year with the Gray Eagle.
As I mentioned, we've used the same tactic with Air Guard C-130s. It may also be the best way to make progress with other platforms. Our fighter units fly the oldest aircraft in the Air Force inventory. They need to be recapitalized.
As a wise man said recently, you can't show up to tomorrow's fights with yesterday's equipment. And the nation can't afford us to wait until tomorrow to find a way.
Zero-cost TRICARE medical coverage for all members of the Guard and Reserves will be another priority.
It also tops the legislative agenda of Gen. Daniel R. Hokanson. He estimates that 60,000 Guard soldiers and airmen have no health care. That hurts our medical readiness.
And Guardsmen only receive health care when they are on federal orders for more than 30 days. Meanwhile, state active-duty orders only offer workman's compensation. All of this means a significant portion of Guardsmen are at real risk during most domestic responses.
Many people we talk to — reporters, state and local officials, even some in the active component — are surprised when we tell them our country doesn't provide everyone in uniform with medical coverage. It's long past time to change that.
But this won't be an easy ask. We've been working this issue for two years, and many on Capitol Hill are stuck on the initial cost, which has been estimated at roughly $715 million annually.
That figure, however, is deceiving. First, the cost would initially add very little to the nearly $60 billion annually the military already spends to provide health care.
More importantly, Zero-cost TRICARE will pay for itself in cost avoidances, higher medical readiness and increased recruiting and retention. We're developing the numbers to use in our messaging over the next few months.
This issue will require an all-out effort. But I'm optimistic, even in a more divided Congress. Taking care of the needs of the Guard has long bridged the partisan divide.
Have a safe and prosperous 2023. And rest assured, you can count on NGAUS to find a way to better the Guard.
Retired Brig. Gen. J. Roy Robinson can be reached via [email protected].
---
2022 NGAUS LEGISLATIVE ACCOMPLISHMENTS
(In recently enacted fiscal 2023 defense authorization & appropriations acts)

● Backdates the effective date of rank for any Guard officer waiting more than 100 days for federal recognition of their state promotion after Jan. 1, 2024
● A study on providing no-cost TRICARE Reserve Select health care and dental coverage to every Guardsman and Reservist
● $1 billion for the National Guard and Reserve Equipment Account, including:
● $335 million for the Army Guard and $305 million for the Air Guard
● 12 MQ-1C Gray Eagle unmanned aerial systems for the Army Guard, 12 above the president's budget request
● 35 UH-60M Black Hawk helicopters for the Army Guard, 10 above the president's budget request
● $120 million for the Army Guard Humvee modernization program, $120 million above the president's budget request
● $459 million for Army Guard military construction projects in17 states, $161.7 million above the president's budget request
● 16 C-130J Super Hercules cargo planes for the Air Guard, 16 above the president's budget request
● $53 million for F-16 Fighting Falcon Active Electronically Scanned Array radars for the Air Guard, $53 million above the president's budget request
● $279.3 million for Air Guard military construction projects in 11 states, $130.4 million above the president's budget request
---
2023 NGAUS LEGISLATIVE PRIORITIES
(For the deliberation of the fiscal 2024 defense authorization & appropriations acts)
To ensure deployability, interoperability and sustainability with the active Component through:
The Same Organization
● Future multi-domain battlefield interoperability, including:
■ Deployable and interoperable force structure that is validated and doctrinally consistent
■ Space National Guard as the primary combat reserve component of the Space Force
■ Continued National Guard integration in the Total Force cyber mission and training
The Same Equipment
● Deployable, Interoperable and Sustainable Equipment
● Concurrent and proportional fielding of equipment, including:
■ UH-60M Black Hawk, MQ-1C 25M Gray Eagle, F-35A Lightning II, KC-46A Pegasus, C-130J Super Hercules and Future Vertical Lift procurement
● Equipment modernization and recapitalization, including:
■ AH-64E Apache, Humvee, M1 Abrams tank and M2 Bradley,
■ A-10 Thunderbolt II, F-15 Eagle and F-16 Fighting Falcon modernization
The Same Resources & Benefits
● Zero-cost TRICARE to ensure reserve-component medical readiness
● Post-9/11 GI Bill parity
● Robust National Guard & Reserve Equipment Account funding
● Tax incentives for Guardsmen and employers
● Ready access to mental health care and suicide prevention
● Increased National Guard military construction funding